News
Pokémon Scarlet and Violet Finally Reveal Secrets of Paldea Region Map
Since Pokémon Scarlet and Violet is going for a true open world experience, the map is not only bigger than ever before but far more promising.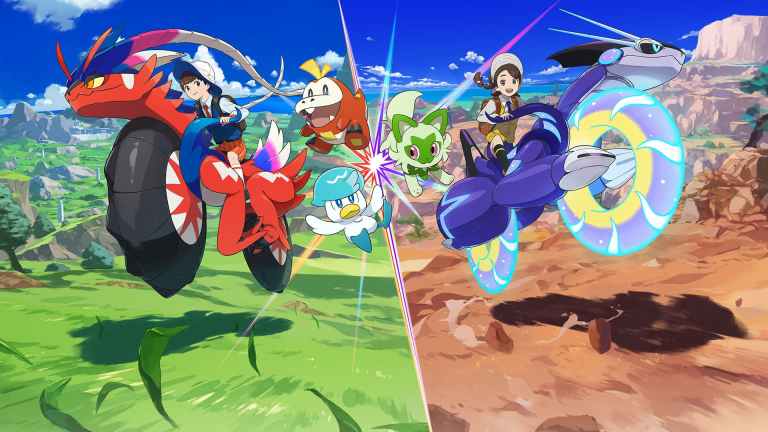 The most important aspect of any open world game is its map. If you can't make a game a joy to explore, what's the point of making it so big in the first place? It's a challenge Nintendo and The Pokémon Company will have to face in the fall.
Pokémon Scarlet and Violet are poised to be the first entries in the franchise with a truly open world map. Although the franchise's previous title, Pokémon Legends: Arceus, had all the makings of an open world, it was ultimately cordoned off into sections.
The features and modes that make up this new generation of Pokémon games were previewed in the latest game trailer, which you can watch below, as well as a blog post published on the Pokémon website.
According to Nintendo, Pokémon Scarlet and Violet will include three interwoven end goals. These include defeating Gym Leaders to become a Pokémon Champion, searching for Herba Mystica and the Titan Pokémon that guard them, and teaching the troublemaking Team Star that nobody is too cool for school.
What do these have to do with the map of Paldea, the game's new region?
Well, normally a Pokémon game puts players on a set, linear path that takes them from Gym to Gym, and any other missions or antagonistic teams they fight just pop up along the way. Even Pokémon Sword, Shield, and Legends: Arceus follow this basic structure, but not Scarlet and Violet.
According to the website, the game won't feature a set path, so players can tackle gyms out of order, defeat all of the Team Star leaders before ever searching for Herba Mystica, or any other order they choose. That's never happened before in a Pokémon game. Plus, Scarlet and Violet will let players pin areas of the map, which could mean that some points of interest and location will be hidden for players to find on their own.
The Paldea region itself looks like the most detailed and populated Pokémon map yet.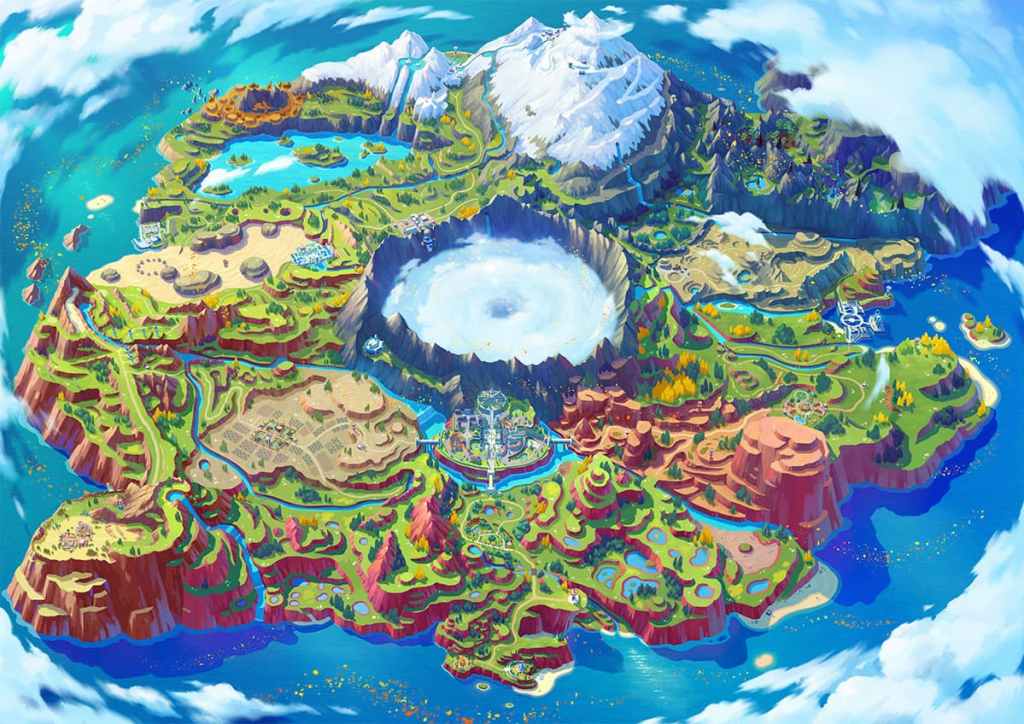 While the Pokémon website posted an overview of the Paldea region, you can't zoom in to see the finer details. Fortunately, IGN's Ryan Quintal has posted a Twitter thread of upscaled images that focus in on a variety of locales across the map.
You've got what looks like oceanside metropolises, oasis resorts, and a cliffside observatory. Of course, we can't exactly tell what purpose these towns will serve in the game yet, but they're still worth fawning over. 
On that note, one section of the Pokémon Scarlet and Violet that has fans talking is the center part of the region. Smack dab in the middle of Paldea is what looks like a caldera. Large, jagged rocks jut out on every side and enclose the area, and the caldera itself is obscured by a swirling vortex. It's almost as if this region of Paldea is caught in a permanent hurricane.
As you might expect, this area has spawned countless theories on Reddit. Players think it could house a third legendary Pokémon or be the source of the game's Terastal phenomenon. Though, given the recent reveal of Titan Pokémon and Herba Mystica, perhaps the mysterious caldera will serve as an endgame farming location for both, sort of like the Ultra Wormhole in Pokémon Ultra Sun and Ultra Moon.
Meanwhile, Pokémon Scarlet and Violet are also getting quite a few quality of life improvements that should help iron out some of the wrinkles of other recent installments. And no, we don't just mean Koraidon and Miraidon. Well, okay, they're part of it because of their purpose. These Ride Pokémon will let players travers the map faster — a must in any open world title — but they are also Swiss army Pokémon usable on land, in water, and up in the sky. Previous entries with Ride Pokémon forced players to switch between different mounts for different scenarios, but Koraidon and Miraidon's one-size-fits-all shapeshifting will make the process of exploring the map more streamlined and enjoyable.
Another highly-touted feature is the "Let's Go" mechanic. According to Nintendo, players will be able to make a Pokémon fetch items in a general direction and even fight wild Pokémon without supervision. Since open world games have plenty of collectible resources and rely on action combat instead of turn-based battles, anything that speeds up that process is welcome. But purists can always participate in every battle if they want.
Since Pokémon Scarlet and Violet won't release until Nov. 18, we've still got a little over a month for potential reveals and updates. Perhaps we will find yet another reason to get excited for the game's open world map? Only time will tell.