News
PlayStation 5 UI Possibly Revealed in a Sony Patent
This potential preview of the PlayStation 5's UI hints at a familiar design with some notable differences.
A recently published Sony patent possibly related to the PlayStation 5 has excited fans of patent analysis everywhere.
The patent in question, which was first discovered by TheGamePost (via IGN), was initially filed by Sony years ago, but it was only published (and discovered) yesterday. Initial analysis strongly suggests that it is somehow related to user interface concepts.
Before we dive further into this, it should be noted that there is nothing in this patent that specifically ties it to the PlayStation 5. Even if it is related to the PlayStation 5, there's no guarantee that what we see in this patent will serve as an early look at the PlayStation 5's final UI. Quite a lot could have changed since this paperwork was initially filed.
Having said that, there are reasons to suspect that this could be a preview of what Sony intends to do with the PlayStation 5's main menu design.
At a glance, much of the proposed UI resembles what we currently see on the PlayStation 4. There are tabs at the top of the screen which separate games, multimedia, settings, and other basic menu navigation options. Honestly, the upper section of this proposed UI is a dead ringer for the current PS4 UI.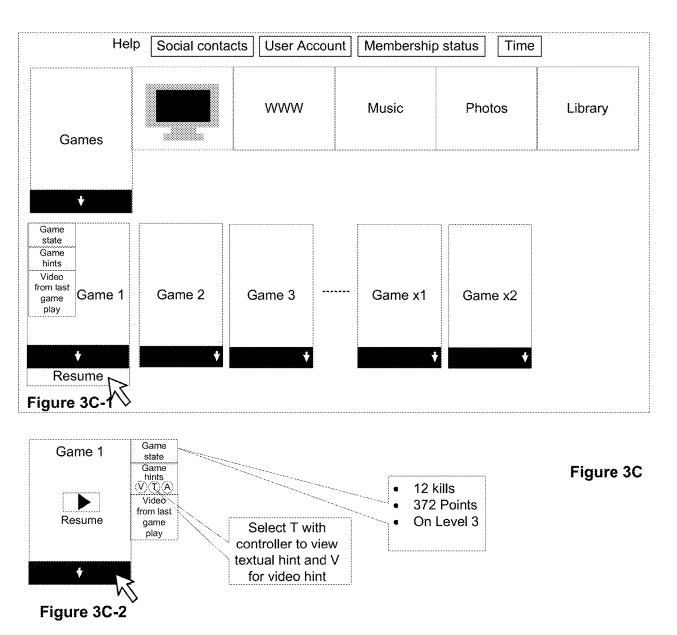 Where things get different (and interesting) is in the details of the "Games" section. It seems that selecting the Games tab brings up a smaller menu at the bottom of the screen which shows you all of your available games. This minor formatting change would allow owners to view their entire game library much more effectively.
More importantly, it seems that choosing an individual game will not only present you with the option to resume it from where you left off but will provide you with certain information related to the game state. In the example showcased in the patent, we see trackers for the number of kills, number of points, and the current level the player is on. We also see references to the ability to ask for game hints and even access video from the last time the game was played.
Previous patents and insider speculation has suggested that Sony has not only recently worked on such an advanced assistance system but that they're interested in allowing you to share and utilize more video information related to the games you're playing. On top of that, we know for a fact that the PS5 will utilize a kind of suspended state system, and we see what appears to be interface related to that system in this patent.
Given where we're at in next-gen reveal season (and the details of certain upcoming events) we fully expect to know whether or not this is indeed the PlayStation 5's UI or simply a concept that Sony abandoned along the way.