Features
Hogwarts Legacy Cast: Every Main Character and Voice Actor
The Wizarding World of Harry Potter has a long history of casting actors who can spellbind audiences, and Hogwarts Legacy lives up to that...well, legacy.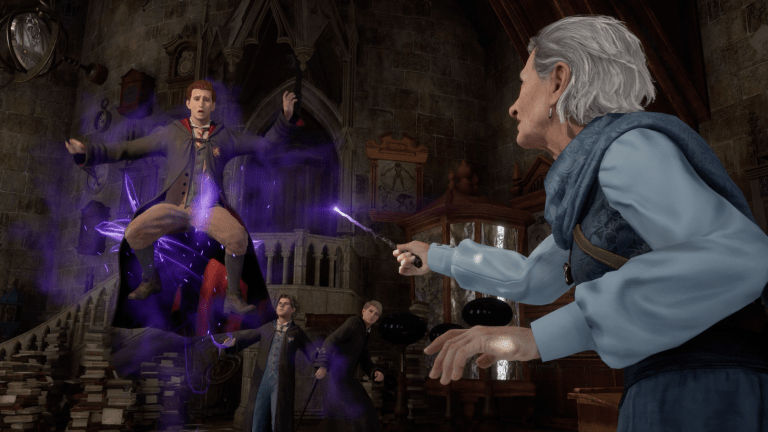 Hogwarts Legacy is based on the Wizarding World universe created by J.K. Rowling. You can read more about Rowling's history of transphobic remarks as well as find resources to support LGBTQ organizations here.
The Harry Potter films are full of iconic performances and memorable actors. Daniel Radcliffe became an international star when he landed the leading role as the titular Harry Potter, and Alan Rickman's tenure as Professor Severus Snape is arguably his most famous role since he played Hans Gruber in Die Hard.
Hogwarts Legacy is an unwritten chapter of the magical Wizarding World, complete with new narratives, heroes, and villains. The game includes characters some fans may have seen or heard of, but those characters make up a fraction of the cast. For the most part, characters are portrayed by actors who are new to the Wizarding World, but, much like Alan Rickman, odds are good you are familiar with many of them.
At the time of writing, much of Hogwarts Legacy's cast is still a mystery. But for now, here are all the voice actors of the main characters we know of.
Player Character – Voiced by Sebastian Croft and Amelia Gething
The player character is, obviously, the protagonist of Hogwarts Legacy. Even though they are the same age as a fifth-year student, in truth they are just starting their wizarding classes. To add to the unusual circumstances, the protagonist also has a connection to ancient magic nobody else alive shares.
Since the player character serves as a player surrogate, players can customize their appearance, personality, and voice. Gamers can pick either a more masculine voice, played by Sebastian Croft, or a feminine one, portrayed by Amelia Gething. Croft is a BAFTA-nominated actor, who most audiences probably recognize as Ben Hope in Heartstopper and a young Ned Stark in Game of Thrones. While Hogwarts Legacy is his first video game role, Croft has some voice acting experience, as he was Anne's Peter in Where is Anne Frank. Gething, meanwhile, has a lot less experience. She only has three acting credits to her name: Ursula Pole in The Spanish Princess, Anne Bronte in Emily, and herself in The Amelia Gething Complex.
Professor Matilda Weasley – Voiced by Lesley Nicol
The Weasley name is well-known among Harry Potter fans, as Ron Weasley was Harry's first friend at Hogwarts. And Harry also married Ron's sister, Ginny Weasley, at the end of the final book. Hogwarts Legacy's Professor Matilda Weasley is an ancestor to the modern Weasleys, and in the game, she teaches Transfiguration and serves as Deputy Headmistress. Professor Weasley will help the protagonist get started with a Wizard's Field Guide and the Room of Requirement.
Professor Weasley is voiced by Lesley Nicol, an actress with a long and prolific career. She continues to play Mrs. Patmore in Downton Abbey and its movies, and Ms. Nicol was also Mrs. Beaver in the 1988 The Lion, the Witch & the Wardrobe miniseries. More recently, Nicol played Connie Butcher in The Boys. Nicol also has quite the voice acting resume, as she played Winsome Witch in Jellystone, Pip in Doc McStuffins, and several characters in the Animaniacs reboot.
Headmaster Phineas Nigellus Black – Voiced by Simon Pegg
Black is another surname of Harry Potter renown, as Sirius Black III is Harry Potter's godfather. His ancestor, Phineas Nigellus Black, served as the headmaster of Hogwarts in the 1890s. In Sirius' own words, Phineas was the "least popular Headmaster Hogwarts ever had," and now players will get to see how he earned that reputation firsthand. Perhaps it will have something to do with his pompous personality?
In Hogwarts Legacy, Headmaster Black is voiced by actor and comedian Simon Pegg. You've probably heard of him. The man has starred in some of the greatest comedy movies ever produced, including the Cornetto Trilogy of Hot Fuzz, Shaun of the Dead, and The World's End. Hogwarts Legacy will mark Pegg's seventh video game role.
Professor Onai – Voiced by Kandace Caine
During their playthroughs of Hogwarts Legacy, players can partner up with several students, one of whom is Natsai Onai. Her mother, Professor Mudiwa Onai, teaches Divination at Hogwarts. It is unclear what role Professor Onai will serve in Hogwarts Legacy, but she is a demanding teacher. Given that she is one of the few witches alive who can cast magic without a wand, Profesor Onai has earned quite a bit of respect.
In Hogwarts Legacy, Professor Onai is played by Kandace Caine, who was Ms. Gold in Kids Learn So Much and, unfortunately, 1/3rd of the Human Centipede in The Human Centipede 2. Caine's most recent role was as Nila "Nova" Brown in the 2022 rendition of Call of Duty: Modern Warfare 2.
Nearly Headless Nick/Sorting Hat – Voiced by Jason Anthony
Nearly Headless Nick and the Sorting Hat are two of the most iconic minor characters in the Harry Potter series. Nearly Headless Nick is the resident ghost of the Gryffindor House, and he earned his name thanks to a botched decapitation. Still, he hasn't let a little thing like almost literally losing his head ruin his outlook on life…er, death. As for the Sorting Hat, it is literally the hat that sorts Hogwarts students into their houses. It may look battered, but it still likes to sing.
In the Harry Potter films, Nearly Headless Nick and the Sorting Hat were played by John Cleese and the late Leslie Phillips, respectively. In Hogwarts Legacy, both are played by Jason Anthony, who has a fairly robust collection of voice-acting roles. He played Otter in Call of Duty: Modern Warfare, Mobile, and Warzone, as well as various roles in World of Warcraft: Cataclysm. Anthony is one of the few actors in Hogwarts Legacy with Wizarding World experience, as he voiced Ron Weasley in Harry Potter: Wizards Unite and the Sorting Hat in the Cartoon Network/Harry Potter crossover.
Professor Satyavati Shah – Voiced by Sohm Kapila
Professor Satyavati Shah is a scientifically-minded teacher at Hogwarts. This personality trait seems ironic since Hogwarts is a school for magic, but Professor Shah was mostly raised around Muggles and was interested in science before she attended Hogwarts. In Hogwarts Legacy, she teaches Astronomy and can get a little carried away when discussing the subject.
In Hogwarts Legacy, Professor Shah is played by Sohm Kapila. She is a BAFTA Newcomer but has had mostly bit parts, such as a reporter in the 2017 The Mummy reboot, Sophie in an episode of Grey's Anatomy, and Priyanka Bari in the 2018 Charmed reboot. Hogwarts Legacy is Kapila's first voice acting and video game role.
Everett Clopton – Voiced by Luke Youngblood
Every Hogwarts class needs a prankster. In the Harry Potter books and novels, that role fell to Fred and George Weasley, and in Hogwarts Legacy, Everett Clopton fills that niche. This Ravenclaw student is always looking for new school rules to break, but his antics sometimes delve into bullying territory.
Everett Clopton is played by Luke Youngblood, who is yet another Wizarding World alum. He previously played Lee Jordan in the first two Harry Potter films, as well as the Harry Potter and the Order of the Phoenix video game. Youngblood has played roles outside of this series, including Mitch in Glitch Techs and Frostee Benson in Fast & Furious Spy Racers. Youngblood also played Sugo in The Witcher: Nightmare of the Wolf and the titular Henry Stickmin in The Henry Stickmin Collection.
Percival Rackham – Voiced by Enn Reitel
Never heard of Percival Rackham? Well, that's because he was created for Hogwarts Legacy. In life, Rackham was a professor at Hogwarts during the Tudor era (i.e., 15th century), and he founded the Keepers: a group of witches and wizards intent on guarding ancient magic. Little is known about Rackham aside from his sorting into Hufflepuff and penchant for Divination and ancient magic. Since the player character also has a connection to ancient magic, Rackham will have a hand in their growth.
In Hogwarts Legacy, the late Professor Rackham will be played by Enn Reitel, who has a long and successful career of playing fairly well-known characters He played Alfred Pennyworth in Batman: The Telltale Series and its sequel, The Enemy Within, Scrooge McDuck in Kingdom Hearts 3, and Deputy Mayor Hart in Final Fantasy VII Remake. But Reitel's most famous role is probably Maggot in Corpse Bride (i.e., the character who sounded like Peter Lorre).
Amit Thakkar – Voiced by Asif Ali
In the Harry Potter books and movies, the History of Magic class is a running joke since the class puts students to sleep faster than a Sleeping Draught. However, none of Harry's friends ever met Amit Thakkar. This Hogwarts Legacy student loves studying the history of magic, as well as staring up into the night sky with his telescope. However, despite his pastimes, Thakkar does not have his head in the clouds. He is selfless, albeit sometimes to the point of getting in over his head.
Amit Thakkar is portrayed by Asif Ali, who has quite a few small-but-important roles under his belt. He played Jesse Fletcher in Agents of S.H.I.E.L.D., Caben in The Mandalorian, and Norm/Abilash Tandon in Wandavision. One of Ali's most recent voice roles was as Ensign Alif in Star Trek: Lower Decks.
Finally, there a quite a few voice actors who are confirmed to appear in Hogwarts Legacy but are not currently associated with verified roles. We'll include a list of some of those actors below and let you know which characters they play as soon as that information is available.
Alastair Duncan
Alfie Nugent
Alice Haldane
Amelie Newton
Amy Louise Pemberton
Carla Tassara
Chris James
Denise Hoey
Elle Newlands
Georgia Dolenz
Greg Ellis
Helen Sadler
Holly J Barrett
Jade Ramsey
Jane Windsor
Jacob Edwards
Jason Anthony
JB Blanc
Jeannie Bolet
Jenny Veal
Jessica Hayles
Jim Dale
Joseph Burdge
Joshua Shea
Jude Ponting
Karen Maruyama
Lauren Grace
Lesley Nicol
Logan Hannan
Luca Malacrino
Lulu Mae Pears
Marwan Salama
Matthew Waterson
Moira Quirk
Natalie Gray
Nicholas Guy Smith
Piotr Michael
Rachel Rath
Rebecca Root