News
Dr DisRespect Twitch Ban Still a Mystery Amid Donald Trump Ban
Why was Dr DisRespect banned from Twitch? We still don't know, even as the streaming platform openly addresses the suspension of Donald Trump's channel.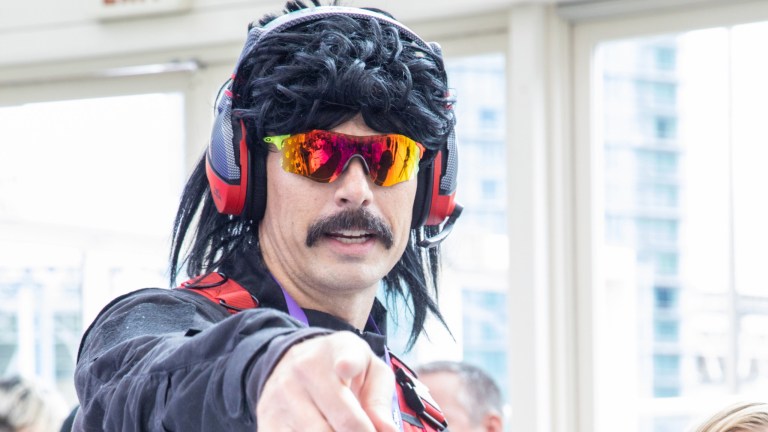 Days after Twitch banned him from the streaming platform, seemingly for good, we still don't know what caused the company's break with popular streamer Dr DisRespect, whose real name is Guy Beahm. Twitch released a statement on the ban to IGN on Friday but declined to go into detail about the reason for Beahm's suspension.
"As is our process, we take appropriate action when we have evidence that a streamer has acted in violation of our Community Guidelines or Terms of Service," Twitch said. "These apply to all streamers regardless of status or prominence in the community."
A violation to Twitch's community guidelines or terms of service can mean a lot of things, from a DMCA copyright violation to something much worse. In fact, esports industry in Rod "Slasher" Breslau said he'd heard from his sources that fans should expect the latter, suggesting that Beahm's situation is "serious."
"For several hours now I have been told from credible sources the reason Dr DisRespect has been banned. However, due to the importance and sensitivity around the subject I have refrained from going on it," Breslau wrote on Twitter. "I don't feel comfortable with it currently."
Shannon "ShannonZKiller" Plante, another popular Twitch streamer, said on Twitter (via GameSpot) that she'd heard from her "sources" that "Doc is indeed done, and not just on Twitch. I know why and cannot say. But this is serious." Plante later deleted the tweet.
Whatever the cause of Beahm's Twitch ban, no one is talking beyond hinting at the serious nature of the case. When he finally addressed the ban a day later, Beahm himself wouldn't give a reason. He said he didn't know why he'd been banned either.
"Champions Club, Twitch has not notified me on the specific reason behind their decision," Beahm wrote. "Firm handshakes to all for the support during this difficult time."
As of this writing, neither Twitch nor Beahm has elaborated further, sparking plenty of speculation and rumors on Twitter, Reddit, and many other corners of the internet. A debunked theory on 4chan, for example, suggested that Dr DisRespect had jumped ship to join fellow big-name streamers Ninja and Shroud at a new streaming service called Brime. Even a body language expert jumped in to watch the peculiar final minutes of Beahm's last Twitch stream to try and solve the mystery.
While we won't speculate as to what happened between Twitch and Beahm, it's hard to ignore how strange this situation is, especially in light of another high-profile ban that hit the service this week. On Monday, Donald Trump's Twitch channel was banned temporarily due to two streams that contained racist remarks delivered by the Republican.
"Hateful conduct is not allowed on Twitch," a Twitch spokeswoman said of the ban in a statement to The New York Times. "In line with our policies, President Trump's channel has been issued a temporary suspension from Twitch for comments made on stream, and the offending content has been removed."
In this case, Twitch gave a clear reason for the ban, causing many to wonder why the platform was so open about Trump's ban but couldn't say more about Beahm's own suspension.
This is the second time Beahm has been banned from Twitch. He was first suspended in 2019 for filming from a bathroom in the LA Convention Center during E3. Beahm's account was reinstated a few weeks later. Twitch was much more open about the situation in that case.
At the moment, it seems like we'll head into July without knowing why Beahm was kicked off Twitch, and it's likely that the speculation and rumors will only intensify as the streamer's 4 million Twitch followers continue to wonder where the Doc went.
We'll keep you updated as we learn more.