News
Brime Streaming Service Rumor Explained: Dr DisRespect, Ninja, and Shroud's New Platform?
Are Dr DisRespect, Ninja, and Shroud all joining a streaming service called Brime? No, probably not.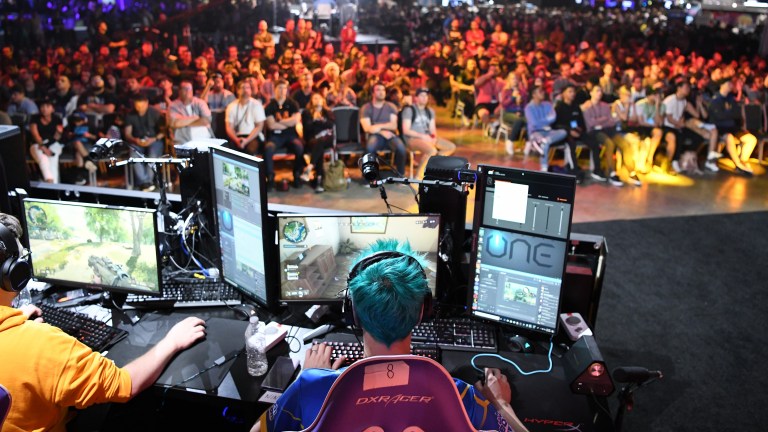 Is a new streaming platform called Brime about to become Twitch's biggest competitor? That's what some in the internet rumor mill think after popular streamer Keemstar shared a wild theory claiming that Ninja, Shroud, and Dr DisRespect are launching a new streaming service backed by Spotify. Sounds too good to be true, right? That's because it isn't true.
In case you've not been keeping up with streaming news, the rumors started after Dr DisRespect was mysteriously banned from Twitch over the weekend. Twitch didn't cite a specific reason for the ban. In fact, in a message to fans on Twitter, the Doc revealed that even he didn't know what had brought about the suspension, which is reportedly permanent, according to Kotaku. While more "serious" reasons for the ban have been hinted at by industry insider Rod "Slasher" Breslau, the theory posted by Keemstar alleges that Dr DisRespect is joining Brime and Twitch isn't very happy about it.
The gist of the theory is that Dr DisRespect, Ninja, and Shroud have all allegedly agreed to join Brime. Twitch apparently caught Dr DisRespect trying to recruit other Twitch streamers for the new platform and quickly shut down his channel, terminating his contract. But why wouldn't Doc or Twitch just say as much instead of leaving the rumor mill to speculate? Non-disclosure agreements are apparently keeping anyone from saying anything while "Twitch, Doc, and Spotify are undergoing mediation."
Adding fuel to the theory are two things: a cryptic message during one of Dr DisRespect's streams telling players to "Prepare for the 29th," which is this Monday, and the fact that the Brime Twitter handle, which was created just a few days ago, only follows 15 people — three of those people being Dr DisRespect, Shroud, and Ninja, who are all free agents as of last week. (Ninja and Shroud left Twitch last year after signing exclusivity deals with Microsoft's Mixer platform, which is shutting down in July.) Some people think this means Brime, which teased that it would begin answering people's questions on Monday (the same day Doc said people should prepare for), has signed these streamers in a mega-deal that would turn the streaming service into one of Twitch's main competitors overnight.
Okay, take a deep breath.
Forbes has already provided a thorough breakdown of why this rumor has no basis in reality, so we won't spend too much time belaboring the point. But if you need some quick reasons for why this rumor is nothing but hearsay, here are a few:

1) The theory comes from 4chan, which is about as unreliable a source as it gets,

2) Dr DisRespect just signed his own multi-year exclusivity deal with Twitch in March and it's unlikely he'd break his contract to join Brime when he stood to make $10 million a year from Twitch (per Kotaku),

3) Ninja and Shroud, who haven't announced their future plans, probably aren't dying to join another fledgling streaming service after what just went down with Mixer, which in 2019 already had more "clout" than Brime does at the moment,

4) The rumor claims that Brime is backed by Spotify and that Spotify is owned by Google. Both of these statements are false.
No, this rumor isn't true.
Brime itself addressed the rumors on Twitter, confirming that it has nothing to do with Spotify or Google: "We can confirm that we are not Spotify, Google, or anyone else that's known by the industry. That this is something we believe in and are passionate about."
Regarding Brime's rumored collaboration with Dr DisRespect, Ninja, and Shroud, Brime said, "Just because we follow someone doesn't mean anything. Every streaming service follows people that they find interesting."
The new streaming service also confirmed that it was a much smaller operation than the rumors claimed: "We wanted to start small and grow organically. This is happening very fast." It sounds like Brime was as blindsided by the rumors as the rest of the internet. In a Twitter Q&A on Monday morning, Brime addressed its actual size, revealed that only four people work there, although the tweet was later deleted.
There's also the big elephant in the room. As of this writing, Brime doesn't have an active website. In fact, Brime said as much on Twitter, while also revealing that "Brime" is a "codename based on the history of 2 names that were once a streaming site." This tweet was also later deleted.
When the Brime rumors first started, Forbes provided an alternate explanation for the fiasco: Brime might not even be a real streaming service. The outlet suggested that the Brime Twitter account could have been created by "a 4chan troll that duped the likes of Keemstar and others." While this doesn't appear to be the case, it seems pretty clear at this point that the rumors of its impending world domination were greatly exaggerated.
One thing we know for sure is that this has been a tumultuous week for the streaming industry. On top of Twitch banning Dr DisRespect and Mixer calling it quits, many well-known Twitch streamers also faced a wave of sexual misconduct allegations that completely rocked the platform. As of this writing, Twitch has already banned popular streamers iAmSp00n, BlessRNG, WarwitchTV, DreadedCone, and Wolv21 after people spoke out against them. Destiny 2 streamer Lono "SayNoToRage", as well as Tom "Syndicate" CassellI, have also been accused. It should be noted that there's no evidence that Dr DisRespect's ban is related to sexual misconduct.
We'll keep you updated as we learn more about Brime as well as Dr DisRespect's ban.