News
Dr DisRespect Finally Speaks Out About Twitch Ban
Dr DisRespect has finally addressed reports that he'd been permanently banned from Twitch. Unfortunately, he had few answers for his fans.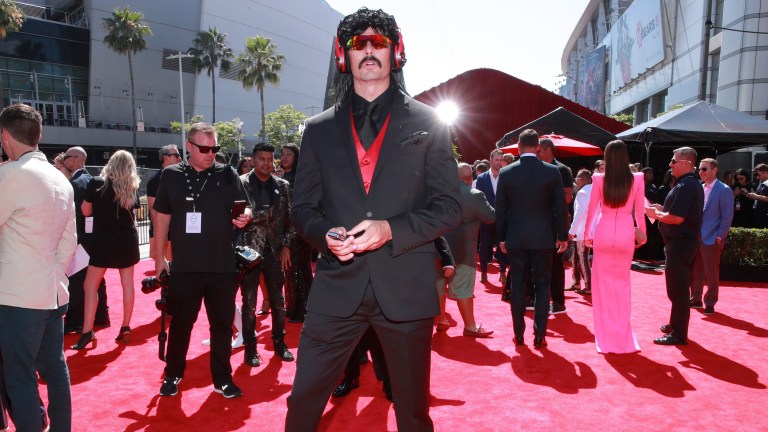 While popular streamer Dr DisRespect, whose real name is Herschel "Guy" Beahm IV, was banned from Twitch on Friday, Beahm didn't immediately address the situation, sparking countless theories and rumors as to why he'd been suspended. Then, Kotaku and industry insider Rod "Slasher" Breslau reported that the ban was permanent. But still no word from "the Doc," as his supporters, known as the Champions Club, sometimes refer to their favorite internet personality.
Finally, on Saturday, Beahm spoke out about the ban but gave his fans few answers: "Champions Club, Twitch has not notified me on the specific reason behind their decision," Beahm wrote on Twitter. "Firm handshakes to all for the support during this difficult time."
Beahm's statement has only further fueled the rumor mill, which spent the weekend posting its own theories online. Initially, it was thought that the ban was due to a DMCA copyright violation, which has been a reason Twitch has suspended streamers in the past. Breslau shut that theory down, suggesting that the situation was much more serious than that.
On Friday night, Breslau wrote on Twitter that "for several hours now" he'd been told from "credible sources" why Beahm was banned from the platform but that he didn't want to say more "due to the importance and sensitivity around the subject."
Shannon "ShannonZKiller" Plante, another popular Twitch streamer, said on Twitter (via GameSpot) that she'd heard from her "sources" that "Doc is indeed done, and not just on Twitch. I know why and cannot say. But this is serious." Plante later deleted the tweet.
Twitch confirmed that Beahm had been banned from the platform in a statement to IGN, but would not give a reason for the streamer's removal: "As is our process, we take appropriate action when we have evidence that a streamer has acted in violation of our Community Guidelines or Terms of Service. These apply to all streamers regardless of status or prominence in the community."
The streaming company not only removed Beahm's channel and emotes from the platform but also refunded subscriptions after the ban. The move is surprising considering Twitch had just signed Beahm for a multi-year exclusivity deal in March that would have reportedly earned the streamer $10 million per year, according to Kotaku. While Twitch hasn't confirmed that Beahm's contract has been terminated, it seems like a foregone conclusion at this point.
Discord also ended its partnership with Beahm, according to Forbes. Some on the internet questioned whether Beahm's sponsorship deal with Mountain Dew Game Fuel and partnership with Loaded.gg had also been revoked, but nothing official has been announced on those fronts.
The timing of the ban has caused some on the internet to fear the worst. After all, the ban came on the same week that Twitch announced in a blog post its commitment to creating a safer streaming community after several high-profile streamers were accused of sexual misconduct, including popular Destiny 2 streamer Lono "SayNoToRage" as well as Tom "Syndicate" Cassell. Following a week of allegations in late June, Twitch confirmed that it would begin investigating and banning streamers it found had violated its community guidelines. Streamers iAmSp00n, BlessRNG, WarwitchTV, DreadedCone, and Wolv21 have all been banned as a result, according to Polygon.
"We are reviewing each case that has come to light as quickly as possible, while ensuring appropriate due diligence as we assess these serious allegations," said Twitch in the blog post. "We've prioritized the most severe cases and will begin issuing permanent suspensions in line with our findings immediately."
There's no evidence that Beahm's ban is related to sexual misconduct. As of this writing, Beahm has not been accused of anything or charged with a crime.
This is the second time Beahm has been banned from Twitch. He was first suspended in 2019 for filming from a bathroom in the LA Convention Center during E3. Beahm's account was reinstated a few weeks later.
Beahm, who is best known for playing multiplayer shooters like Call of Duty and Apex Legends, first became popular while streaming H1Z1 and PUBG. Before dedicating himself to his full-time streaming career, he worked as a level designer on Call of Duty: Advanced Warfare at Sledgehammer Games.