Features
How Double Dragon's Abobo Became a Beat em up Legend
Double Dragon's heavy has kept busy throughout the years, showing up in a movie, animated series, and so many games. In the process, Abobo has become a legend.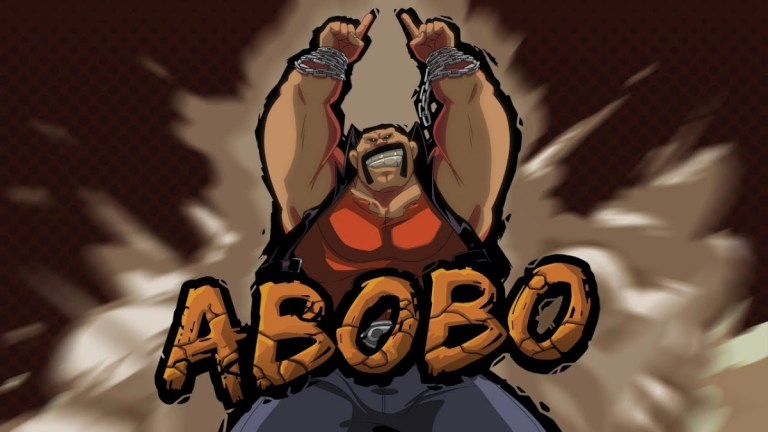 In the late '80s, video games started featuring over-the-top, meaty musclemen. Metro City had Mike Haggar, a shirtless former wrestler who became mayor and decided that being "tough on crime" meant ridding the streets of criminals with his bare hands, his daughter's psycho boyfriend, and a ninja in Nikes. Circus strongman Karnov scoured the world for adventure and treasure, fighting all kinds of mythical monsters. Bald Bull was trying to dominate both the boxing ring and the arm-wrestling circuit. Gutsman was a jacked construction robot who was later rebuilt as a 40-foot-tall tank centaur.
And then there was Abobo, the gigantic antagonist from Double Dragon. He wasn't THE antagonist. Hell, in the first game, you fight him within the first two minutes. Despite his low-level status, he's still far more fondly remembered than the main Double Dragon bad guys like Willy and the Shadow Master. There's just always been something about this random brute that's made him special.
Abobo's journey begins in the original Double Dragon, Technos' 1987 arcade hit. The game's story is very simple. A dystopian, lawless, post-nuclear war version of New York City has been overrun by a gang called the Black Warriors or Shadow Warriors or Black Shadow Warriors. (They kind of workshop that name from game to game.) Billy and Jimmy Lee are two martial arts brothers whose mutual friend Marian is captured by gang members. Off they go to lay out everyone in that gang with their bare fists and occasional barrel/whip/knife/baseball bat.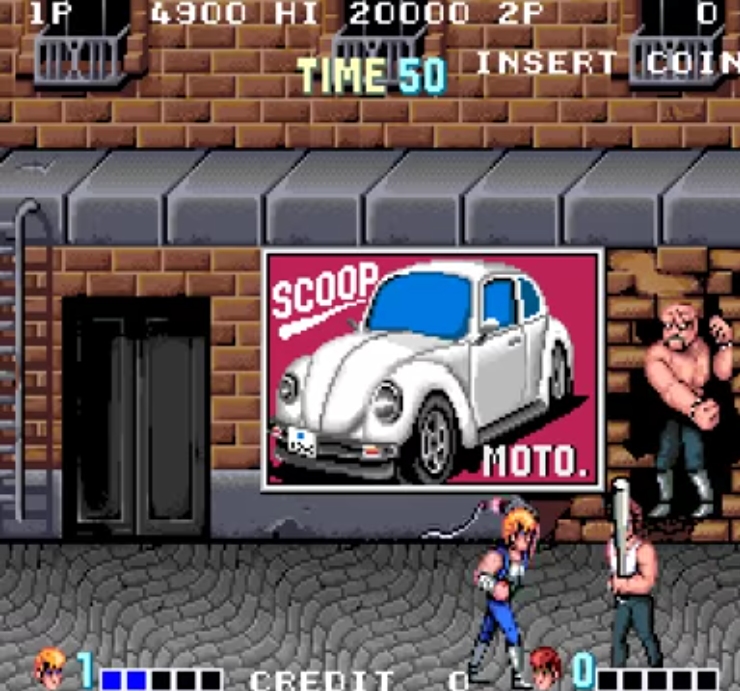 While the cannon fodder is mostly made up of normal-sized guys, out walks Abobo, who makes his entrance by punching his way through a brick wall. From the moment he appears on screen, it's clear Abobo is meant to stand apart from the rest. He has longer reach, takes more hits, can't be thrown, and is able to throw Billy and Jimmy like ragdolls. The only guy more dangerous than Abobo is Willy, the final boss, who brings a machine gun to a fist fight.
Weirdly, Abobo has various forms in the game. His initial form is as a bald, pale guy with a mustache. Soon after, we fight Jick, an Abobo clone who closely resembles Mr. T. Later, we face off against an Incredible Hulk version of Abobo. This is post-nuclear war, so I suppose this tracks.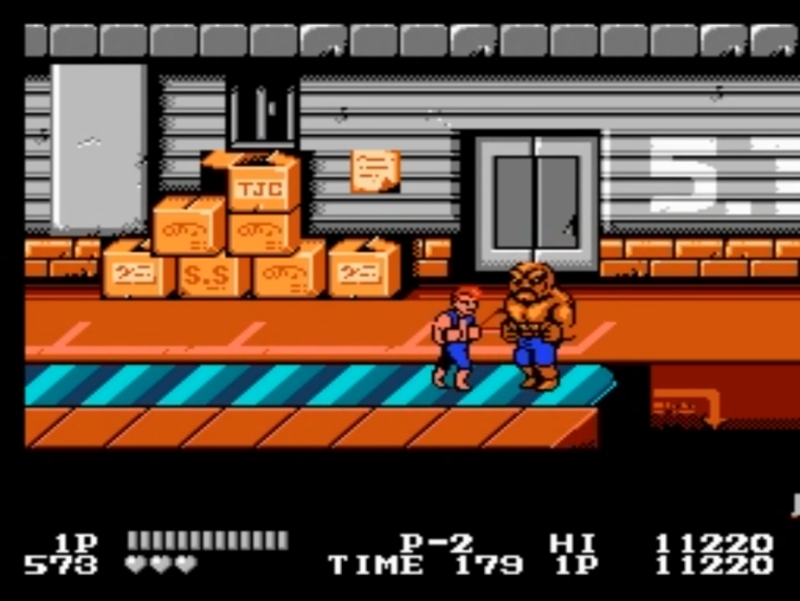 But it was NES port that really delivered the ultimate form of Abobo, whose appearance was seriously altered for the 8-bit console. With orange-brown skin, Abobo is still bigger than everyone else, but also looks inhuman. He has a giant, bald head almost the size of his bulky torso, and a black arch on his face that is apparently a mustache merged with a frown! While the NES version had its own quasi-fighting game mode with everyone redrawn with a bigger and better sprite, Abobo looked exactly the same. You just can't mess with perfection!
Abobo sort-of-but-not-really appeared in the sequel, 1988's Double Dragon II: The Revenge. In a game filled with giant enemies, there was a guy named Bolo who looked exactly like Abobo, but with long, black hair. Actually, in retrospect, he looks a lot like Danny Trejo.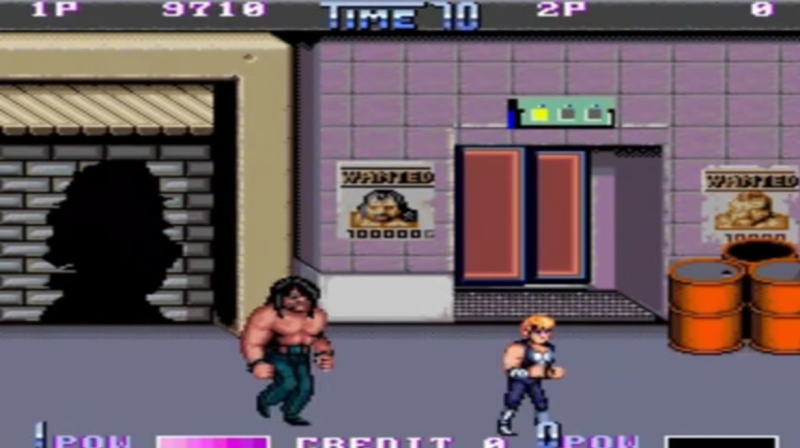 Huh.
Abobo sat out of the next few Double Dragon games, as the Lee brothers busied themselves fighting mummies and chubby clowns. But he returned in a very unexpected crossover: 1993's Battletoads/Double Dragon: The Ultimate Team. The game featured a bizarre team-up between the Dark Queen from Battletoads and the Shadow Warriors. As Double Dragon didn't have too many memorable boss characters that could stack up to the likes of a giant rat in a singlet, they went with what they could get.
As with the other bosses in the crossover game, Abobo was depicted as an absolute giant compared to the Lee Brothers and the Toads. He was also very generic-looking, appearing as a shirtless, bald guy with no 'stache. Due to the sci-fi nature of the crossover, his storyline ended with him getting booted off a spaceship and sent spiraling through space itself.
1993 also gave us the Double Dragon animated series. Somehow, this thing ran for two seasons (26 episodes) and Abobo was there from the beginning. The first episode was a weird Saturday morning-style retelling of the NES game's plot, down to Billy Lee having to fight his "evil" brother at the end. Abobo acted as a henchman, alongside a very colorful take on Willy.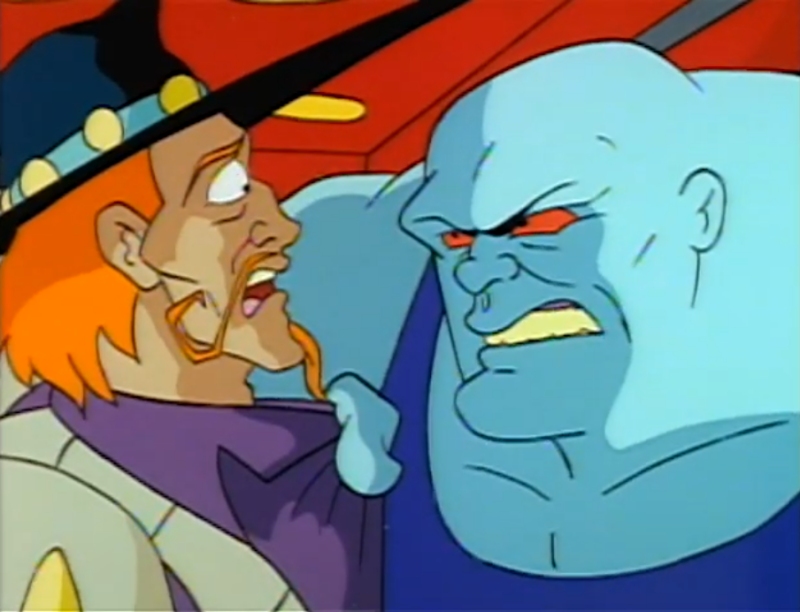 In the cartoon, Abobo was a bald muscleman with blue skin, meaning he has the same mysterious complexion situation as Captain N's King Hippo. Abobo was also strangely competent on the show, all things considered, although the only fighting he ever did was throw oil drums at Billy and miss every single time. He spent more of his time annoyed at Willy, who was depicted as a psychotic cowboy with a laser gun — one-half Yosemite Sam and one-half the Interrupter from Late Night with Conan O'Brien.
The second episode introduced the Shadow Master, who immediately showed disgust at his underlings' failure by magically bonding Willy to a giant mural of punished souls. Abobo tried to run for it, but succumbed to the same fate. The two would remain in that mural for the rest of the series.
While there was a fighting game released based off of the Double Dragon cartoon, Abobo wasn't part of the roster. It was just as well. Double Dragon V: The Shadow Falls was a really bad game and Abobo had bigger things on the horizon.
Abobo was about to go Hollywood!
In 1994, Imperial Entertainment Group released the Double Dragon movie, a total cheesefest that couldn't make back its $8 million budget. At least Robert Patrick's scenery-chewing main villain made the movie almost watchable. The story takes place in a version of Los Angeles that's a cross between The Warriors and No Man's Land from the Batman comics. Billy and Jimmy are teens who get roped into a plot that involves two dragon-shaped necklaces that form an all-power medallion when put together.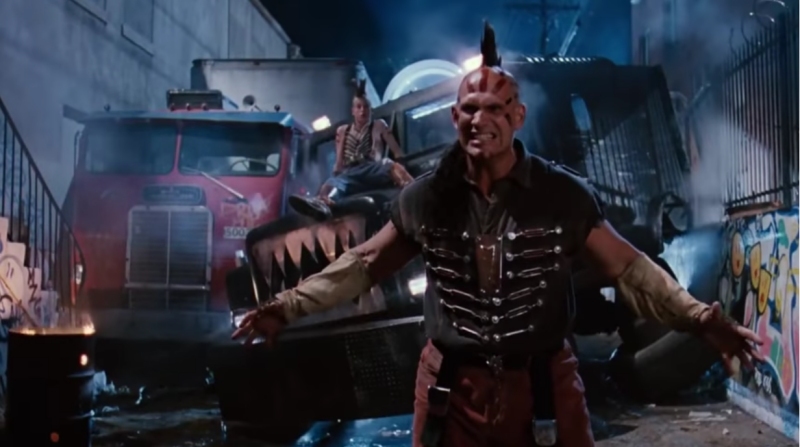 Initially, Nils Allen Stewart plays the gang leader Bo Abobo. As head of the Mohawk Gang, he's there to act all intimidating in a goofy '90s bully sort of way, but he really doesn't actually do much. He takes part in a car chase and teases a fight scene, but nothing happens.
Then, the villain Koga Shuko transforms him into a literal steroid freak with some experimental machine. From there on out, Abobo is played by Henry Kingi in a bloated, rubber suit. Despite being a muscle golem at this point, Abobo STILL doesn't actually fight anyone and is instead kidnapped by Power Corps.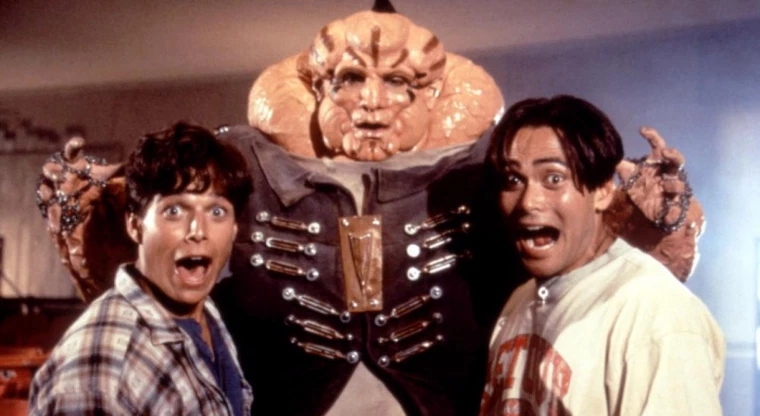 Abobo eventually sees what he looks like in the mirror. Broken over what he's been transformed into, he turns on Koga and…still doesn't fight anyone. He just gives Power Corps some advice to help turn the tide against the bad guys. At the end of the movie, he asks the Lee Brothers if they could be buddies and recklessly drives their car.
Yeah, it's…almost something. Not the awfulness of Super Mario Bros, but not the good-for-the-time quality of Mortal Kombat. It's also not quite as fun-bad as the Street Fighter movie, but it does share one major similarity to it.
Much like Street Fighter, the Double Dragon movie had its own fighting game spinoff. Rather than a one-on-one fighter featuring digitized actors (which was the original idea until it wasn't deemed viable for the deadline), Technos put together a Neo Geo animated fighter that isn't so well-known these days due to how run-of-the-mill it was. It looked like your average SNK fighting game, with no real identity of its own. The game was released for arcade, Neo Geo CD, and PlayStation.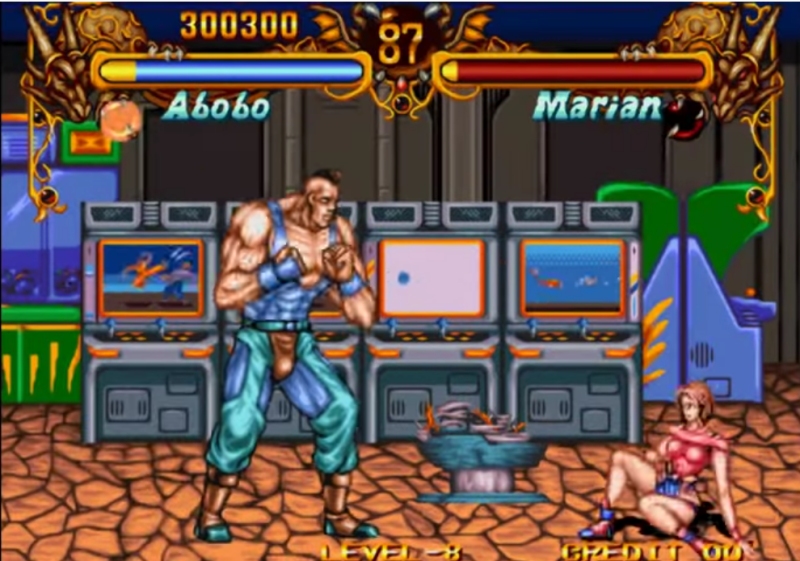 The 1995 fighting game was loosely based on the movie's plot and featured some FMV clips. Showing up from the movie are Billy Lee, Jimmy Lee, Marian, Shuko, and Abobo. The rest of the roster is made up of original characters, though Technos did redesign Burnov, the Big Van Vader-looking boss character from Double Dragon II: The Revenge. Abobo more closely resembles his initial, more human-looking form from the movie, complete with mohawk, although he's cartoonishly big in the game. Fortunately, he occasionally transforms into his blobby, tumor-like mutant form during certain moves and winposes.
His ending in the game features him eating a lot of meat at a restaurant, demanding to eat meat so rough that it'll make his teeth bleed. Heh. And Roger Ebert said video games aren't art.
After the inexplicable crossover, animated series, failed movie, and fighting game tie-ins, Double Dragon as a franchise was finally spent. As the arcade scene died down in the late '90s, the side-scrolling beat 'em up disappeared for a time, and it would be a little while before nostalgia for it would kick in.
Fortunately, there was still some juice left in the fighting game genre, and in 2002 the Neo Geo had just enough time left before SNK's hardware line was discontinued. The company Evoga developed what was, for a time, meant to be a Double Dragon fighting game, but ultimately the team wasn't able to secure the rights and was forced to make the game with a knockoff cast of characters. The result was Rage of the Dragons, a tag-team fighting game featuring Billy Lewis, Jimmy Lewis, and Abubo…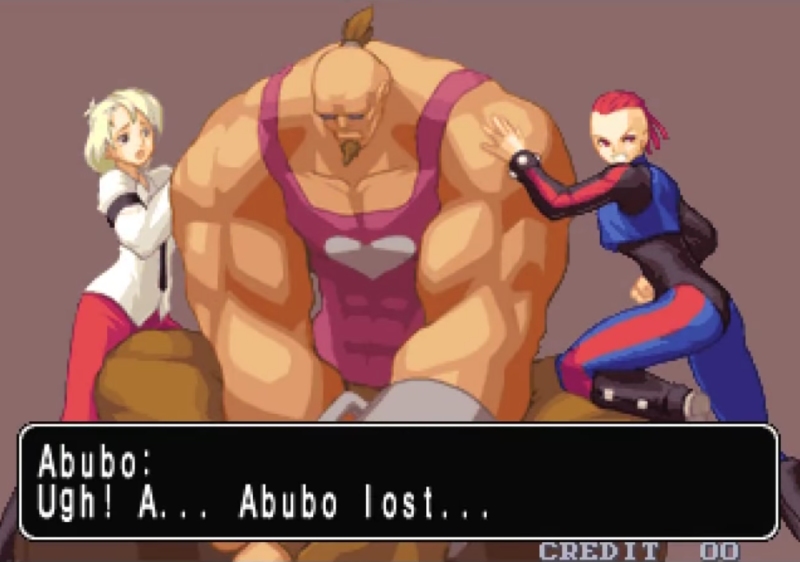 Abubo does not have a tag partner and is instead a mid-boss so powerful that it takes two opponents to stop him. He's depicted as a low-level mob boss with a ponytail, sunglasses, pink tank top, and overly-long, muscular arms. It's a decent enough redesign of the original, but…Abubo? That's the best they could come up with?
As for the official Double Dragon, it made its comeback a year later. Double Dragon Advance for the Game Boy Advance took the original arcade version, updated the graphics just enough, added more stages, enemies, and attacks, turning this installment into a souped-up take on the classic. This of course meant the return of the real Abobo!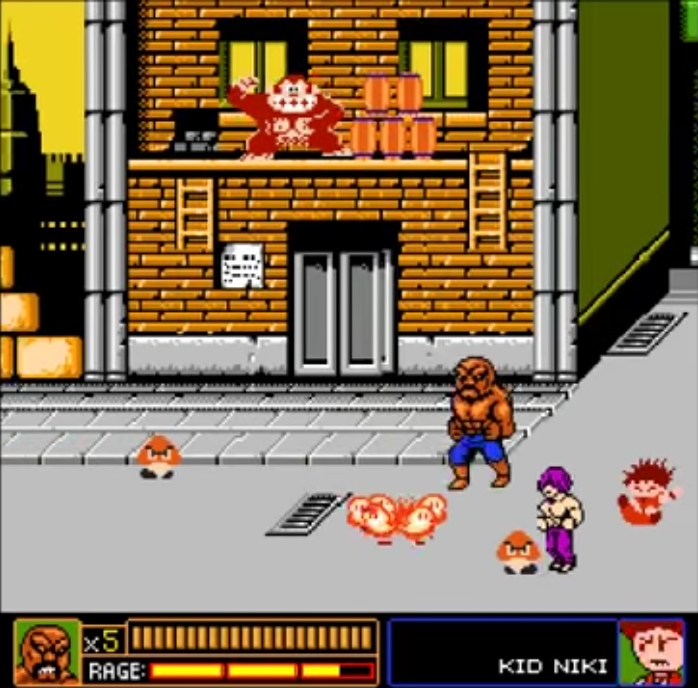 2012 would be a banner year for the musclebound henchman. Since 2002, I-Mockery's Roger Barr had been trying to develop an Abobo-based fangame, and in early 2012, the free-to-play masterpiece Abobo's Big Adventure was released to the public and we were better for it.
Using 8-bit graphics, the game follows Abobo as he searches for his kidnapped son Aboboy. Each level is based on a different NES title and features a dizzying amount of Easter eggs. There's a Double Dragon level, underwater Super Mario Bros. level, Urban Champ, Legend of Zelda, Balloon Fight, Pro Wrestling, Mega Man, Contra, and finally Punch-Out. The game is an absolute blast, especially for anyone who grew up with the NES and features such whacked out moments as:
Abobo mating with the mermaid from Goonies 2, which gives him a forcefield powerup made up of Abobo/mermaid hybrid babies, one of which begs for death!
An Abobo vs. Amazon wrestling match that includes the summoning of Hulk Hogan, Ultimate Warrior, Roddy Piper, and Undertaker assists in the form of Pro Wrestling sprites.
Taking on Krang's giant robot body with Kirby in the abdominal area.
An incredibly long and over-the-top ending that gets extremely and laughably violent. If you've ever wanted to see a muscular child drink blood from the Shredder's dismembered arm, this game is for you!
In terms of OFFICIAL nostalgia, 2012 also saw the release of Double Dragon Neon for the PlayStation 3 and Xbox 360 (and later PC). Using 3D graphics, the game was a modern update of Double Dragon's playstyle while playing up the 1980s aesthetic. It was a lot more ridiculous than the original series. In fact, it's more in line with the Battletoads crossover since this game also lets you launch Abobo into the deep recesses of outer space to die.
This game also gave us the first – and, as of this writing, only – polygon Abobo. This time a towering, hunched over brute with lots of spiked armbands. All that AND the mustache!
But of those two 2012 releases, Abobo's Big Adventure is surprisingly the better game in terms of its portrayal of the big man, as it solidified his status as nostalgic beat em up icon.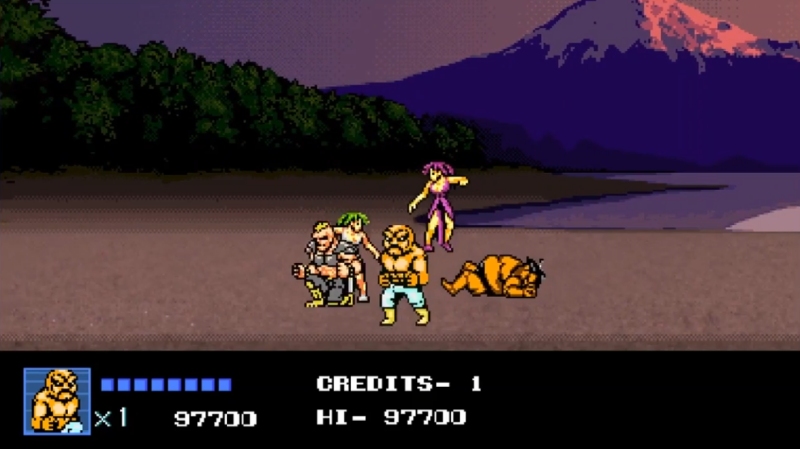 In 2017, Arc System Works put together Double Dragon IV for the PlayStation 4, Xbox One, Nintendo Switch, and PC. Rather than emulate the arcade original's aesthetic, the game took its art style from the NES games. That meant the return of the classic NES Abobo as not only a recurring enemy but an unlockable playable character. Double Dragon IV actually lets you play through the story mode as various enemy characters, but honestly, who else would you pick in that situation? Well, maybe Burnov.
Sadly, playing as Abobo in Double Dragon IV leads to a non-ending. I know you can't improve on "Abobo punches Little Mac's head off so hard it transcends time and space," but at least TRY!
Around the same time, another game tried to play up Abobo's ironic/iconic status. River City Ransom: Underground was released for the PC in early 2017. The River City Ransom series has always had ties to Double Dragon, but this high school brawler goes the extra mile by putting Abobo on a big pedestal. First off, he's the school principal. If you attack any of your teachers, you're sent to Principal Abobo's office to suffer a serious slap on the wrist, shoulder, jaw, spine, etc. Sometimes he'll even enter classrooms by punching holes through the brick walls, all while shirtless and talking like the Hulk.
Even better than that? Abobo's not only the school principal but the Mayor of River City! No wonder everyone's always kicking the shit out of each other! God bless Mayor Mike Haggar for being a true trendsetter.
The Double Dragon/River City connection only grew stronger when 2019 brought the absolutely must-play River City Girls. As the story goes, River City Ransom heroes Kunio and Riki have been kidnapped, so their badass girlfriends Misako and Kyoko go on a violent rampage to save them. Early in the game, while Misako and Kyoko are fighting fellow students in a classroom, there's a projector playing a short film about a boy learning about puberty.
It just so happens that the kid in the video is being taught by Abobo, who thanks puberty for his monstrous size and strength. This, my friends, is foreshadowing, as Abobo shows up later in the game as a boss.
Misako and Kyoko confront Abobo about their missing boyfriends, and Abobo admits that he isn't sure whether or not he kidnapped them since he kidnaps a LOT of people. They throw down and we're treated to the most powerful take on Abobo yet, considering the length of his life bar. Once defeated, Abobo admits that he has nothing to do with the missing boyfriends, but gives the heroes a lead by talking about his side job as security for an upcoming concert.
In 2020, Arc System Works released a collection for PS4 and Switch called Double Dragon & Kunio-Kun Retro Brawler Bundle. It collects 18 8-bit games, including the three NES Double Dragon games, River City Ransom, and all the old spinoffs from the River City Ransom universe. And who's on the cover?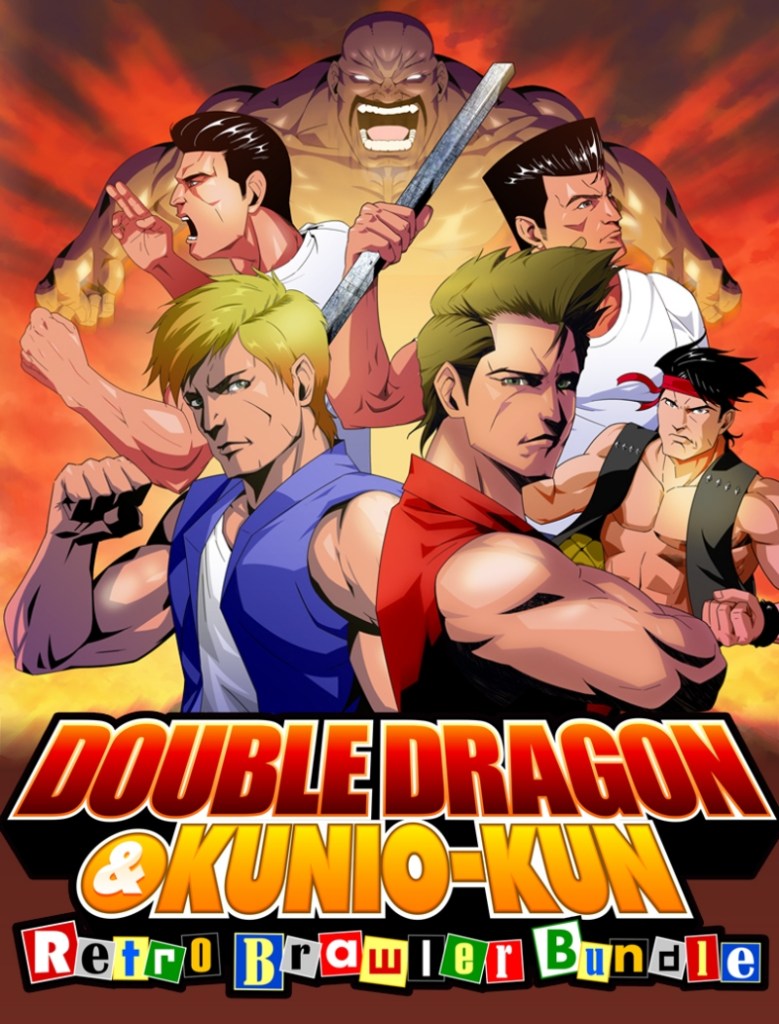 Yes, despite technically being in one game out of 18, and not even being the final boss, Abobo gets a major spot on the cover of this huge collection among the games' hero characters. Finally, the world understands that Abobo is a star. Now we just need Abobo to appear in Guilty Gear Strive and then we'll really be cooking.