News
Doom Eternal Coming to Xbox Game Pass in October
Doom Eternal is coming to Xbox Game Pass just days after the announcement of the Microsoft/ZeniMax Media deal.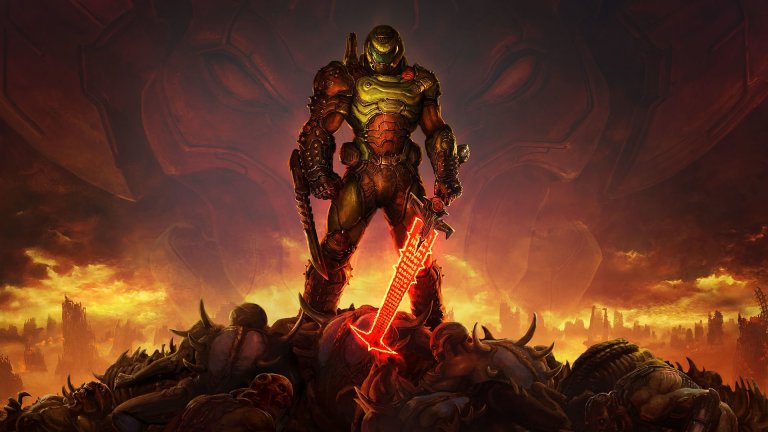 The Xbox team has confirmed a recent rumor by revealing that Doom Eternal is coming to Xbox Game Pass.
"Doom Eternal has been called one of the best first-person shooters ever," reads a post on the Xbox blog. "If you haven't already experienced its unique brand of fast-paced, push-forward, first-person combat, now's the time to blast your way into id Software's critically acclaimed game coming to Xbox Game Pass on October 1 and Xbox Game Pass for PC later in 2020."
While Microsoft, unfortunately, doesn't reveal when exactly Doom Eternal will be added to Game Pass for PC, it does seem that both versions of the game will be added to the service in their existing forms. Microsoft references the upcoming Doom Eternal expansion (The Ancient Gods – Part One) in their news post, but they do not suggest that future Doom Eternal DLC content will be immediately added to the Game Pass versions of the title.
Of course, many fans will be happy to hear that Doom Eternal will be available on Game Pass in any form. In case you missed it, we had quite a bit of praise to heap upon Doom Eternal when we reviewed it earlier this year. While everything that has happened in 2020 since then almost makes it impossible to believe that Doom Eternal was released this year at all, it's fairly easy to name Doom Eternal one of 2020's best games and a strong contender for the 2020 Game Awards.
The heart of the title's brilliance is its arena-like level design and surprising emphasis on resource management. Working your way through the game's toughest areas will require you to formulate a strategy based on eliminating nearby enemies in the most efficient ways possible. It's a style that certainly represents a notable departure from previous Doom games, but it's a fascinating blend of concepts that are all executed fairly well.
The bigger story here, though, may be that the addition of Doom Eternal to the Game Pass lineup comes shortly after Microsoft's acquisition of ZeniMax Media. While it certainly seems likely that this move is an immediate result of that acquisition, it also feels fair to say that this is really only a taste of what is to come.
After all, not only has Microsoft already confirmed their intentions to turn Starfield into a day one addition to the Xbox Game Pass library, but it's entirely possible that a significant chunk of Bethesda's back catalog of titles could soon be added to the subscription service as well.