News
Diablo 4 Beta: How to Unlock Every Reward
There are a few rewards you can earn during Diablo 4's beta, though some will come easier (and cheaper) than others.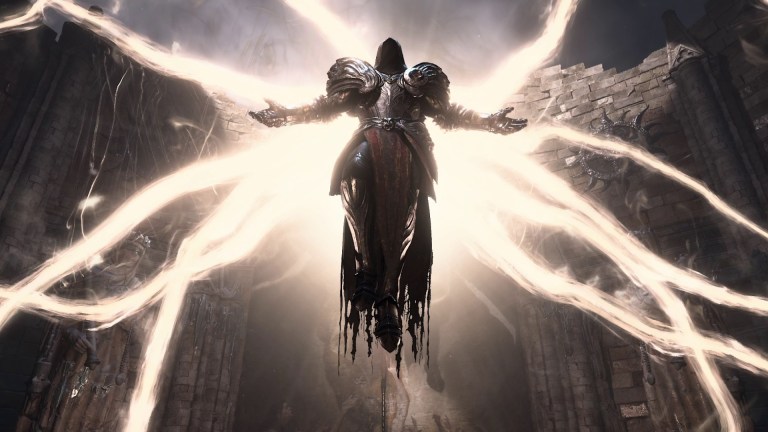 Blizzard isn't letting Diablo 4 beta participants keep their characters after the limited trial. This news will no doubt disappoint anyone who acquires powerful loot from the world boss Ashava, but Blizzard is providing a few consolation rewards for anyone who sticks with the beta long enough.
Gamers who participate in Diablo 4's Early Access and Open Beta will receive three rewards they can use in the retail release of Diablo 4. These include the Initial Casualty title, Early Voyager title, and the Beta Wolf Pack cosmetic. As their names suggest, the titles are just labels players can slap next to their characters' names, while the Beta Wolf Pack consists of a wolf pup sleeping soundly in a crib strapped to the character's back. Shh, don't make too much noise or you will wake the baby. Or maybe the anguished death cries of Hell's forces are a lullaby for the pup. Either way, the cosmetic is adorable.
According to the official Blizzard news section, the Initial Casualty title is easy to acquire. All one has to do is reach the town of Kyovashad, which will serve as players' main hub during their early adventures, and the title is all theirs. The next two rewards, the Early Voyager title and the Beta Wolf Pack cosmetic, are locked behind Level 20. Hit that level (which is five levels shy of the Level 25 beta cap), and the rewards will be added to your account. Once a player reaches these milestones with one character, they will receive these prizes the first time they boot up Diablo 4 after launch (June 6, 2023).
While these titles and the cosmetic item are linked to Diablo 4 beta participation, players can unlock even more rewards if they pre-order the game. Anyone who purchases the base version of Diablo 4 will receive the special Light Bearer mount, the Inarius Wings cosmetic and Inarius Murloc pet for Diablo 3, the Amalgam of Rage mount for World of Warcraft, and the Umber Winged Darkness cosmetic for Diablo Immortal.
Meanwhile, players who purchase the Digital Deluxe Edition will acquire all of the above plus four days of early access for Diablo 4, the Temptation mount, the Hellborn Carapace Mount armor, and a Premium Seasonal Battle Pass unlock.
Finally, gamers who shell out for the Diablo 4 Ultimate Edition will acquire almost all of the above plus a Wings of the Creator emote. However, instead of including a Premium Seasonal Battle Pass unlock, the Ultimate Edition provides an Accelerated Seasonal Battle Pass unlock, which is essentially the Premium unlock on steroids since it also includes 20 tier skips. What do these pre-order bonuses have to do with beta rewards, you ask? Every pre-order includes a ticket to play the Early Access beta, which gives players an extra week to earn rewards. It's a lot easier to acquire a Beta Wolf Pack when you are given a few more days to do so.
Since every character will be wiped after the Diablo 4 betas, players won't be able to keep any more rewards from the game sneak peek. Unless you count advance knowledge of character builds and rare enemy spawns a reward, that is.