Features
Best Cyberpunk Movies to Watch Before You Play Cyberpunk 2077
Before you dive into Cyberpunk 2077, be sure to pay tribute to some of the best cyberpunk movies ever made.
We've warned you of the dangers of overhyping yourself for Cyberpunk 2077 ahead of the game's December 10 release date, but I understand if it's hard to contain your excitement for 2020's most anticipated game. However, that still leaves you with the question of what to do while you're waiting to finally play CD Projekt Red's potential masterpiece.
I can think of few better ways to pass the time than to curate a marathon of the best cyberpunk movies. While the definition of the cyberpunk genre (especially on film) has traditionally been somewhat debatable, these are movies that showcase a vision of the future where technology seems to have towered above the humans who designed it just as a new breed of revolutionists prepare to counter this growing culture.
So whether you want to celebrate the genre or just understand it a little better, these are the cyberpunk movies you need to watch ahead of Cyberpunk 2077's release.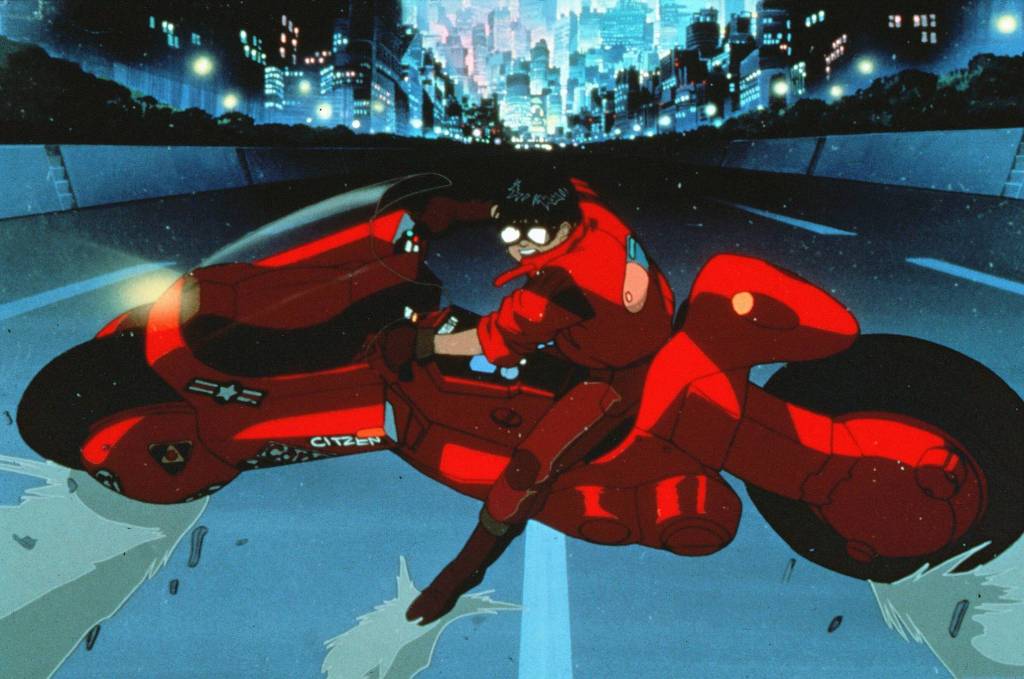 Akira
Along with being arguably the most important anime film of all-time (at least in terms of the global growth of the genre), Akira is considered by many to be the definitive on-screen portrayal of cyberpunk style and the genre's social commentary.
As the story of bikers in Neo-Tokyo who find themselves at the target of a manhunt after an incident grants one of them telekinetic powers that could destroy society, Akira checks nearly every cyberpunk box in its elevator pitch alone. Yet, the true joy of this movie will always come from basking in the beauty of its animation and the ways that it highlights a vision of the future where technological advancements were built on the crumbling foundation of forgotten souls. 
There's no world in which Cyberpunk 2077 isn't heavily inspired by Akira. We wouldn't be shocked if the game even featured a few Akira Easter eggs.
Blade Runner
While this list is simply arranged in alphabetical order, it's certainly amusing that arguably the two most important cyberpunk movies ever find themselves at the top of the list.
Blade Runner's story is an admirable attempt at an ambitious tale of identity and humanity in a rapidly evolving world, but this film's greatest gift will always be its world design and practical effects. Blade Runner finds its "punk" in a noir-like atmosphere while the movie's "cyber" elements shine in a largely unromantic futuristic city clearly dependent on often cold forms of technology.
Everyone should see Blade Runner at least once, and we can't think of a better time to view it for the first time than before you play Cyberpunk 2077.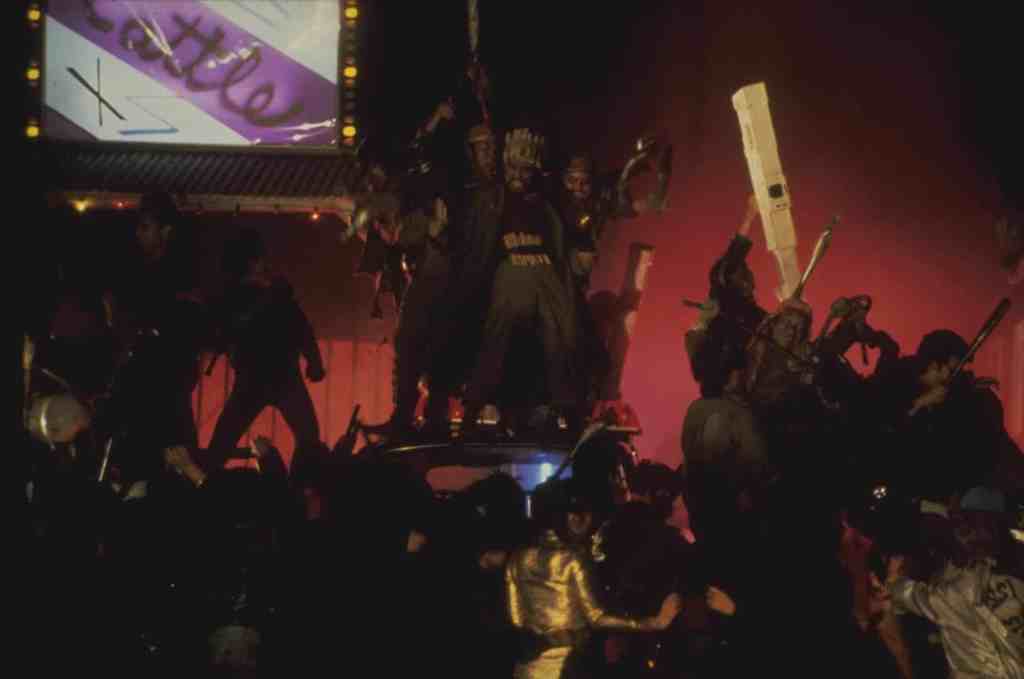 Burst City
If you've got the stomach for something totally weird and very raw, then I highly recommend this 1982 cyberpunk musical oddity.
Burst City leans heavily into the "punk" part of the cyberpunk equation with its story of various bands who battle the police and each other in a dystopian version of Tokyo. While the plot itself is admittedly barebones, it proves to be the perfect set-up for what amounts to a unique look at the underground Japanese punk scene of this era.
Cyberpunk 2077's pop culture is clearly built around music, so it will be interesting to see whether the game borrows many ideas from this sometimes overlooked gem. 
Cypher
Corporate espionage is a big part of the Cyberpunk 2077 universe, which makes it that much easier to recommend this 2002 film that's all about the dangerous pursuits of corporate spies.
To be fair, that's really the simplest summary of a labyrinthe of a plot that begins with a man taking a job in the lucrative field of corporate espionage. What follows is a series of mind blowing revelations that show us the lengths these corporations will go to and how dispensable everyone is in their pursuit of power.
If you need to be sold on Cypher's cyberpunk credentials, just know that its director once described it as "James Bond meets Kafka."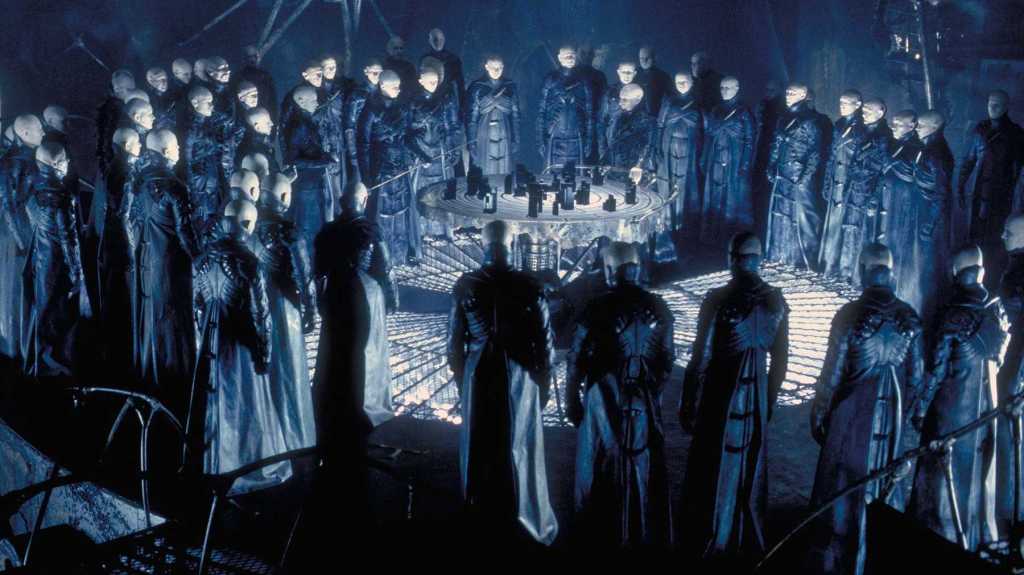 Dark City
John Murdoch has a problem. He's just woken up in a bathtub in a seedy motel with no memory of who he is or what is happening. To make matters worse, he's being pursued by a mysterious group of strangers who chase him through a city where it's always night. His only hope is a vague series of clues and mysterious psychokinetic powers that he's only now just beginning to understand.
Dark City is an impossibly bleak and literally dark film that confronts the burden and the power of the human mind. It's a complicated and often ambiguous film that benefits from grand ideas and an absolutely lovely noir-focused sense of style.
What Dark City lacks in scenes of high-tech glory and traditional punk design elements it more than makes up for with its bleak, intelligent, and unflinching vision of a future that absolutely belongs in this genre.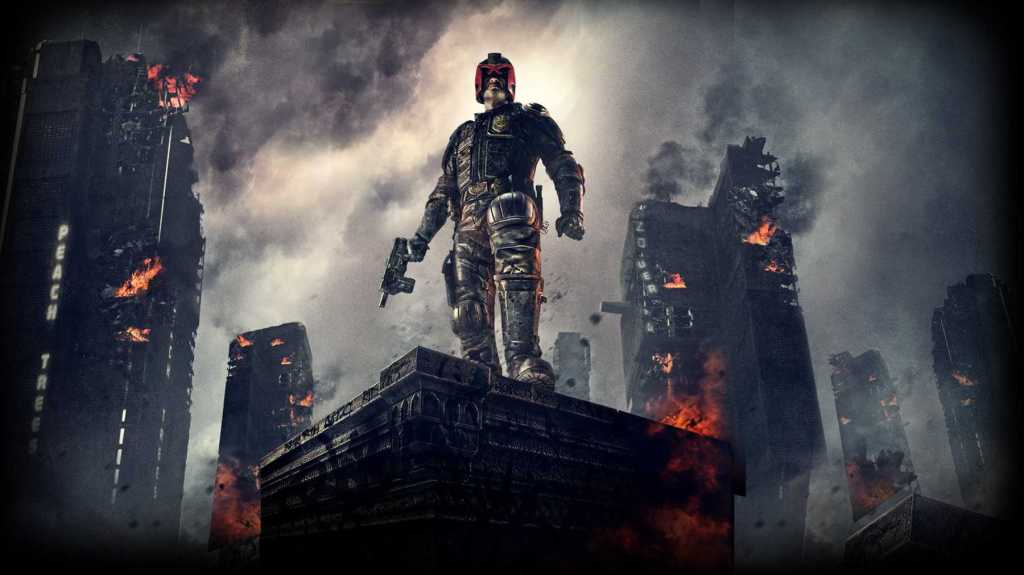 Dredd
Few people expected much of Dredd given how hard the '90s adaptation of the character fell on its face, but this 2012 movie proved to be one of the most compelling pieces of wide-release cyberpunk entertainment in years. 
Dredd's fantastic action sequences and small scale story that invokes the core concept of The Raid: Redemption and Die Hard sometimes disguise the movie's brilliant cyberpunk world-building. In every corner of every shot, there are these hints at just how bad things have gotten and what desperate measures have been enacted to keep even the visage of civilization alive.
It's easy to imagine that Cyberpunk 2077's weapons and comments will mine a few ideas from this modern classic.
eXistenZ
Nobody goes into a David Cronenberg film looking for a straightforward feel-good ride, but eXistenZ still manages to stand out as a uniquely weird entry into the director's legendary filmography.
Considered by many to be a spiritual follow-up to Videodrome, eXistenZ follows a game designer who must dive into her latest virtual reality creation in order to repair potential damages. The journey through that virtual world will certainly not disappoint any Cronenberg fans looking for memorable moments of body horror wrapped around an introspective plot.
With its VR concepts and meditations on the inevitable intersection of technology and flesh, eXistenZ offers a glimpse into a cyberpunk void that may not be quite as memorable as Cronenberg's best works but is worth a look.
Ghost in the Shell
With very little respect to the 2017 film of the same name, I want to make it clear that I'm absolutely talking about the 1995 animated classic. 
Released at the cultural height of the "Hackersploitation" genre (more on that in just a bit) Ghost in the Shell envisions a world in which people are neurally connected to the internet and cyborgs have been integrated into society. Into this future comes a hacker known as The Puppet Master whose unique abilities present a clear threat even as they raise questions about what remains of humanity that's worth saving.
Along with Akira, this is absolutely one of those cyberpunk movies everyone should see even if they don't typically consider themselves to be fans of anime or even animated feature films.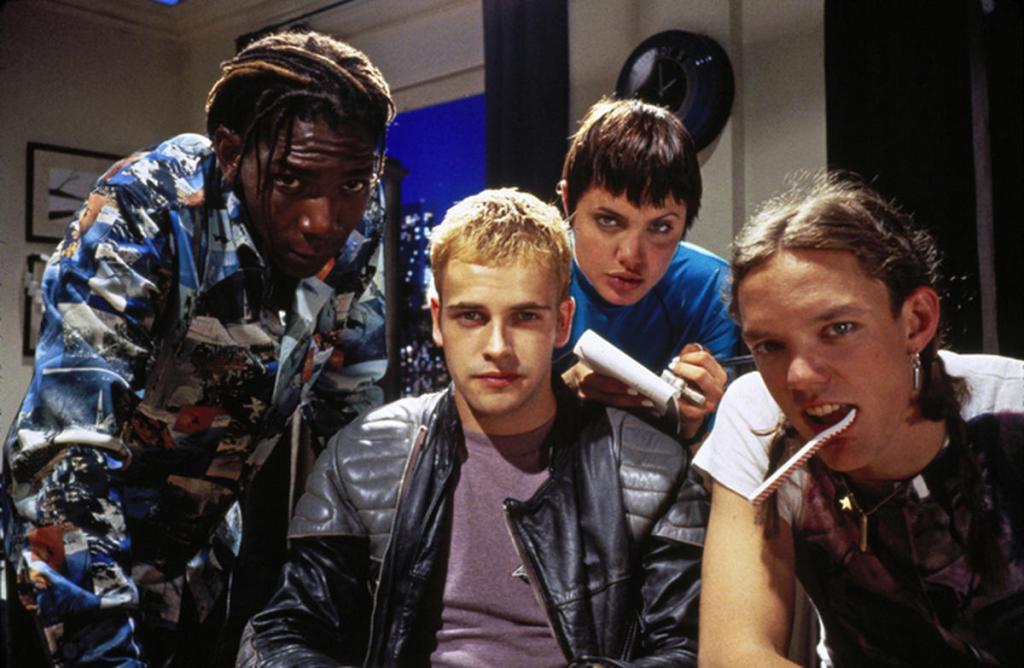 Hackers
Hackers is essentially the big-screen version of every regrettable high school yearbook photo ever taken. It's a relentlessly corny slice of the '90s that will be particularly painful to anyone who ever thought it was truly the height of cool. 
Yet, there is still something genuinely cool about Hackers. It treats hackers with the same bizarre cultural relevance as bouncers are afforded in Road House, but the idea of gangs of hackers and celebrity hackers taking over the digital age has always tapped into the heart of the cyberpunk genre. 
We know that Cyberpunk 2077's universe is highly inspired by '90s counterculture, so you should expect a few nods to this movie somewhere along the way.
Johnny Mnemonic
Wait, Johnny Mnemonic is a '90s sci-fi movie starring Keanu Reeves that's all about a man who knows too much trying to escape from gangs and corporations? Are we sure this somehow wasn't a soft adaptation of Cyberpunk 2020?
It's not and, if I'm being very honest, this movie doesn't always live up to its considerable potential. However, it's a consistently entertaining piece of '90s technological absurdity bolstered by some genuinely fascinating world-building and the charisma of its leading man.
Don't expect a masterpiece, but Johnny Mnemonic is the perfect movie for getting you in that Cyberpunk 2077 mood.
Robocop
Countless words have been written about Robocop's status as both one of the best action movies ever made and one a biting piece of social commentary, but Robocop somehow never seems to get enough love as a brilliant slice of cyberpunk style.
With its roaming gangs and mega-corporations whose power has become fully integrated into and unchallenged in society, Robocop has the cyberpunk genre flowing through its veins. What's truly remarkable, though, is the way that the movie so effectively balances the seemingly inevitable hopelessness of its world with a bleak sense of humor that speaks loudly even as it is delivered with tongue in cheek.
Since you probably don't need an excuse to watch Robocop again, I'll also take this chance to point out that Robocop 2 is a largely underrated sequel that somehow amplifies the original's cyberpunk vibes.
Strange Days
Released in 1995 to divisive reviews and worse box office returns, Strange Days' poor reception threatened to derail the career of legendary director Kathryn Bigelow.
Years later, though, it's easier than ever to overlook Strange Days' rough edges and bleak tones and appreciate its painfully accurate portrayal of racial inequality and sexual violence. Though it was only set four years in the future, Strange Days took the pulse of its time and imagined what would happen if society just reshaped itself around its problems rather than attempted to address them in a meaningful way. 
Strange Days is a hard watch but a great example of the forward-thinking pessimism of the cyberpunk genre.
The Matrix
At the tail end of a decade obsessed with hackers but often lacking in truly great works of "Hackersploitation," The Matrix came along and shattered all expectations by combining tech fears, underground style, high-flying action sequences, and jaw-dropping special effects that made it the most unlikely blockbuster of the '90s.
Long after the special effects have become commonplace and the film's most memorable sequences have been parodied to death, it's The Matrix's cyberpunk philosophy and setting that endure. The Matrix so seamlessly weaves its grander ideas and world-building into the movie's legendary fights that it's easy to forget how much weight they carry.
While you can safely skip your rewatch of the sequels unless you're an apologist or sycophant, don't forget that The Animatrix really got everyone excited about the grander implications of this movie's promising universe.
Total Recall
Two Paul Verhoeven movies on the same list? Yes, but to be honest, Total Recall almost didn't make the final cut.
While Total Recall lacks some of the philosophical depth and overwhelmingly bleak tones that so often help us identify the defining entries in this genre, it manages to tap into the cyberpunk genre's sometimes overlooked elements of absurdity and uses them as the basis for a truly fun adventure.
If it's been a little while since you've actually watched this movie, you might be surprised by how its complex and well-told plot expands a fascinating world where the false promise of anything being possible has been revived in a horrifying new form.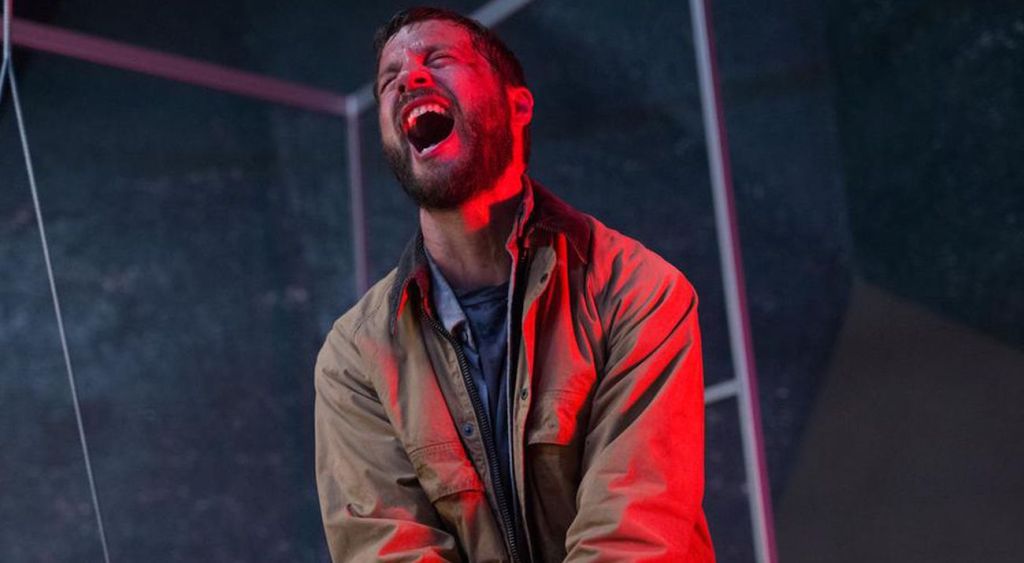 Upgrade
The final movie on our list is also the most recent cyberpunk film that I'd recommend you watch ahead of Cyberpunk 2077's release.
Actually, one of the things that stand out about Upgrade is its video game sensibilities. As the story of a man who gradually begins to understand the extent of his newfound powers, Upgrade taps into that role-playing idea of building a character over time. While it showcases the potential horrors of body enhancements, it also gives us time to dream of having such abilities.
Cyberpunk 2077 is all about enhancing your character through implants similar to the one featured in this film, so check out Upgrade if you can't wait to see what one of the game's end game characters might look like.