News
Crash Bandicoot 4 Gameplay Video Reveals New Characters, Modes, and More
Crash Bandicoot 4: It's About Time's latest gameplay video features an exciting combination of old and new.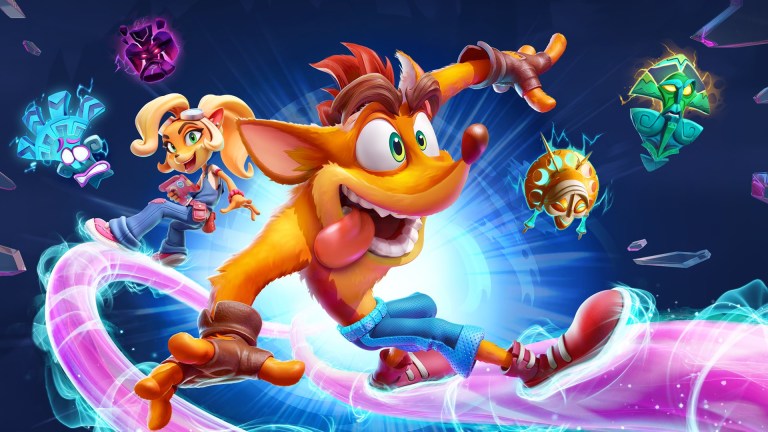 Crash Bandicoot 4: It's About Time kicked off the latest PlayStation State of Play event, and we actually learned quite a bit of new information during the game's latest showcase.
First off, as we've heard before, Crash Bandicoot 4 will be a traditional Crash Bandicoot game in most of the ways that matter most to fans. That means that most of the game's levels will see you navigate a course filled with obstacles and collectibles as you work to reach the end of each area, snag certain items, and defeat a variety of bosses.
What longtime Crash fans may be happiest to hear is that Crash Bandicoot 4 developers Toys for Bob are committed to ensuring that this upcoming sequel retains the precision gameplay of the original. If you were one of the many who were surprised to find that the original Crash Bandicoot games were actually pretty challenging, you should find that this upcoming installment features roughly the same level of mechanical demands. That's certainly the impression we got based on the new gameplay footage.
Yet, the most impressive thing about Crash Bandicoot 4 may not be the many things that have stayed the same but rather the new touches that this sequel prominently features. For instance, Crash Bandicoot 4's playable characters will be able to wear a variety of outfits that you'll unlock through the course of gameplay.
"For It's About Time, Toys for Bob have combined the fun cosmetic changes for Crash and Coco with the challenge of earning gems or completing specific tasks," says James Mattone, lead writer for Activision Editorial in a recent PlayStation Blog post. "Now, Crash and Coco have dozens upon dozens of costumes and wacky outfits to wear across any level, adding another level of zaniness to the N. Sane nature of Crash Bandicoot 4: It's About Time. Consider these marks of achievement within the game; whenever you earn a skin, it's a sign of accomplishment for the skill it took to outfit Crash or Coco with it."
Speaking of playable characters, we recently learned that you'll be able to play as series villains Dingodile and Neo Cortex in Crash Bandicoot 4. Each features their own set of skills and gameplay styles with Dingodile having access to a vacuum gun and Cortex being able to turn enemies into platforms.
Finally, Crash Bandicoot 4 will feature an N. Verted Mode which is described as a dimensional twist on the concept of a traditional video game mirror mode. It will task players with navigating modified versions of the game's levels which each impose some kind of new restriction. For instance, one dimension may feature an old-timey filter that changes the pace of the gameplay while another may require you to find the correct path by splattering paint.
You can check out the N. Verted Mode (and some of the other new features) in the gameplay video below:
Crash Bandicoot 4: It's About Time is scheduled to be released for PlayStation 4 and Xbox One on October 2.