News
Doom Eternal and The Elder Scrolls Online Coming to PlayStation 5 and Xbox Series X
Bethesda has confirmed their intentions to bring some of their current-gen games to PS5 and Xbox Series X via free upgrades and backward compatibility.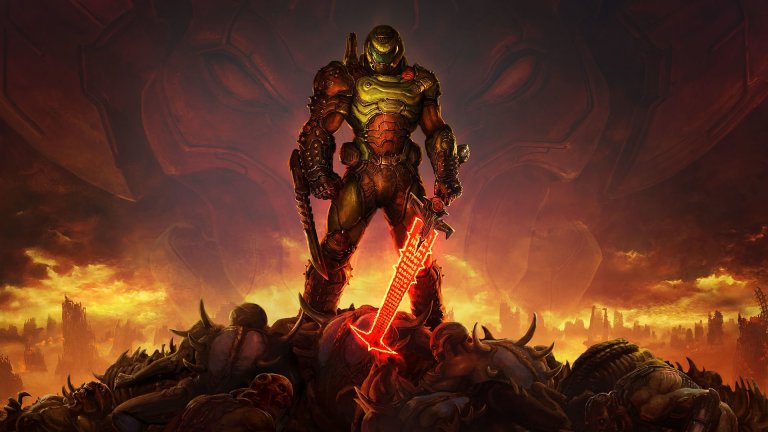 Bethesda has confirmed that The Elder Scrolls Online and Doom Eternal are being ported to Xbox Series X and PlayStation 5.
"Players who own or purchase either title on Xbox One or PlayStation 4 will be able to upgrade for free to the Xbox Series X and PlayStation 5 versions, respectively, when those versions are available," Bethesda says via a press release regarding the upcoming ports. "Additionally, our teams are working hard to ensure both titles will support backwards compatibility when the new consoles launch."
Bethesda also notes that they'll have more information about the next-gen versions of The Elder Scrolls Online and Doom Eternal (including "expected release windows and a list of enhancements"). Furthermore, Bethesda confirms via the press release that they "are committed to offer free upgrades for current-generation console owners of existing Bethesda titles" but that they don't have "any news to share just yet on our remaining catalog of titles."
There's actually quite a lot to unpack from that seemingly simple statement, but we'll start with The Elder Scrolls Online and Doom Eternal. We're thrilled to hear that both games are coming to next-gen. We recently praised Doom Eternal for its inventive arena shooter-like take on the franchise, and The Elder Scrolls Online has been growing into an increasingly impressive MMO over the last several years.
Yet, the bigger story here is that Bethesda has confirmed their intentions to join the various publishers and studios who intend to allow you to upgrade your copies of certain current-gen games to their next-gen editions at no additional cost. We recently called out publisher Take-Two for their decision to try to increase the next-gen price of certain ports even as the rest of the industry goes the other way, so it's nice to know that Bethesda is working on ensuring you can continue to play some of their games into the next generation at no extra cost.
Of course, we're curious to see which other Bethesda games will actually make that leap. Bethesda seems to distinguish the idea that next-gen upgrades are different from backward compatibility, which means that there could be some current-gen Bethesda games accessible on next-gen consoles via Microsoft and Sony's backward compatibility programs while other ports will offer "upgrades" to their next-gen equivalents (which will seemingly feature a variety of enhancements).
This whole thing is becoming a bit confusing due to the fact that so many companies are kind of doing their own thing, but any advancements which essentially allow you to go into the next generation with games to play are fine by us.