News
Crash Bandicoot 4: Release Date, Trailer, Gameplay, and News
Crash Bandicoot 4 is happening and it will be out in October! Here are all of the details as well as a first look at the gameplay.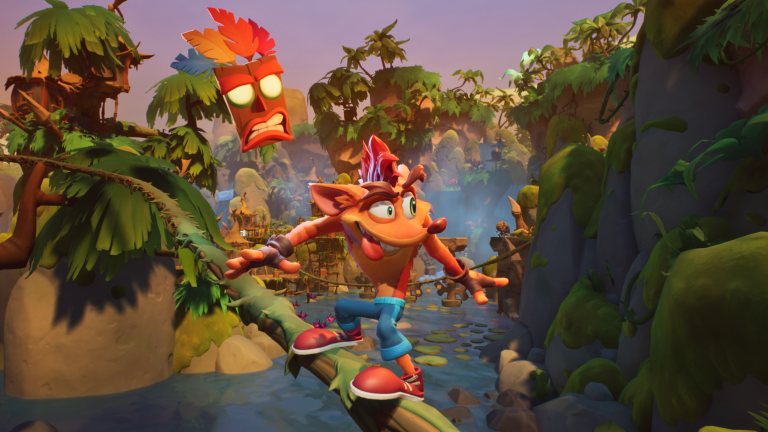 More than 20 years after the release of the last main Crash Bandicoot game, 1998's Warped, the beloved platformer franchise is getting a new numbered sequel. Crash Bandicoot 4: It's About Time picks up where the original trilogy of games for the PlayStation left off.
"Picking up where the original trilogy left off, Neo Cortex and Dr. Nefarious Tripy have escaped their interdimensional prison and in doing so have fractured the boundaries of time and space. It's up to Crash and Coco to save the day," reads the official synopsis on the game's website.
The title is not only an acknowledgment of how long fans of the series have had to wait for another numbered sequel but also a literal reference to the theme of the game, which will feature Crash and his friends manipulating time to save the day.
"Manipulate time, flip your world upside down, and bend the rules of reality as you master the four powerful quantum masks. Learn all new abilities with each mask and unite them to restore order to the multiverse," says game's site.
The game's announcement trailer unveiled two of the four masks. One is the Time Mask, which allows Crash and company to slow down time, giving him a boost against hordes of enemies and platforming challenges, like killer swinging vines impeding the hero's progress. The other mask is the Gravity Mask, which looks really interesting in early footage. This mask gives Crash the ability to walk on ceilings as well as run sideways on platforms he'd normally fall from.
No info on the other two masks, but we assume they'll allow Crash to manipulate space and time some other physics-breaking manner. Overall, the mask mechanic looks like a nice addition to the Crash Bandicoot formula.
The game is being developed by Toys For Bob and will be published by Activision. Toys for Bob previously worked on the Skylanders franchise as well as the Crash Bandicoot N. Sane Trilogy remaster collection with Vicarious Visions, so Toys For Bob is bringing plenty of experience to the table.
Crash Bandicoot 4 is also promising "ridonkulous" bosses and plenty of alternate dimensions to explore, .
Crash Bandicoot 4 Release Date
Crash Bandicoot 4: It's About Time will be out on Oct. 2. The game is coming to Xbox One and PlayStation 4.
Crash Bandicoot 4 Trailer
The first trailer for Crash Bandicoot 4: It's About Time is a nice bit of nostalgia that also teases what kinds of shenanigans players will be able to get into in the long-awaited sequel. Watch it below: