News
Call of Duty Warzone Haunting of Verdansk Update Trailer Revealed
Call of Duty's Halloween update brings zombies and slashers to Warzone.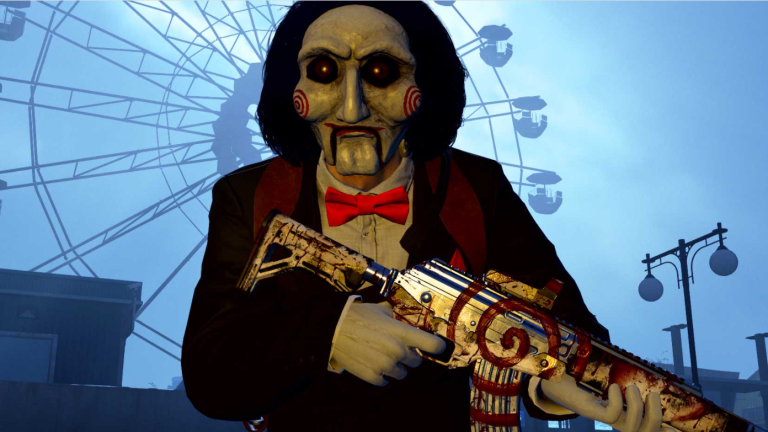 Infinity Ward and Activision have finally revealed the official details for Call of Duty: Modern Warfare and Warzone's upcoming Haunting of Verdansk Halloween update.
Let's start with something we've already covered: the SAW and Texas Chainsaw Massacre content packs. It turns out those leaks we talked about were surprisingly accurate, so be sure to check out that report if you want a closer look at those film-themed updates and all the new cosmetics they'll introduce.
Joining those horror movie icons is an original Call of Duty creation: Dr. Karlov. Described as an "infamous Verdansk urban legend," Karlov was a scientist obsessed with the effects and potential of electricity. His obsession is reflected in his various cosmetic unlocks which include an electric throwing knife and electric weapon blueprints as well as a skin modeled after the doctor himself. You can get a slightly better look at the various new cosmetics via this roadmap image for the upcoming update:
As for Warzone, players will be thrilled to hear that this update will finally allow them to deploy into a night themed version of the Verdansk map referred to as "Going Dark." Available only in "select Warzone modes," this update is actually more than just Verdansk after dark. It's actually filled with various horror Easter eggs that include "the poltergeist of a chainsaw-wielding killer" and "a ghost train." It's a safe bet that Infinity Ward hasn't revealed all of the ghosts and scares that will be spread throughout this map, so be sure to keep your eyes open.
Joining the previously rumored Warzone night mode is the also previously rumored special zombie mode created just for the battle royale. Simply referred to as Zombie Royale, this new mode will see recently deceased players return as zombies rather than enter the Gulag. Zombies won't be able to use guns, but they will be able to take advantage of their increased speed and other supernatural abilities in order to hunt down human players. If a zombie collects two syringes from the bodies of humans, they return to the map for a second chance. Interestingly, the last surviving squad still wins even if that squad is made up of nothing but zombies.
Finally, Warzone players will be able to participate in a "Trick or Treat" event that involving special Supply Boxes spread throughout the Verdansk map. These boxes can contain rare seasonal items, but they may also feature unique seasonal scares. Any player who collects all 16 rewards featured in these boxes will unlock a special "Pumpkin Punisher" Legendary Assault Rifle blueprint.
For more information on this upcoming update (including Modern Warfare updates) be sure to check out this blog post as well as this trailer:
We'll see whether Warzone's zombie mode is balanced enough to stick around as a playlist favorite, but this event's October 20 to November 3 runtime should help fill the void between now and Black Ops: Cold War's release on November 13.