Features
The Best Geeky Chess Sets to Buy
If The Queen's Gambit has you itching to play chess, here are some sets that can ease the transition from general geek to chess geek.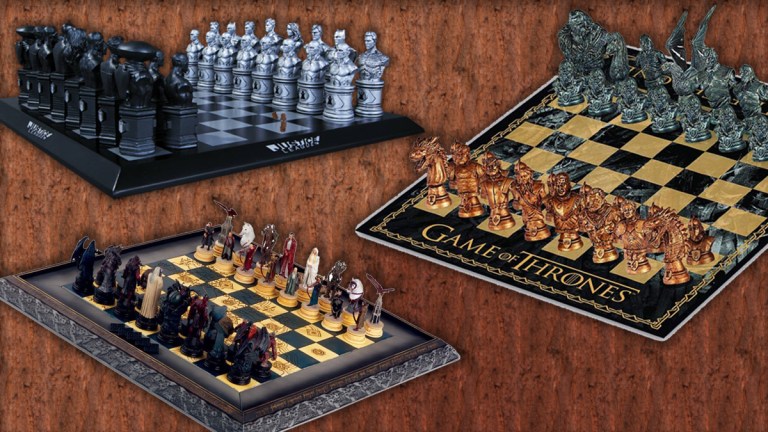 We don't know if you've noticed but chess is having a bit of a moment right now. Thanks to Netflix' superb and stylish miniseries The Queen's Gambit, many retailers are reporting a significant increase in sales of chess boards.
Chess is as fun as it is ancient, but if you want to get in on all the knight and rook action, the sheer number of chess playsets might be intimidating. With that in mind, we've gathered together some of the more interesting, colorful, and collectible geeky chess sets for your perusal.
Sure, there's nothing wrong with your traditional black and white handcrafted wooden chess set. If you're going to be geeky about a new thing, however, you might as well bring some of your older geeky interests to it as well. Here are some of the best geeky chess sets we could find.
Harry Potter
Price: $33.20
The Harry Potter chess set is a bit of an odd duck among its pop culture peers in that it doesn't feature any actual Harry Potter characters. And there's a reason for that – Wizard's Chess is a major part of the series and even helped Harry, Ron, and Hermione access the Sorcerer's Stone in the first book/movie. These chess pieces don't move on their own, but you'll still feel like Ron Weasley when commanding them around.
Buy the Harry Potter chess set here
Game of Thrones
Price: $99.90
Game of Thrones features no shortage of climactic battles to immortalize on a chess board. For this collector's set, however, HBO opted to go with Jon Snow and his allies' titanic struggle against the White Walker. Jon Snow and the Night King fittingly serve as their factions' respective kings, while Daenerys Targaryen and the undead Viserion serve as queens.
Buy the Game of Thrones chess set here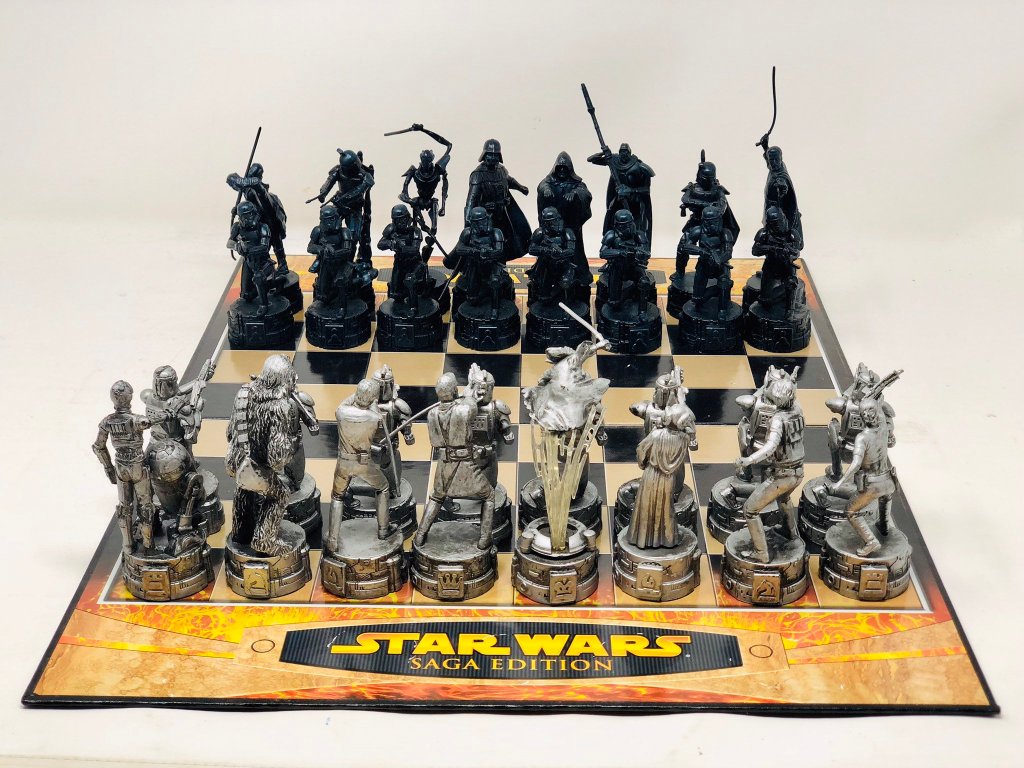 Star Wars
Price: $239.95
Star Wars is perhaps the most merchandizable IP that ever arrived on Earth. So of course it has its own chess set. In fact, there are no shortage of different editions to choose from. Perhaps the nicest is Parker Brothers' metallic SAGA edition, which features characters from the first six films. Live out your Storm Troopers v. Clone Troopers battle fantasies with this set.
Buy the Star Wars chess set here
Lord of the Rings
Price: $649.08
Black and white battles between the forces of good and evil naturally lend themselves to creating some gorgeous chess sets. Lord of the Rings is therefore one of the most chess-able properties there is. There are several editions available but Noble Collection's stunning $500+ board is worth highlighting. This is as much a conversation-piece as it is a playable board game. But just imagine tearing up some orcs with Galadriel as queen.
Buy The Lord of the Rings chess set here
Star Trek: The Next Generation
Price: $169.90
There's no need to get into a protracted discussion about which era of Star Trek is the best. For the purposes of chess playing, however, it's hard to argue with The Next Generation's supremacy. Several TNG chess sets are available, but as an added bonus, one can also purchase a Tridimensional chess set as featured on the show.
Buy the Star Trek: The Next Generation chess set here
Marvel
Price: $16.95 per month
Marvel just might be the hottest name in pop culture right now and thankfully there are plenty of chess set options for chess die hards and newbies to join in on the fun. Figurine company Eaglemoss produces a whole host of Marvel heroes to serve as chess pieces and offers them via monthly subscription. These are all based on the comics characters (rather than the Cinematic Universe) and run the gamut from the ultra-popular (Spider-Man) to the relatively obscure (John Greycrow as a pawn, anyone?).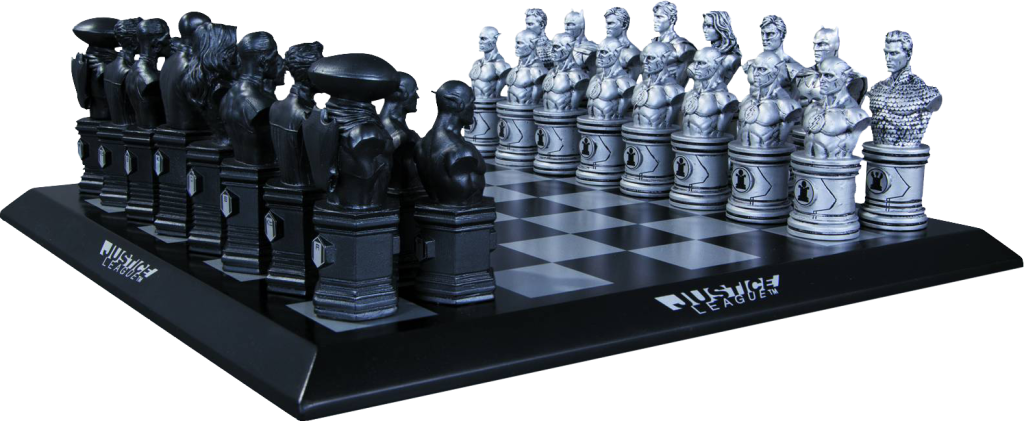 Justice League
Price: $299.99
Call it Newton's fourth law of motion. For every Marvel chess set, there is an equal and opposite DC chess set available on the market as well. Naturally, there are a few DC and Justice League options available. The most impressive creation, however, is undoubtedly the DC Comics Chess set from Gentle Giant Studios. Batman, Superman, Wonder Woman, Green Lantern, Joker – the gang's all here … and on a chessboard.
Buy the Justice League chess set here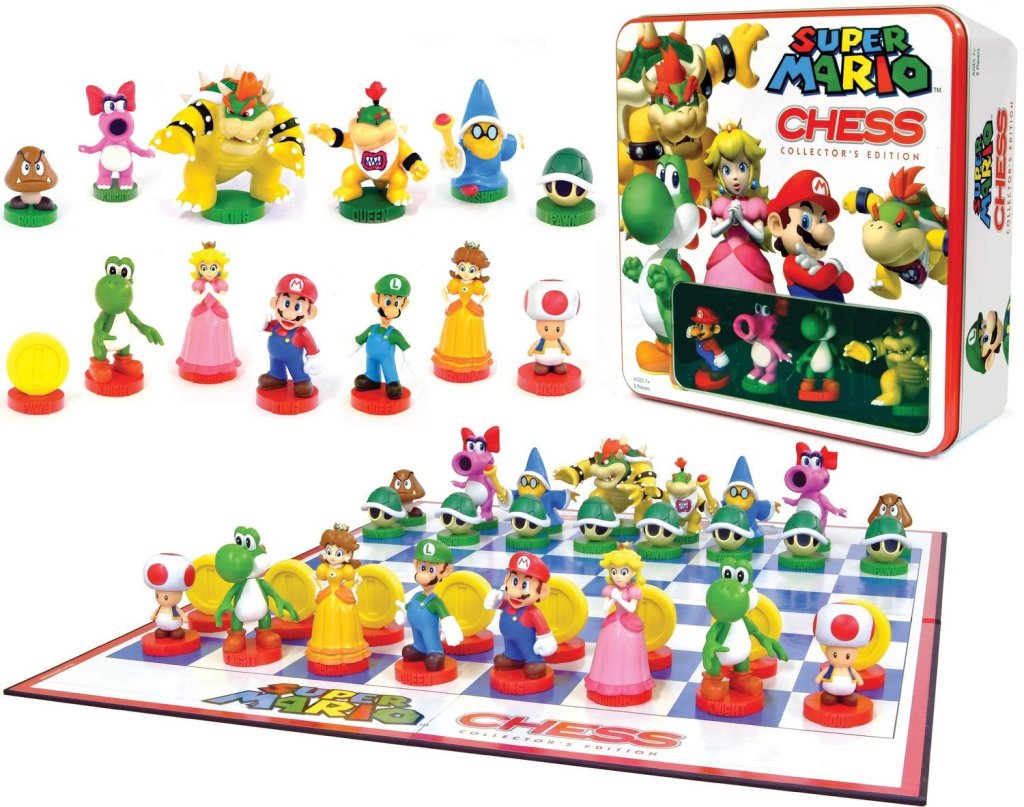 Super Mario
Price: $56.98
As beautiful as many chess sets are, the concept of white v. black can be pretty limiting in the color department. Well this vibrant chess set of Super Mario characters from Nintendo doesn't have that issue. Coins and shells naturally serve as the pawns here while beloved characters from the Mario universe make up the most skilled pieces.
Buy the Super Mario chess set here
Transformers
Price: $119.95
If Transformers can change shape from automobiles into giant robots, then why not into little chess pieces as well? This set from Hasbro pits the Autobots against the Decepticons to finally settle their differences once and for all. Optimus Prime and Megatron are the kings of their two respective factions.