Features
Anya Taylor-Joy Infiltrates the Boys' Club of Chess in The Queen's Gambit
Anya Taylor-Joy and her costars on the choreography of chess and how Netflix's new series is radical for female fans.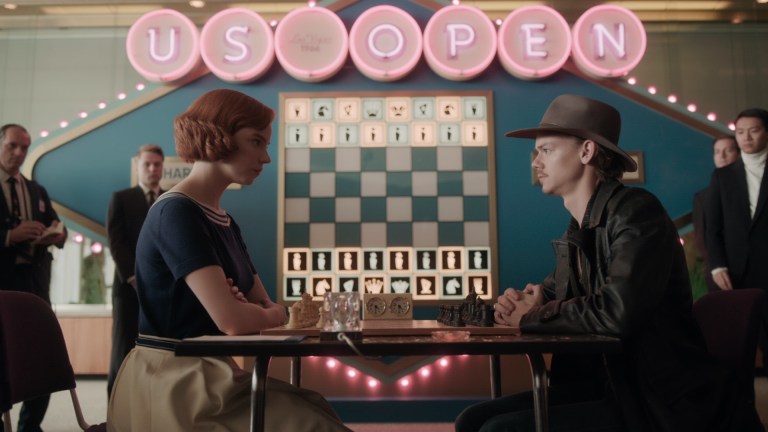 Netflix's period piece miniseries The Queen's Gambit spans a decade in the life of fictional chess prodigy Beth Harmon (Anya Taylor-Joy), a wunderkind whose natural aptitude for anticipating her opponents' moves is blunted by her addiction to the tranquilizer pills with which she credits her wins. Following gawky teenage Beth through her early tournaments in the 1950s to the aloof redheaded beauty wowing spectators in Europe in the '60s—and leaving a trail of defeated men in her wake—the seven-hour series was faced with the challenge of making every chess scene equally thrilling to enthusiasts and non-fans alike.
The key, Taylor-Joy explains to Den of Geek, was in having every single game be recognizably unique. "[Series creator and director] Scott [Frank] and I would have a lot of conversations about both the chess and the addiction scenes, and how we were going to make each of them different and each of them fresh," she says. "Because this show is seven and a half hours, and if a lot of that is the same chess game, people are gonna wander off."
The cast and crew imbued each chess match with specific emotion, matching Beth's personal and professional growth, and unique physicality. For the latter, that involved bringing in chess consultant Bruce Pandolfini (who also consulted on Walter Tevis' 1983 novel on which the series is based) and grandmaster Garry Kasparov to plan out the series' many games down to every gambit and checkmate. Because neither Taylor-Joy nor her on-screen competitors had played much chess prior to shooting, treating the gameplay as choreography helped them pick up the moves.
"I saw the whole thing as a dance," explains Taylor-Joy, a former ballet dancer. "I saw learning the choreography as dance, but just with your fingers."
Costar Harry Melling, who plays one of Beth's early rivals Harry Beltik, agrees that the authenticity was found in the tactile movements of the pieces themselves.
"One of the most important things in terms of the choreography was the feel of the pieces," he says, "about how you take pieces—whether you slide it across the board or whether you lift it up or put it down. All of these little details [are] what makes it look like you've been doing it your entire life."
"It's like riding a horse," says Thomas Brodie-Sangster, whose chess champion Benny Watts is known for a distinctive leather duster and laconic attitude. "It doesn't really matter if you can ride a horse, it's more about if you can get on the horse and get off the horse and look cool doing it. That's what people pick up on; it shows that you actually look comfortable doing it."
While Beltik and Benny are as fictional as Beth, the actors were encouraged to draw inspiration from current and historical grandmasters on which to base their characters' games. "Every game in the show is based on a real game," Brodie-Sangster says. "If you've got a really keen eye, you can probably recognize games from across the history of chess." He modeled Benny's moves after Bobby Fischer, while Melling devoted a lot of time to watching current World Chess Champion Magnus Carlsen play.
"That was really fascinating," Melling says, "because I knew nothing about chess whatsoever—so [I was] starting from ground zero, really, working out how these people operate, what makes them tick."
Equally important as the dance steps were the dance partners. Taylor-Joy credits the originality of each sequence to who Beth is playing at that moment in time—like Townes (Jacob Fortune-Lloyd), a hunky competitor who flusters young Beth. "The first time that Beth plays Townes, it's the first time that she's ever liked somebody that she's playing opposite against," she says, "so she wants to win, but she doesn't necessarily enjoy seeing him crumble, which is a new experience for her."
Taylor-Joy soon found the game as dramatic as Beth does. "For her, it is life or death," she says. "This is her intellect being challenged, and her intellect is the only thing she has any faith in. So I definitely felt the pressure, and then—whenever she's playing with somebody—the power high of that."
It's no surprise that Beth gets a power high from defeating her male opponents, as it is a very insular boys' club into which she enters as a dowdily-dressed teenager in the '50s. For her first match with Beltik at the Kentucky Chess Championship, Melling says, the former is very much in his element, "and then she sort of enters his sphere, and he becomes completely in awe of her talent, and he knows that she's a better player than him. His bubble gets burst very quick."
Though Benny saunters into their first match together, Brodie-Sangster acknowledges that there is also an immediate spark with Beth. "Her presence is a bit of a surprise, and a bit of an enigma for him," he says. "She is very much in a man's world and doesn't really look like she really fits in there; neither does he, and I think there's a kind of connection there."
Beth grows up in the world of chess, both as an aspiring grandmaster and as a young woman. Taylor-Joy had a blast playing so many different versions of Beth, though she laughs recalling how Frank initially asked her how young she thought she could play. Fourteen or fifteen was her answer—"eight, you're gonna have to get another actor to do that one"—and so she portrays Beth from her inelegant teenage years through to her mid-twenties.
Over the course of the series, we witness Beths who are alternately brilliant and awkward, shy and sexy, on top of the world and extremely vulnerable. "Because [the show] takes its time and because you do grow with her, you as an audience are allowed insight into why she is the way she is," Taylor-Joy says. "You see the things that shape her, and you see her grow from it, and you understand why she's grown in that direction."
To move between those many phases, she would devise her own backstories for the different Beths: "She starts off walking very clumsily and awkwardly and almost side-to-side, and then I was like, 'Oh, and this is the first time she's ever seen an Audrey Hepburn movie' and she starts wearing the black pants and the turtleneck and starts standing differently, if a boy's around. And just trying on different personalities, as I think we all do, especially in that age range, and probably into our adult life. It was really fun."
In contrast to her male opponents and love interests who inhabit the same sphere, the two key women in Beth's life exist almost entirely outside of the chess world. Fellow orphan Jolene (Moses Ingram) shows her the ropes at the orphanage, much like an older sister, but resentment stretches between them when Beth is adopted and Jolene is left behind.
"It's all in how they've grown up with each other and gotten to know each other," says the theatrically trained Ingram of her first on-screen role and the difficult emotional history between Beth and Jolene. "I think people that truly love one another certainly get the very best, but also the very worst, of each other. When you can see someone that deeply, you can't help but be locked in to one another."
Complicating their relationship is the fact that preteen Jolene is the one who introduces eight-year-old Beth to the tranquilizer pills to which she immediately becomes addicted. "Jolene was just teaching her how to cope in the only way that Jolene has learned how to cope," Ingram explains, but that simple act irrevocably shapes Beth's approach to chess for the next decade. Initially used to "even out" the orphans' disposition (and then later banned for their habit-forming tendencies), the pills help Beth envision a chessboard in the shadows of her bedroom ceiling at night. Taylor-Joy says she would track Beth's mental and emotional state not just by the different matches, but by how the ghostly chess pieces appear to her: "Sometimes they're familiar, sometimes they're very threatening, it all very much depends on where she's at."
Unfortunately, where Beth is often at is relying too much on the pills to help her focus during chess games, believing herself unable to triumph when not in her altered state. Her dilemma is complicated by the fact that the tranquilizer pills come back into her life care of her adoptive mother Alma Wheatley (Marielle Heller), who initially comes off as a stereotypical '50s housewife who can't function without "Mother's Little Helper." (Though the pills go by the fictional name Xanzolam in the series, they seem to be a cousin of Azolam and other benzodiazepines.)
In the past four years, Heller has been best known behind the camera, as the director of such celebrated films as The Diary of a Teenage Girl (for which she also wrote the screenplay), Can You Ever Forgive Me?, A Beautiful Day in the Neighborhood, and What the Constitution Means to Me. While Heller had always referenced her history as an actor as "part of my superpower as a director," she says that she began to feel like "a fraud" when directing stars like Tom Hanks or Matthew Rhys. "I started to feel like, 'Do I even remember what that feels like, to be an actor, to be asked to do these things, to be asked to go into these certain emotional places?'"
So when Frank, a long-time friend, invited her to join the series and spend a few months shooting in Berlin, Heller saw it as the perfect opportunity to, in her words, "keep my street cred as a director who was an actor." As a director who seeks out projects about the uncomfortable things that people don't talk about, Heller found that Alma embodied those same sensibilities: "She's someone who has a lot of pain in her past, and that makes her most interesting; she's not some version of a '50s housewife that doesn't feel real. So much of what I try to do as a director is to tap into that thing that has made somebody the way they are."
Despite mother and daughter's initial friction, as Beth carves out her niche in the chess world, and Alma begins accompanying her on her more glamorous tournaments, the older woman is inspired to revisit her own long-abandoned dreams of devoting her life to a creative pursuit. "For Alma," Heller says, "she had this dream deferred. She was somebody who wanted to be a pianist and artist and never could, and that's a pain that I feel is very human, and I totally connected to."
What's remarkable about The Queen's Gambit is that each of its female characters experiences a different and specific struggle for the time period. "Scott did that really beautifully," Ingram says of playing adult Jolene, advocating for change during the Civil Rights movement while Beth is moving up through the ranks of the chess world. "He didn't let us forget what point in time we were in the world—we're in the '60s, in the smack-dab [middle] of civil unrest, because people aren't being treated fairly. And I loved that Jolene is out front and being a crusader, being a champion for change, when very clearly all she's known is white people her whole life. So it was beautiful to see that she's found herself later, in changing the world—trying to, at least."
In that endeavor, Jolene describes herself as a radical, though Ingram also feels that the word was a fitting theme for the series overall.
"I think it's radical that Beth, as a woman, is this far into the chess world at this point in time," she says. "It's unheard of that she's there, and everyone's shocked by it. It's definitely a story of radical love, and radical faith."
The Queen's Gambit premieres October 23 on Netflix.