Features
Animal Crossing: New Horizons – Best Geeky QR Codes
Animal Crossing: New Horizon's QR codes let you turn your island into a geek paradise. Here's how!
Animal Crossing: New Horizons is a phenomenon. Nintendo's legendary franchise has always stealthily been one of the publisher's most popular, but the series' debut on the Nintendo Switch has confirmed just how addictive Animal Crossing is as well as the incredible creativity of its layers.
One of the big draws of Animal Crossing: New Horizons, besides owing Tom Nook money for all eternity and gathering the best villagers, is the DIY aspect of the game. The latest entry even lets you decorate your house and island and dress yourself with pieces created by other members of the Animal Crossing community. And it's very easy to enjoy these incredible DIY creations with the game's QR code system.
If you love pop culture like us, there are TONS of ways to celebrate or rep your favorite TV shows, comics, and movies in Animal Crossing: New Horizons. By importing some of the best geeky QR codes out there, you'll not only enhance the look of your island but you may just be inspired to create something great yourself.
It all starts with knowing how to import Animal Crossing QR codes, which is actually a very simple process:
How to Import Animal Crossing QR Codes
Set Up NookLink Access
Download the Nintendo Switch Online App
Open Animal Crossing: New Horizons on your Switch and press the "-" button to open your settings.
In the conversation with Tom Nook, choose NookLink Settings
Choose the "Yes, Please" option that appears in the conversation
You should see a message that says setup is complete. Restart your Nintendo Switch Online app and the NookLink option should be there.
Import QR Codes
Select the "Design" option on the NookLink section of your Nintendo Switch Online app
Choose "Scan a QR Code." Grant the app access to use your device's camera (if necessary)
Line up your desired QR code within the scanning frame that appears. You may need to do this multiple times for codes that are part of a series. Tap "OK" once you've scanned all of your desired codes.
Select "Save" if the previewed image matches your desired QR code
Add QR Code Designs to Animal Crossing: New Horizons
Open Animal Crossing: New Horizons
Open the NookPhone and select Custom Designs
Press the "+" button on your Switch controller to access "Download"
Choose download on the menu that appears and choose "OK" when you've found your desired selection.
Choose an empty slot where you want to import your design and select the "Overwrite It" option.
Apply the design to any applicable item you'd like.
20 Best Geek Animal Crossing New Horizons QR Codes
Batman Outfit (Black and Yellow)
There's no shortage of great fan-created Batman outfits for Animal Crossing, but you really can't go wrong with this classic black and yellow number. Pair this with some black pants, a black mask, and maybe throw a bat signal flag over your town, and you're pretty much good to go with your very own island version of Gotham City.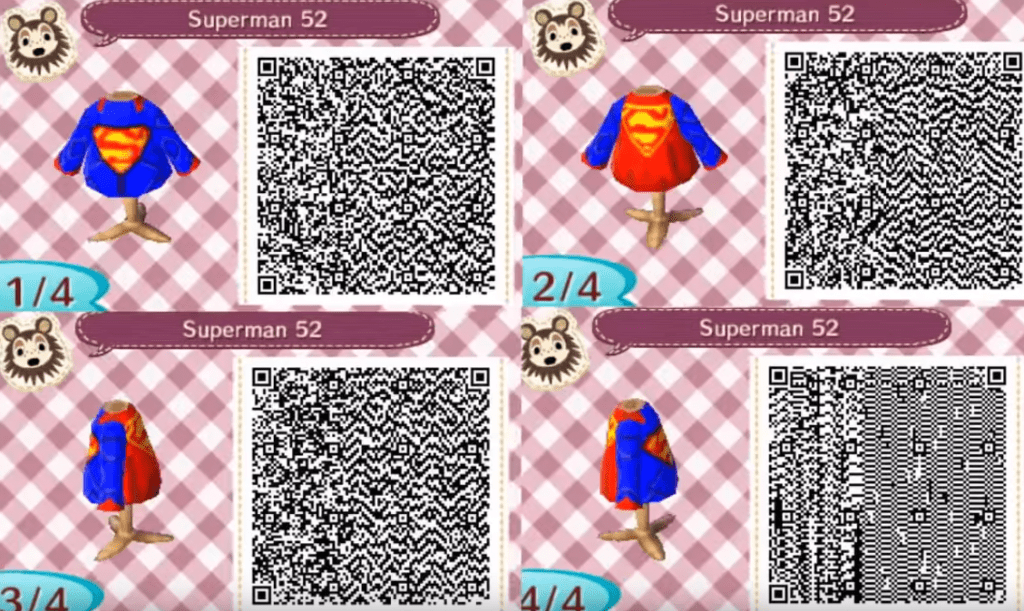 Superman
We love this Superman New 52 outfit not only because it features great comic book aesthetics, but because that iconic "S" is clearly visible on both the chest and cape. It's also great to see the suit emulate Jim Lee's Super-armor design used through DC's entire New 52 era. We wouldn't have minded the high collar, either.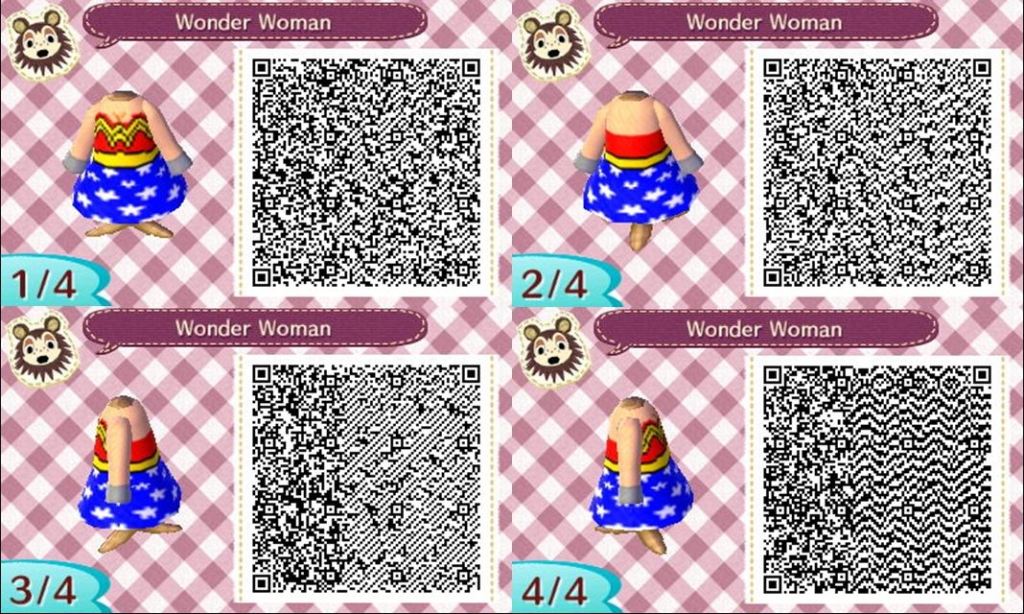 Wonder Woman Dress
We end our look at DC's big three by highlighting this fantastic design for a simple, retro-style Wonder Woman dress. The design of this outfit feels perfect for the world of Animal Crossing, and it's just a solid all-around look that we'd recommend in real-life even if it wasn't a reference to one of comics' greatest heroes.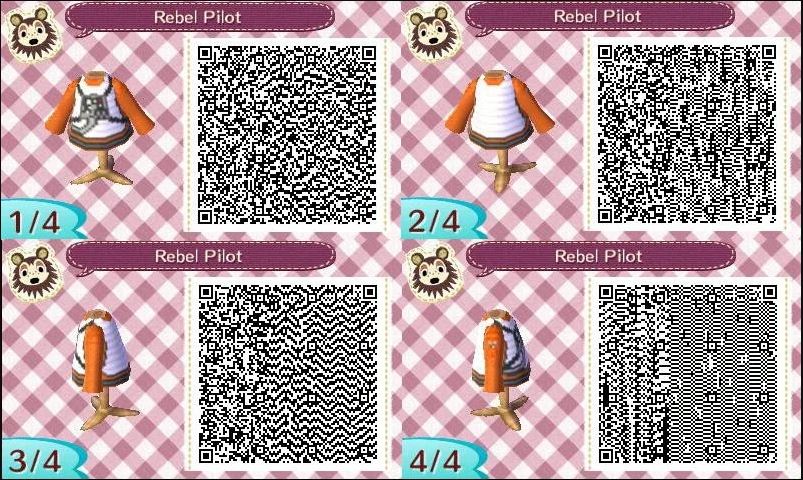 Star Wars Rebel Pilot Outfit
There are quite a few custom Star Wars outfits created by the Animal Crossing community at this point. However, there's something special about this particular outfit.
Not only is this Rebel Pilot flight suit a nice change of pace from the traditional Jedi robes you'd expect, but the detail of this design is incredibly impressive. It looks great from just about any angle.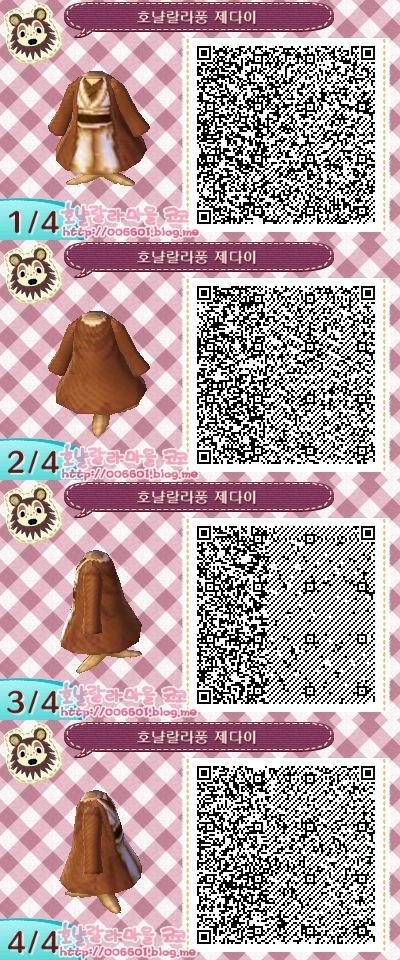 Jedi Robes
Before we get away from Star Wars, we have to talk about importing your own Jedi robes through the QR code system. This is really one of the best Jedi robes sets that we've seen in Animal Crossing so far. It's detailed enough to be recognizable but still wouldn't look out of place hanging near your bathtub.
Eevee Evolution Paintings
It shouldn't be too surprising that the Pokemon community has turned out in full force to create some great Animal Crossing QR codes (it is, after all, a Nintendo game), but you still have to be impressed with some of the creations that are out there. We especially love this set of Eevee paintings. For bonus points, be sure to hang them on a large wall as part of a mural.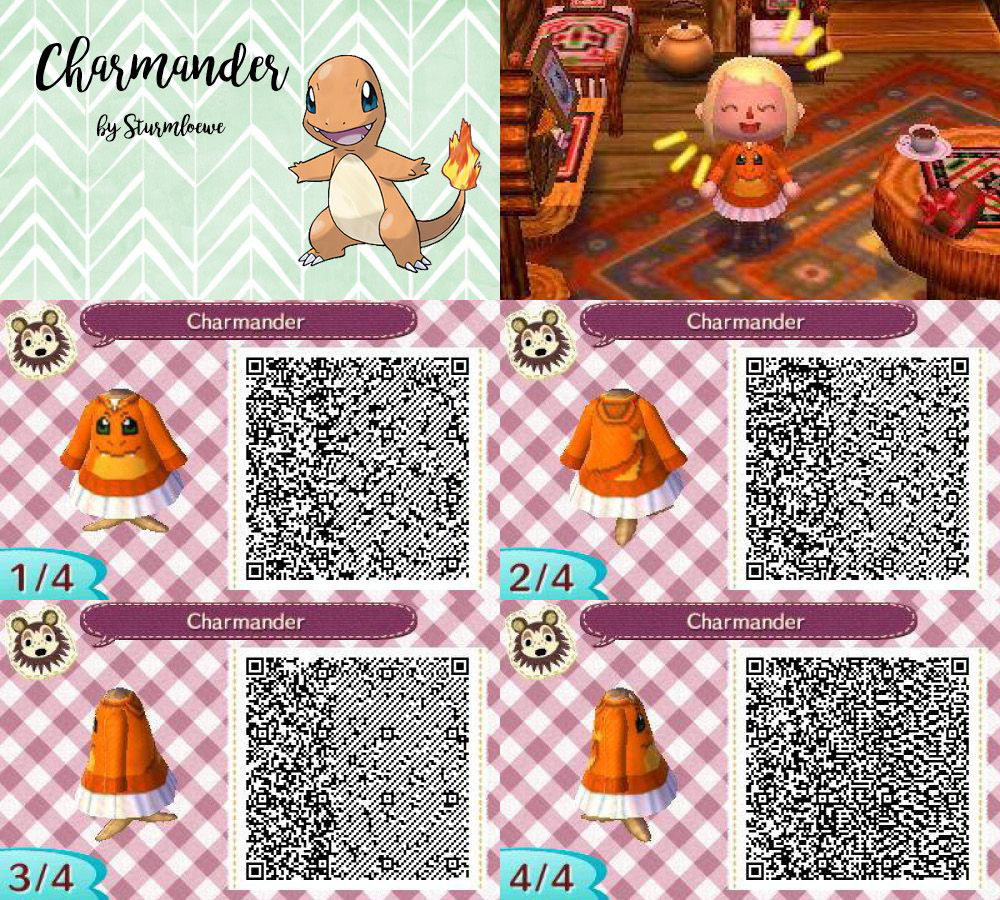 Starter Pokemon Dresses
Eevee is great and all, but we imagine that there are more than a few Pokemon fans out there who want to showcase their favorite starter Pokemon wherever they go. Thankfully, these dresses from Sturmlöwe allow you to do just that.
Whether you side with Charmander, Bulbasaur, Squirtle, or Pikachu, there's a QR code dress out there for you. Be sure to check out the creator's Pinterest page for all available options.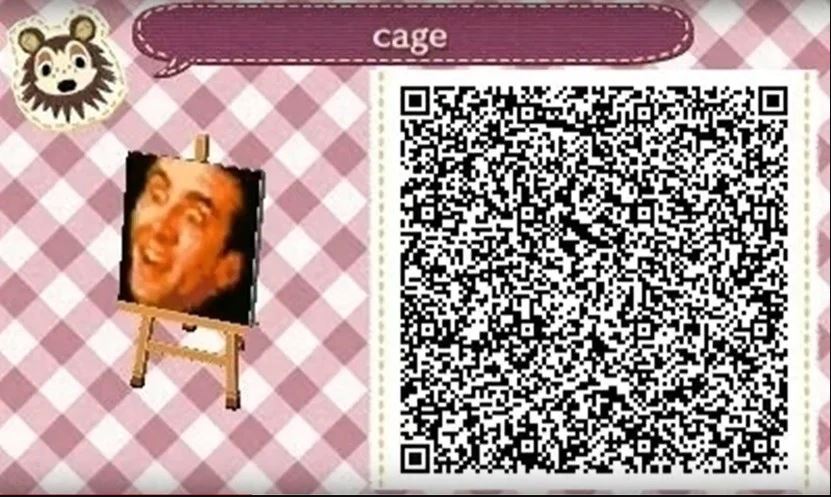 Nicolas Cage Meme Painting
It's been said, mostly by me, that one of the biggest problems with Animal Crossing is its distinct lack of Nicolas Cage. That said, we understand the process of officially putting him into the game may be complicated.
Thankfully, it's easy to just upload this Nicolas Cage painting into Animal Crossing: New Horizons using the game's QR code system. There are quite a few uploadable memes in this game, but we're glad that you — a reader with taste, class, and sophistication — chose this one.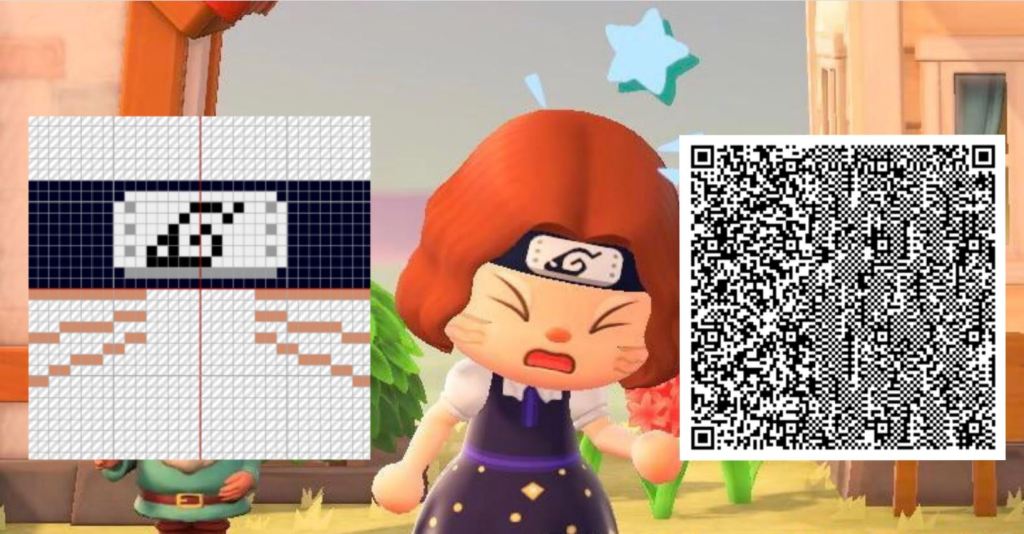 Naruto Headband
Yes, the obvious way to go is to download this QR code for a Naruto bandanna, throw on an orange jumpsuit, and start recreating your favorite Naruto scenes, but you're thinking too small. This bandanna should really be used for Naruto running across an in-game recreation of Area 51 at the speed of an internet meme. Any other use of this great design is, quite simply, subpar.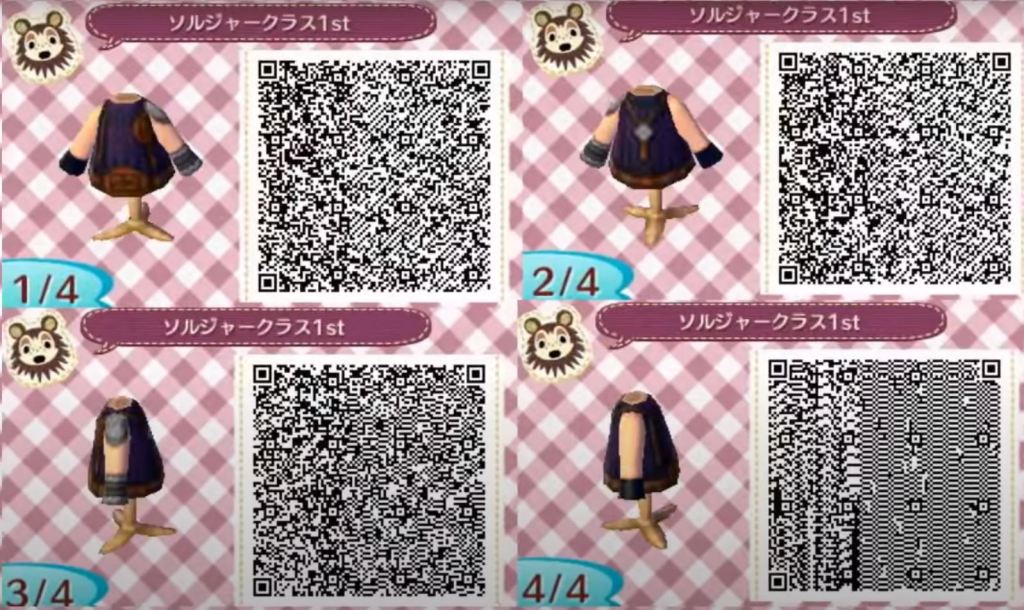 Cloud's Final Fantasy 7 Outfit
If you've already finished Final Fantasy 7 Remake and sent us your thoughts on the game's ending, then you might be suffering through some Final Fantasy withdrawals. Never fear as this Cloud Strife Animal Crossing QR code is here. You can pretty much dress as any Final Fantasy character you want in Animal Crossing, but this Cloud outfit is as stylish as it is relevant.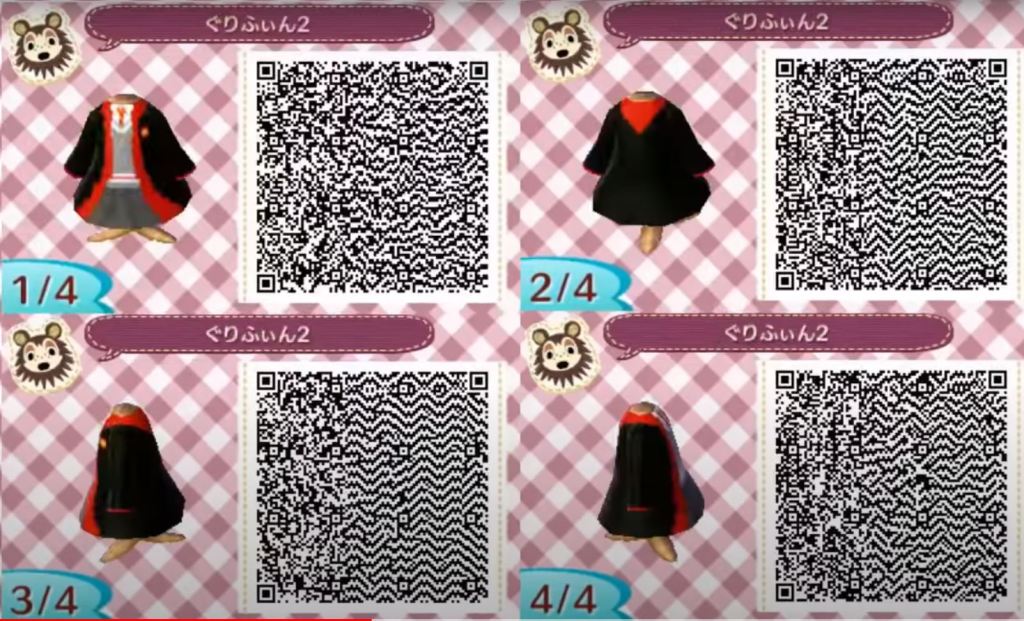 Harry Potter House Uniforms
Many Harry Potter fans have already used the game's array of mystical items to turn their homes into Hogwarts, but if you want to complete that look, you really need these QR codes for authentic house uniforms. While we've highlighted the main Gryffindor variant above, this YouTube video from Nerd Attack features several options for whatever house you were sorted into in the Pottermore online quiz.
Iron Man Armor
Yes, it's perfectly acceptable to walk around as Iron Man in Animal Crossing and show off your futuristic armor suit. There's nothing wrong with that. However, the pro move is to download a few different Iron Man armor QR codes and set them up in your underground lab.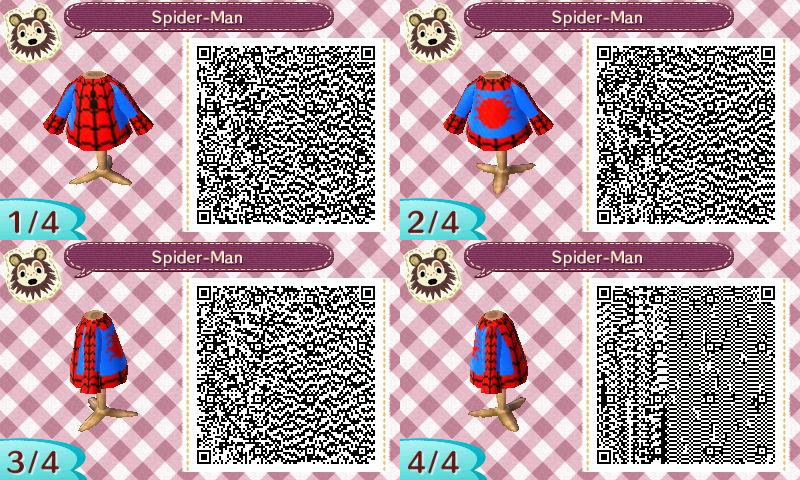 Spider-Man Outfit
There are really two good ways to go with your Spider-Man outfit. The first is to grab this classic Spider-Man outfit and teach your villagers that with great power comes great responsibility. The second is to find the more homemade variant of the Spider-Man outfit, set up an in-game wrestling ring area, and embark on the career that Peter Parker could have had.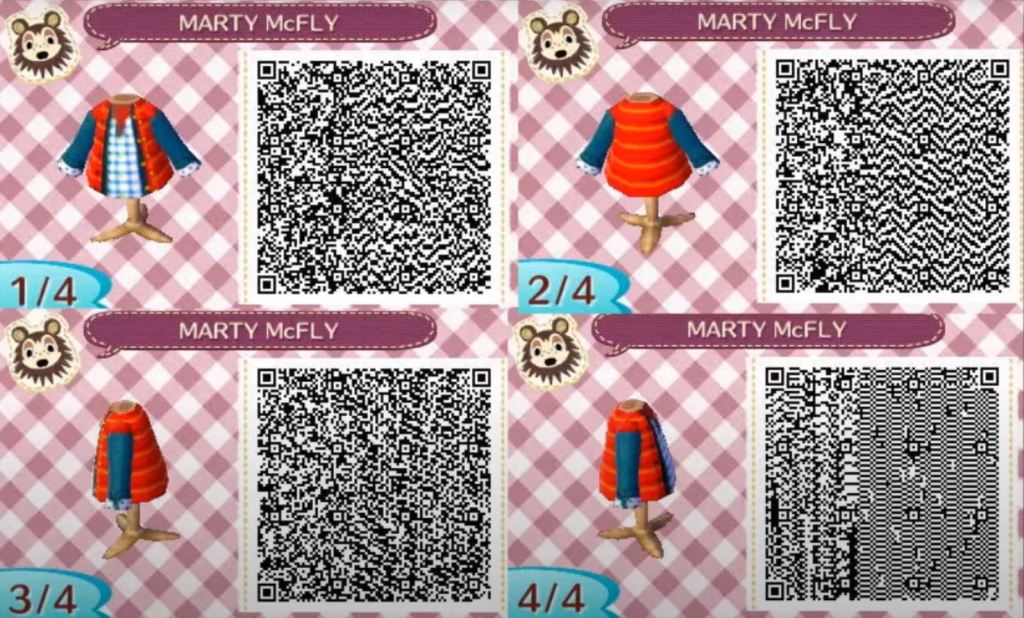 Marty McFly Back to the Future Outfit
To a generation of kids growing up in the '80s, Marty McFly embodied style. The people of the '50s may not have appreciated his red life jacket and collar shirt combo, but the people of the future most certainly do.
Thanks to this QR code, you can import your own incredible recreation of Marty's iconic look into Animal Crossing. Perhaps it should come as no surprise, but it looks just as great there as it ever did in Back to the Future.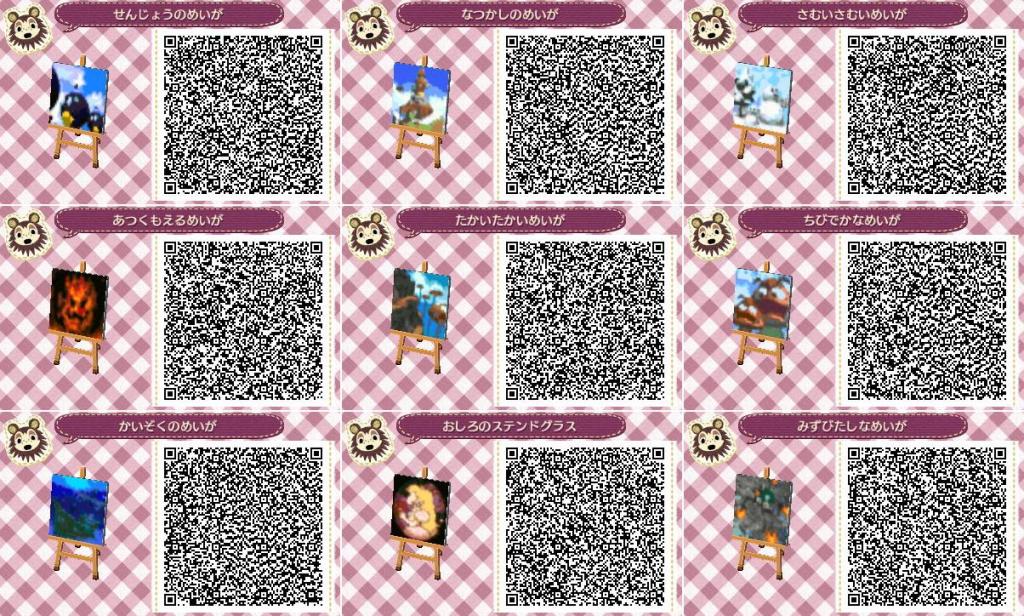 Super Mario 64 Paintings
Okay, this is one of the absolute coolest Animal Crossing QR code sets that we've seen yet. You know those paintings in Super Mario 64 that served as your gateway to that legendary titles' incredible worlds? Well, thanks to these QR codes, you can add all of them to your Animal Crossing home. They're not only incredible easter eggs, but these paintings actually look great hanging on your wall.

Fallout Vault Suit
You'd think that nobody would want to live in the world of Fallout given all the nuclear radiation, mutants, and the questionable later games in the series, but time and time again, people fall for that franchise's unique charms. Unsurprisingly, you can bring some Fallout to your peaceful Animal Crossing village with this excellent vault dweller jumpsuit. Whether you turn your basement into a vault is entirely up to you.
Scott Pilgrim Shirt
There's something to be said for a QR code reference that is subtle and clever enough to double as a great addition to your wardrobe. That's what you get with this 8-bit skull shirt straight out of Scott Pilgrim vs. The World. It's a fantastic t-shirt for just about any purpose, and visitors who recognize its origins will immediately appreciate it.
Star Trek Uniforms
Do you and your friends have all the props needed to turn your attic into Captain Picard's bridge but seem to be missing those sweet Star Trek uniforms? As you probably guessed, this QR code is here to help. Variants of this outfit are also available in yellow and blue, so if you want to join Starfleet in Animal Crossing, this is your chance.
Sherlock Coat
While this writer will always love the classic Sherlock Holmes look, there's no denying that this more modern variant has a style of its own. We're especially impressed by the inclusion of the scarf, which is subtle but must have taken quite a bit of work to get right.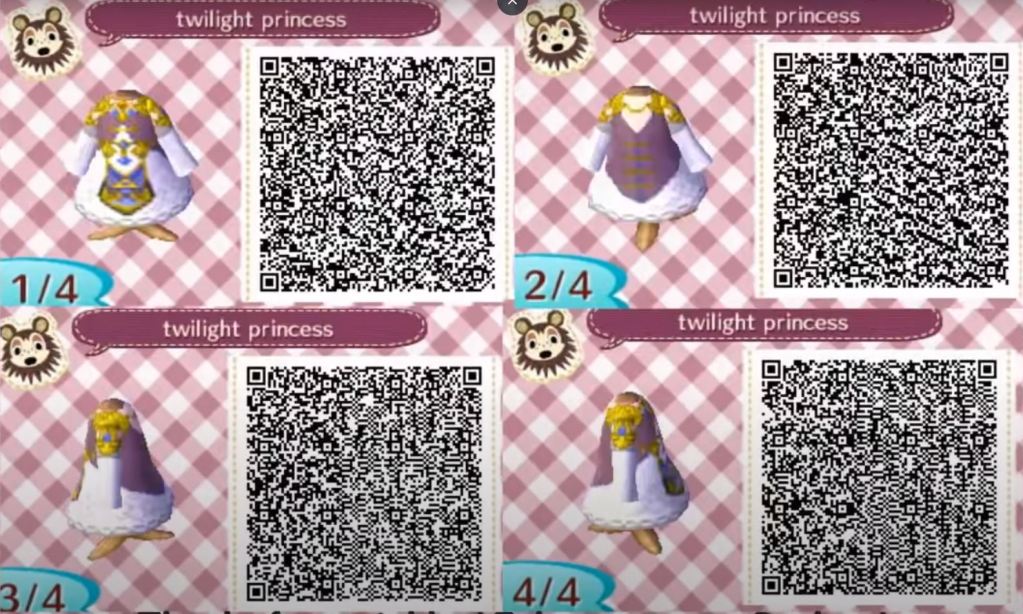 Zelda Ocarina of Time Dress
We end our look at some of the best geeky Animal Crossing QR codes (at least for now) with this truly impressive dress from The Legend of Zelda: Ocarina of Time. You didn't think we'd leave out one of Nintendo's greatest franchises, did you?
Again, it's the details that set this one apart. The work that went into recreating the subtle flourishes of this dress really highlights how much you can accomplish with Animal Crossing's creator system.