News
WWE Wrestlemania 36: Matches, Card, and Results
WWE's two-part take on WrestleMania is over. It got very, very weird. Here's what went down.
And that's a wrap on WrestleMania 36, WWE's Granddaddy of Them All. Due to the real world issues, the show was without a doubt one of the strangest WWE shows of all time. To make up for the underwhelming nature of doing the biggest wrestling show of the year with zero audience, the show was split into two nights. As expected, the whole thing had been rather dadaist, ESPECIALLY once Cena vs. Fiend started up.
Here's a look at what's happened.
WWE WRESTLEMANIA 36 NIGHT 1 RESULTS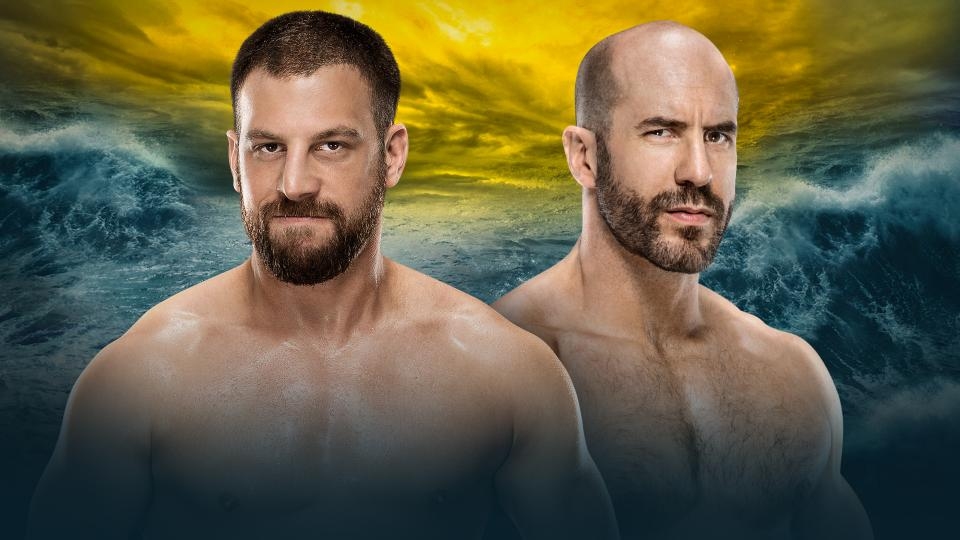 DREW GULAK VS. CESARO
Results: Cesaro (FINALLY) broke out his old move from the indies, the UFO, where he spun Gulak's body around Cesaro's neck and shoulders before slamming him. Cesaro got the pin.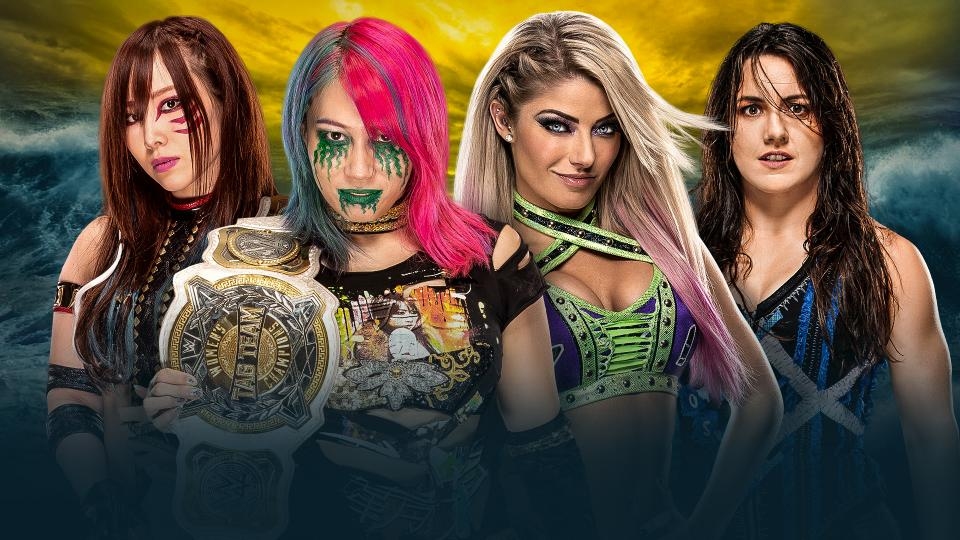 KAIRI SANE AND ASUKA (C) VS. ALEXA BLISS AND NIKKI CROSS
WWE Women's Tag Team Championship
Results: With Asuka knocked out of the ring, Nikki took down Kairi with a neckbreaker, allowing Alexa to finish her off with Twisted Bliss from the top rope. We have new tag champs!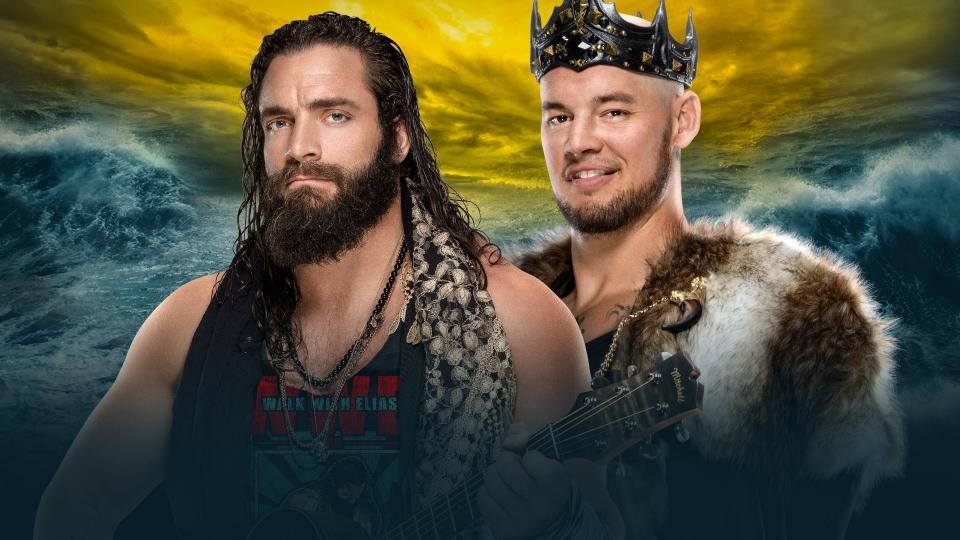 ELIAS VS. KING CORBIN
Results: With both wrestlers unable to put the other away for good, Corbin got desperate and tried for a pin with both feet on the ropes. The ref noticed this and got in an argument with Corbin, allowing Elias to roll up Corbin for a flash pin.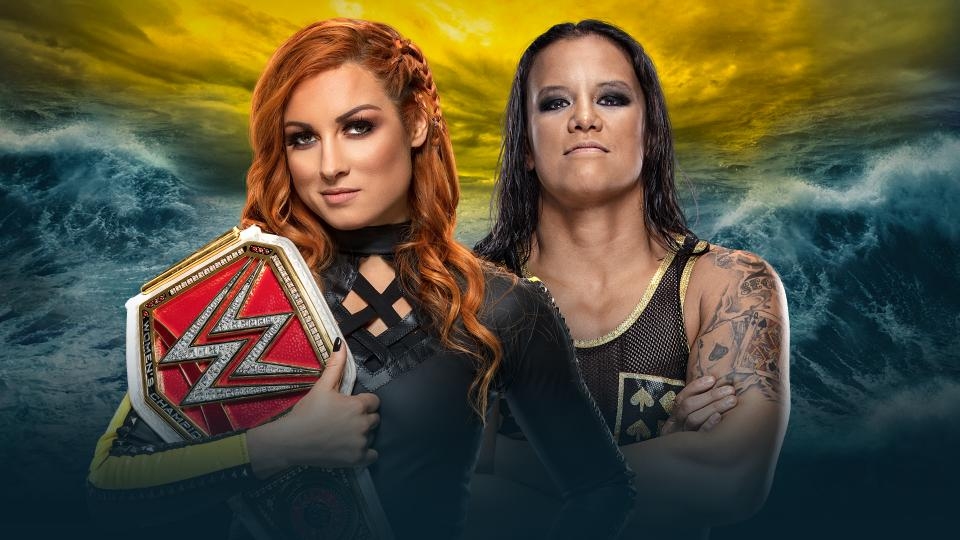 BECKY LYNCH (C) VS. SHAYNA BASZLER
WWE Raw Women's Championship
Results: After brawling on the outside, Baszler could have won by count-out, but threw Becky back into the ring, knowing that a count-out wouldn't net her the title. She put Becky in the Kirifuda Clutch, but Becky was able to flip back over Baszler and turn it into a pin to retain.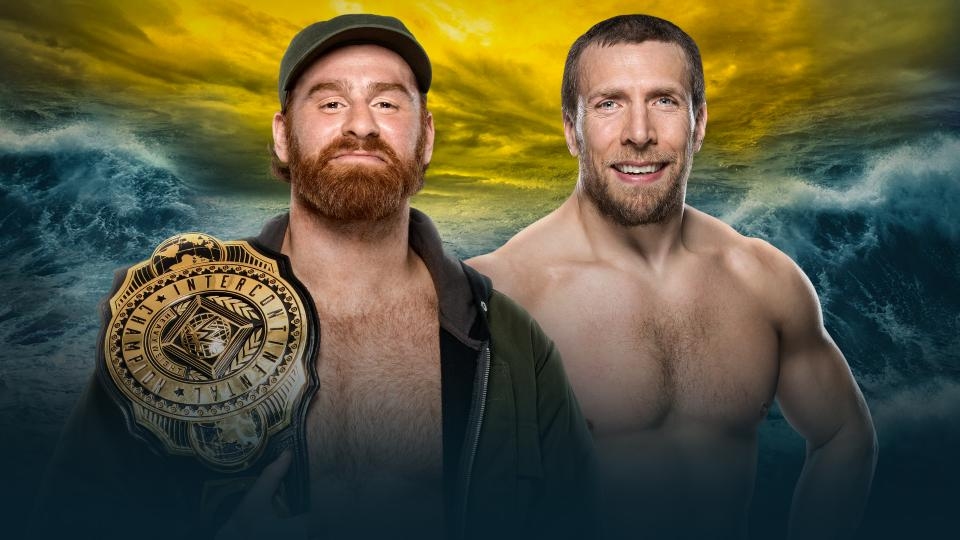 SAMI ZAYN (C) VS. DANIEL BRYAN
Intercontinental Championship
Results: Bryan had Drew Gulak in his corner. As Bryan seemed to have things wrapped up, Sami's buddies Nakamura and Cesaro ran out to attack Gulak. Bryan took out the two with a dive, returned to the ring, and ate a variation of the Helluva Kick. Sami retained.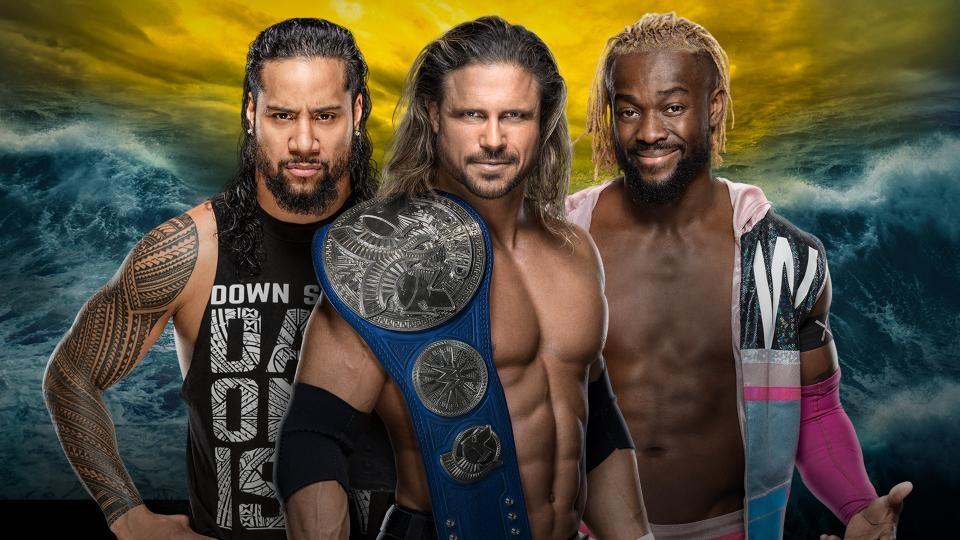 JIMMY USO VS. JOHN MORRISON (C) VS. KOFI KINGSTON
Ladder Match for the WWE SmackDown Tag Team Championship
Results: Due to Miz being sick, the match was decided by a representative of each team. The match ended with the three fighting on top of the ladders and grabbing at the title belts. Jimmy and Kofi knocked Morrison to the mat, but Morrison had the belts in hand and brought them with him. Despite taking the final big bump, Morrison retained for his team.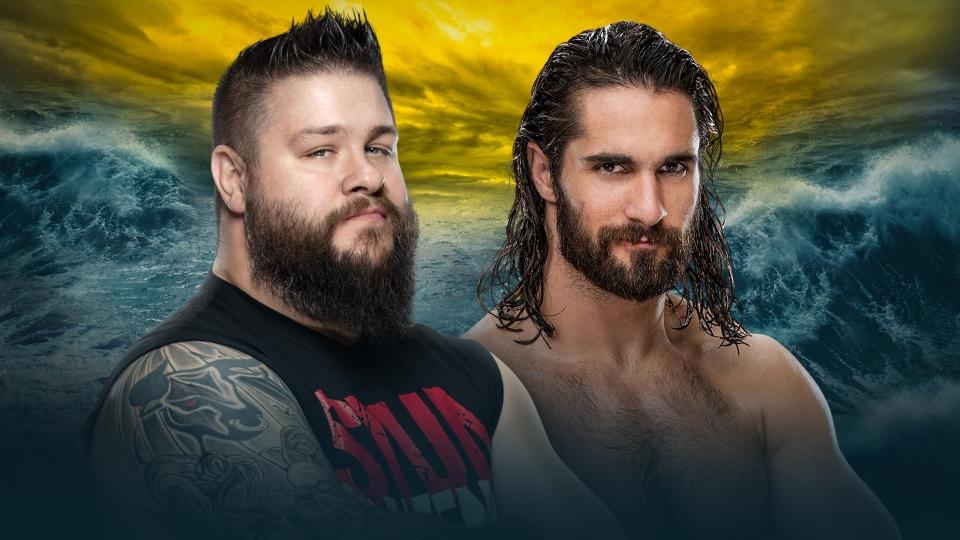 KEVIN OWENS VS. SETH ROLLINS
Results: Rollins initially lost by disqualification for using a ring bell as a weapon. Owens refused to let it end that way and convinced Rollins to make it a No Disqualification match. Towards the end, Owens jumped off the WrestleMania sign and did a senton onto Rollins, who was draped over a table. He dragged Rollins to the ring, hit a stunner, and pinned him.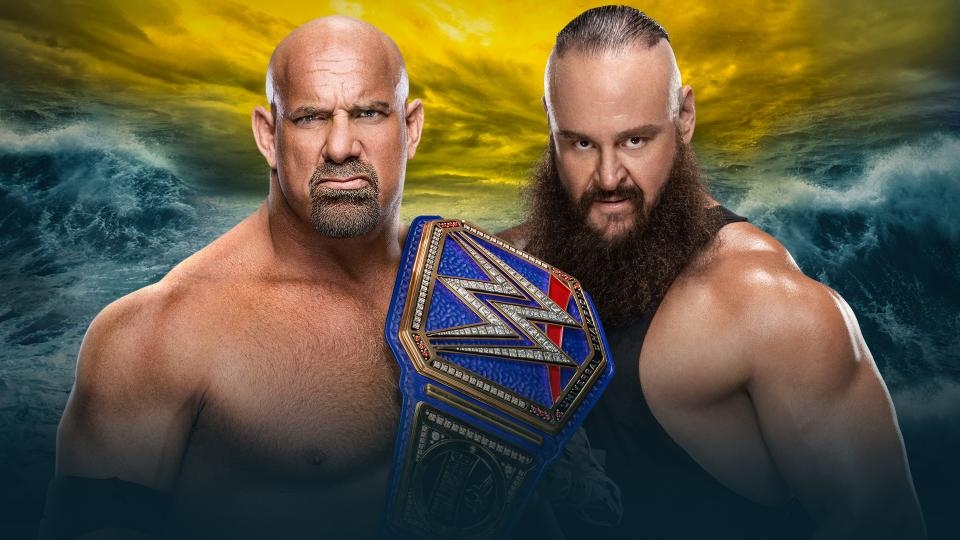 GOLDBERG (C) VS. BRAUN STROWMAN
WWE Universal Championship
Results: While this was supposed to be Goldberg vs. Roman Reigns initially, Roman backed out due to his status as a leukemia survivor amid the possibility of being infected. Goldberg hit Braun with three spears, but couldn't put him away. He went for the Jackhammer, only for Braun to reverse it into a powerslam. Braun hit a total of four consecutive powerslams in order to pin Goldberg and win his first world championship.
*************
In a segment involving 24/7 Champion R-Truth trying to find a hiding place, host Rob Gronkowski and buddy Mojo Rawley beat him down. Mojo betrayed Gronk and pinned Truth before Gronk had the chance. Mojo Rawley is now 24/7 Champion.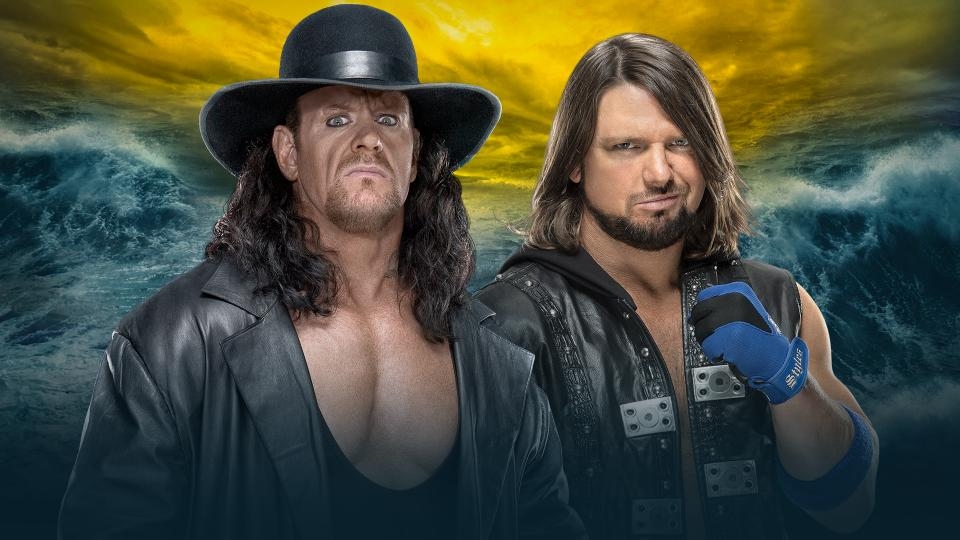 UNDERTAKER VS. AJ STYLES
Boneyard Match
Results: In a very cinematic, over-the-top fight, Undertaker eventually got the better of AJ by chokeslamming him off a roof. As he loomed over AJ, AJ pleaded for his life and begged not to be buried. Undertaker showed him respect, but ultimately decided to kick him into a grave and drop a bunch of dirt onto him. Undertaker revealed a tombstone (literal, not move) for AJ Styles and then rode off. AJ's hand was shown peaking out of the dirt.
And that's it for Night One!
WWE WRESTLEMANIA 36 NIGHT 2 RESULTS
NATALYA VS. LIV MORGAN
Results: Natalya went for the Sharpshooter and Morgan tried to roll her up for a pin. That led to a series of roll-ups and reversals that eventually ended with Morgan getting the win.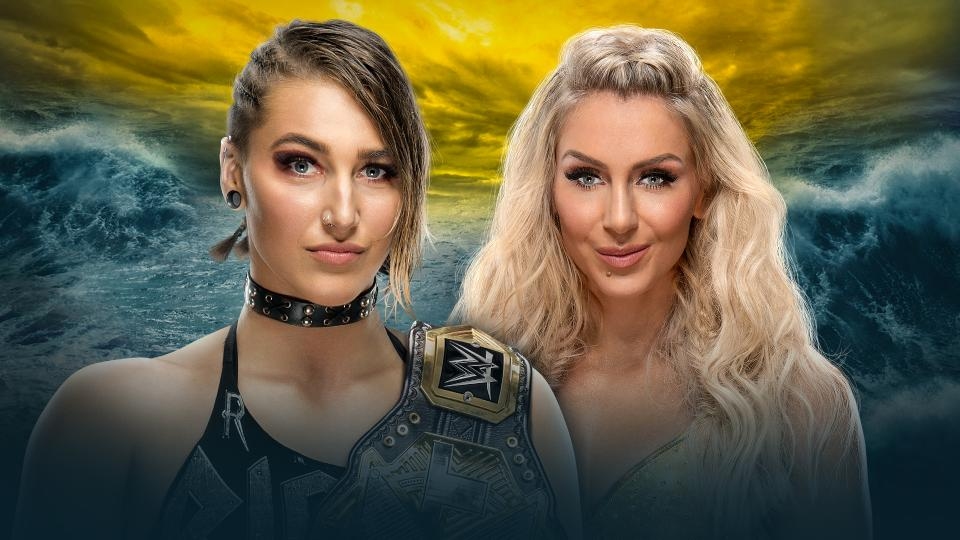 RHEA RIPLEY (C) VS. CHARLOTTE FLAIR
NXT Women's Championship
Results: After lots of struggling, Charlotte was able to put Ripley into the Figure Four. The two continued to fight within the hold until Charlotte bridged it into a Figure Eight and Ripley had no choice but to finally tap out.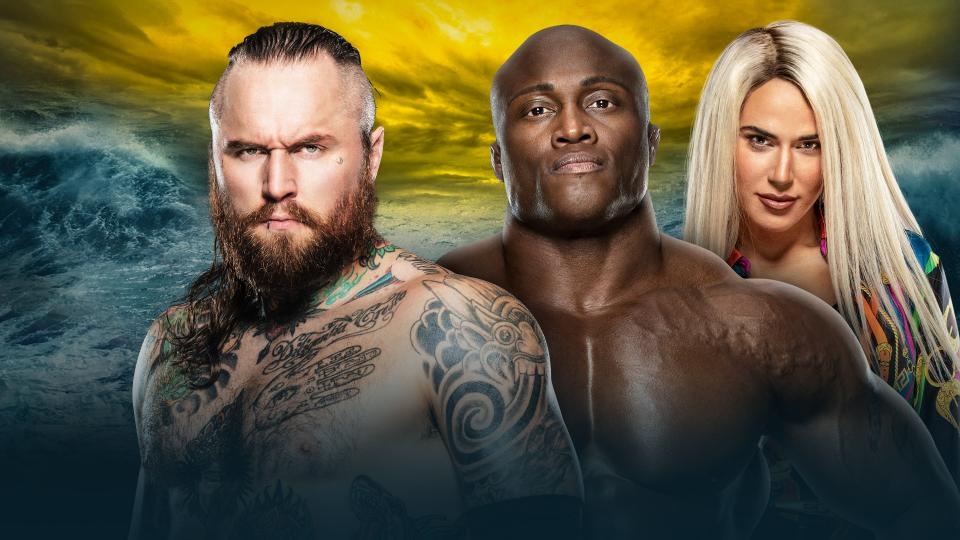 ALEISTER BLACK VS. BOBBY LASHLEY
Results: Bobby Lashley set Black up for the Dominator, but Lana yelled at him to finish Black off with the spear instead. Listening to his wife, Lashley put Black down and ran for the spear. Black countered it with the Black Mass and got the pin.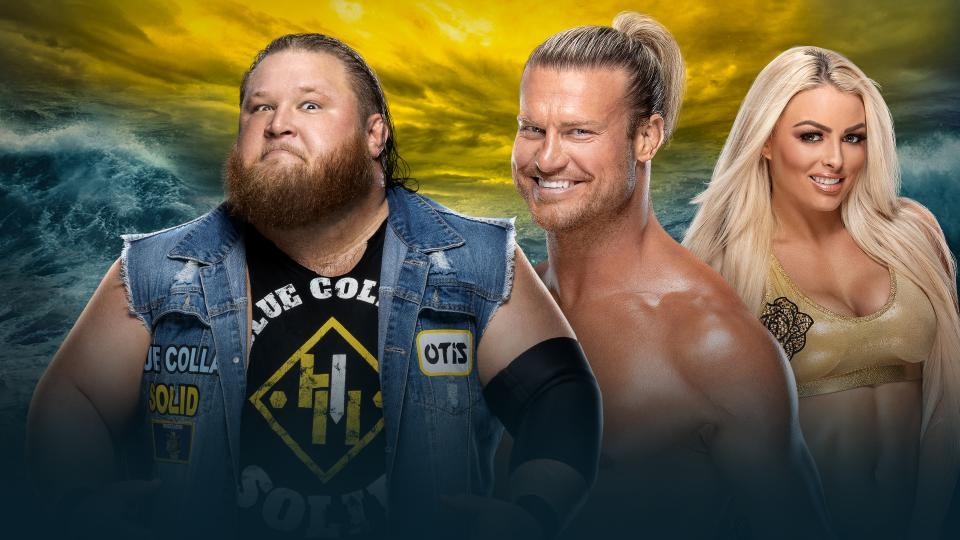 OTIS VS. DOLPH ZIGGLER
Results: Ziggler had Sonya Deville interfere on his behalf. Mandy Rose ran out and attacked Deville. The ref tried to remove the hurt Deville from the ring, which allowed Rose to enter and hit a low-blow on Ziggler. Otis finished Ziggler of with the Caterpillar and celebrated his win by kissing Rose and carrying her to the back.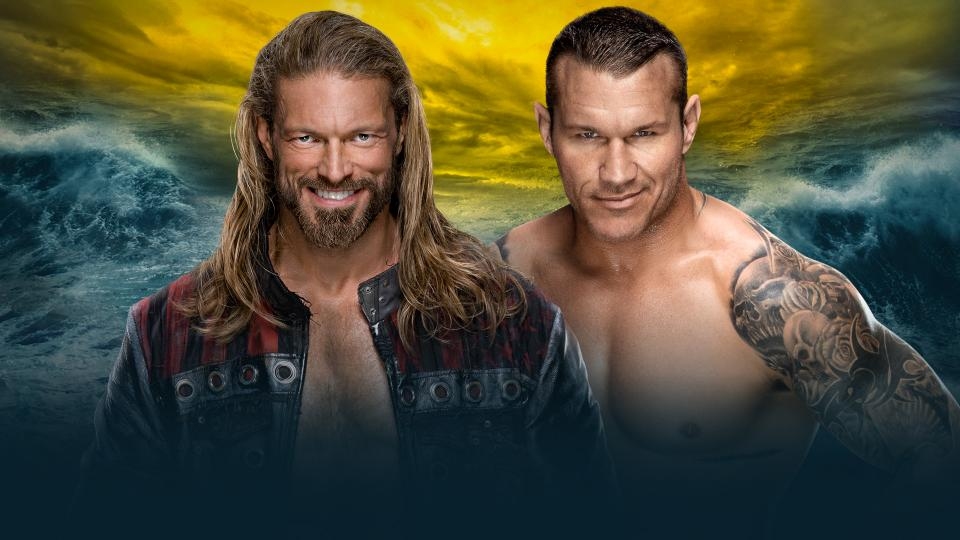 EDGE VS. RANDY ORTON
Last Man Standing
Results: In an excruciatingly long match, the two fought all around the Performance Center. Edge ended up winning after crushing Orton's head with a Conchairto. Edge acted especially emotional over his victory and the damage he placed on his former partner.
*************
A bunch of wrestlers brawled for Mojo Rawley's 24/7 Championship. Gronk lept onto all of them and then pinned Mojo for the belt. Gronk ran off, leaving hosting duties to Titus O'Neil.
THE STREET PROFITS (C) VS. AUSTIN THEORY AND ANGEL GARZA
WWE Raw Tag Team Championship
Results: As Theory worked over Dawkins, Ford caught Theory with a Frog Splash off the top. Dawkins made the cover and the Profits retained.
LACEY EVANS VS. SASHA BANKS VS. BAYLEY (C) VS. TAMINA SNUKA VS. NAOMI
Fatal 5-Way for the WWE SmackDown Women's Championship
Results: Everyone teamed up on Tamina, eliminating her first. Naomi tapped out to Sasha's Banks Statement. That left Sasha and Bayley vs. Evans. When Sash and Bayley argued at each other, Evans took advantage and removed Sasha from the match with the Women's Right. Sasha hit a Backstabber on Evans despite being eliminated, which made it easier for Bayley to finish her off and retain.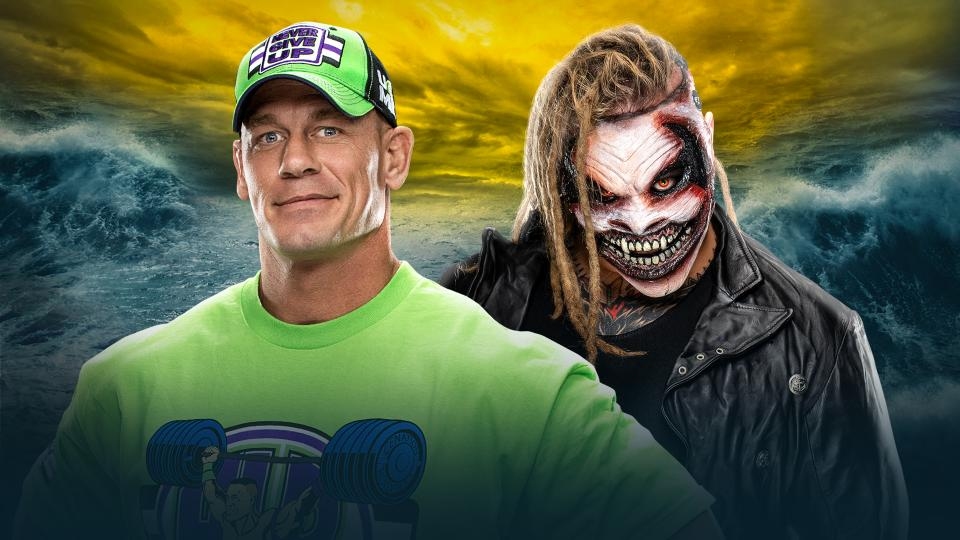 JOHN CENA VS. THE FIEND
Firefly Funhouse Match
Results: In a match that can best be described as an LSD trip, Bray Wyatt teleported John Cena into the Firefly Funhouse. He proceeded to transport and transform him through time and space, causing both of them to revert to previous gimmicks. This culminated in John Cena showing up on WCW Monday Nitro as the leader of the New World Order and…
Listen, the Fiend won. I guess. It was really weird.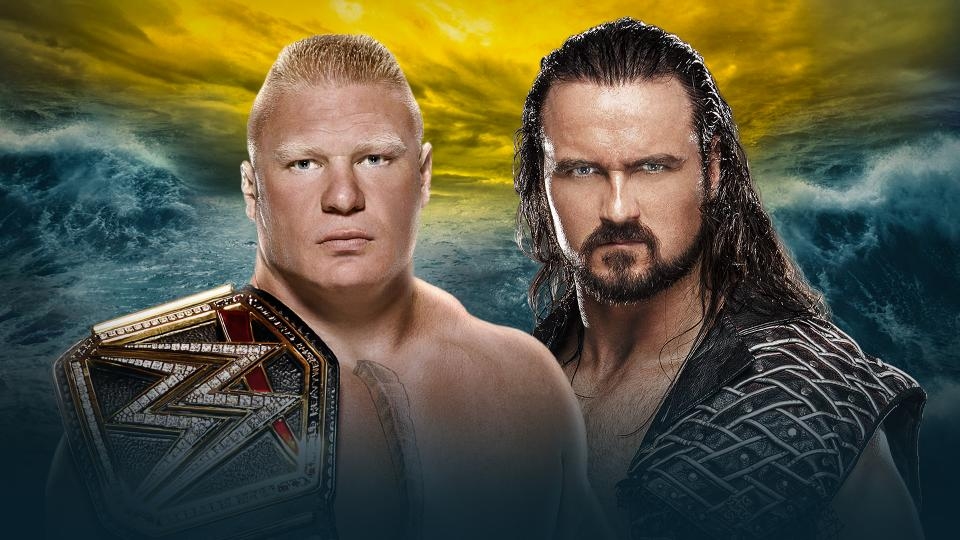 BROCK LESNAR (C) VS. DREW MCINTYRE
WWE Championship
Results: Brock just couldn't keep McIntyre down with his constant suplexes and F5s (McIntyre even kicked out at 1 at one point!). As Brock went for yet another F5, McIntyre escaped and hit several Claymore Kicks. Rather than go for a pin, he wanted for Brock to get back to his feet and unleashed a fourth one. Finally, he pinned Brock and became WWE Champion.