Features
You Should Check Out the Paralympics
The 2020 Olympics may be over, but the Paralympics are underway on NBC and U.S. swimmer Jamal Hill wants you to give them a shot.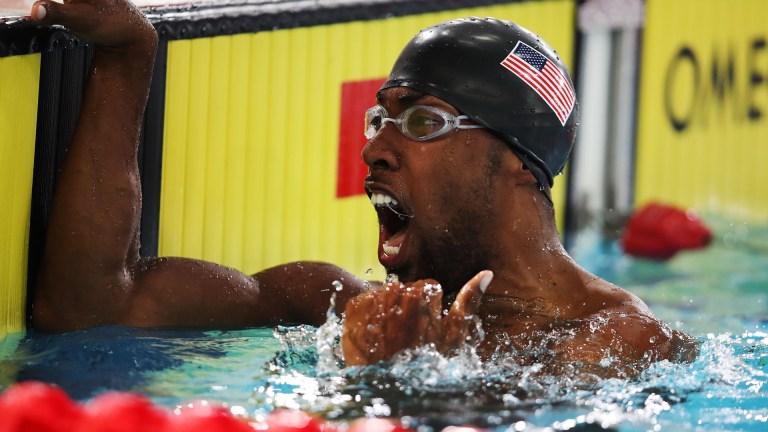 U.S. Paralympic swimmer Jamal Hill has big goals.
"I set out upon this journey to become the LeBron James of swimming – to just become the greatest that I can be, but also the most recognized swimmer in the world," Hill tells Den of Geek.
Hill was just 10 years old when he first experienced total paralysis and was diagnosed with Charcot-Marie-Tooth (CMT) – a hereditary neurological condition that can result in loss of muscle tissue and touch sensation. Over the years, however, Hill not only gradually regained his mobility but became an elite swimmer. The Los Angeles-native is now ranked #1 in the US Paralympic 50m Freestyle and is currently in Tokyo representing his country in the 2020 Paralympics.
The Tokyo 2020 Paralympic Games began on Aug. 24, just over three weeks after the Olympics' closing ceremonies and are set to run through Sept. 5. The Paralympic Games have a bit of a marketing problem in comparison to its older cousin, which is something that Hill wants to change. He notes that some countries like Australia combine the swimming trials for both the Olympics and Paralympics but in the U.S., the Olympics swimming trials took on the pomp and circumstance of a Hollywood premiere, while the Paralympic trials had more of a high school meet vibe. 
"Athletes like myself just taking that initiative to promote their own careers and promote their own brands serves the greater Paralympic movement," he says.
Just before Hill took off for Tokyo, he was nice enough to chat with Den of Geek about his journey, why the Paralympics should be appointment viewing, and his non-profit Swim Up Hill. 
Surprisingly, there was a lot of talk about Ray Kroc's McDonald's business model as well, which we're presenting in its entirety because it's pretty fun.
The following has been edited and condensed for clarity.
Den of Geek: What was last year like for you? Because it was difficult and weird for all of us, but I imagine it's even weirder and more difficult for you as an athlete.
Jamal Hill: Yeah. Last year seems like a long time ago now. Obviously first and foremost, just prayers out to all the people who were negatively impacted by COVID-19. Hindsight is 2020, and I'm somebody that doesn't look at things as really blessings or curses, really it's just all a new challenge. So, we had some strong challenges, man. We lost our pool facility. I was challenged to continue training in backyard pools, which is pretty comical. I was challenged to up my mental and spiritual game. 
Because our home pool was gone, we had to figure out "okay, well how are we going to train?" So, man, I was already all over the county, but COVID-19 literally put me all over the county. I was swimming in pools in the Palisades, and Ladera, and Long Beach, and Burbank, and Altadena, and you name it, I've been to pretty much every major pool there is around the county. That was a stepping stone, dude, and now we're onto the next step. I pulled strength from that experience, quite frankly.
I imagine when you're training for the Paralympics, there's not a lot of free time. But when you do have free time, what do you enjoy?
Dude, my time ain't free. When I'm not swimming, I'm the executive director and founder of the Swim Up Hill Foundation, Inc. We have a mission to teach a million people every year how to swim in BIPOC and low-to-middle income communities. So I spend a lot of my time organizing my staff, running documents, organizing events, running budgets, and things like that, just being a businessman.
Then outside of that, I'm an avid reader. I probably read anywhere from four to six books a month. And that's from autobiographies, biographies, self-improvement, you name it. That's pretty much my time right there. But yeah, I find a lot of fulfillment in just fulfilling my destiny. That's what I call it. It's not even work, it's just like I'm working on my destiny here, and it brings me a lot, a lot, a lot of joy. So I don't feel like I'm missing out on anything.
I would say you're definitely not. Even people who aren't training for the 50 meter freestyle don't usually read four to six books a month.
Well, again, that's that kind of a business mindset of it. I set out upon this journey to become really the LeBron James of swimming – to just become the greatest that I can be, but also the most recognized swimmer in the world. I pull inspiration from the music industry and then some of my different industries of entertainment and artists, and you understand that the artform itself ultimately is probably about 30%, and 70% is business. The world's greatest CEOs are reading, on average, 72 books a year. So, if that's the company I want to be in, that's the pace you've got to keep.
Do you think that there's a path that can be taken to maybe promote the Paralympics a little more? From your perspective, what do you think is the best way to go about it?
I think one really powerful way is to combine the marketing and the events more. So for example, just in the swimming spectrum, there are certain countries like Australia where the swimming trials of the Olympics and Paralympics are held at the same venue on the same weekend. But Olympic swimming and Paralympics trials were held in completely different cities. One of them is a fricking Hollywood blow-out, and then one of them is rinky-dink high school meet, almost, the feeling of it. And that's the one I was at.
Athletes like myself just taking that initiative to promote their own careers and promote their own brands serves the greater Paralympic movement. And then, again, also, outside of that, there are steps being taken, man. I think it's just so new. It's almost like when, do you remember when Lil' Bow Wow changed his name just to Bow Wow?
Yep.
Yeah. And for a cool minute, everybody is like, "No, that's Lil' Bow Wow. I don't care how old you get, Shad Moss, you'll never just be Bow Wow." But now after some time it's like, okay, it's just Bow Wow. Nobody cares. I think that's ultimately where we're at right now. It's the Olympic and Paralympic Committee of the United States. The IOC and IPC haven't joined yet. So I think those bodies joining and becoming this one acronym, is ultimately, again, over the years, going to start to help people.
This year is going to be the first year the Paralympics are showcased on NBC so we're definitely continuing to make strides in the right way. I don't even want to slap anybody's wrist too hard, and say, "You got to be able to pick it up." I think they're doing some really good things. And obviously coming onto platforms like yours, now you're a part of this education process. Now a lot of your community is going to be like, "Oh, shit, I thought it was just the Olympics. Paralympics? And they all get paid the same? They're all elite athletes? They all are overcoming crazy challenges and struggles? And oh my God, this person has no arms or legs, and he swims faster than I do. How the heck is that possible?" That's something I want to see. So it's going to catch fire, man, don't you worry, it's going to catch.
I believe you. What's your favorite book you read recently?
Let me just pull up my Audible. I would say most recently my favorite book has probably been Grinding It Out by Ray Kroc and Robert Anderson, the McDonald's story. That's probably been my favorite book of late. Ray Kroc didn't even make his nut till he was in his 40s or 50s. And at first it didn't even look like it was going to happen, but he stayed dedicated. He had the experience and wisdom to know a gem when he found it and he stuck with it. Then just to see the licensing, the franchise model of McDonald's with my foundation, that's ultimately a template that I use when talking to my staff.
We're the McDonald's of swim education. Our goal is to get people from "can't swim" to "can swim" as quickly, as effectively, and as simply as possible. Ultimately the system is designed to be so simple that I can put you right here on the fries, or put your right here on the grill, and it's like step one, two, three, done, and it's always the same outcome, always quality control. That's why Ray Kroc is my man. Big fan, dude. And obviously McDonald's has as a brand, I know we're in the health age, and it's not the healthiest food, so I'm not supporting it in that way necessarily, but also at the same pace, it's a lot healthier than a lot of stuff out there, the quality of their meats and things like that.
Have you ever seen the movie Super Size Me?
Guaranteed, man. Hell yeah, I saw Super Size Me.
I read recently that no one's been able to replicate those results. That's not really a strong scientific process he goes through in that movie.
With respect, I hope no one was ever calling it a strong scientific process. No case study has ever been performed on one person. 
The Paralympics can be live-streamed on NBCOlympics.com with select events appearing on NBC-branded networks and the Peacock streaming service.