Features
Tumblr's Top Fandoms of 2020
In a year when most people were stuck at home, Animal Crossing: New Horizons was Tumblr's most-discussed fandom. What else made the list?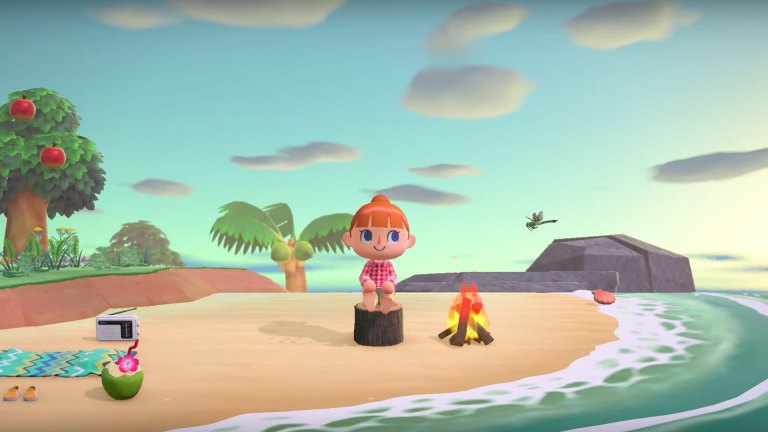 It's been a weird and often devastating year, and our social media has reflected that. Tumblr has just released its top fandoms of 2020 and it's fascinating to see how a year of pandemic and quarantine has affected transformative fandom and broader cultural trends. In a year when almost everyone spent a lot more time at home, Animal Crossing: New Horizons was the most blogged about topic on the social media platform, followed by animated dramedy Steven Universe, Belgian SKAM adaptation WtFOCK, K-pop supergroup BTS, and Star Wars: The Rise of Skywalker. We talked to Tumblr's Trend Expert Amanda Brennan about how she interpreted the biggest trends of the year, how this was a big year for animation and international media, and why 2020 was the year everyone stopped worrying about what was cool and just embraced what they love. But, first, some 2020 Tumblr statistics:
Top 20 of 2020
Animal Crossing: New Horizons
Steven Universe
wtFOCK
BTS
Star Wars: The Rise of Skywalker
Artists on Tumblr
Critical Role
Avatar: The Last Airbender
Boku No Hero Academia
Black Lives Matter
Pokémon
COVID-19
The Witcher
She-Ra and the Princesses of Power
The Magnus Archives
Reylo Rey & Kylo Ren, the Star Wars universe
RWBY
Sanders Sides
Catradora Catra & Adora, She-Ra and the Princesses of Power
Zuko | Avatar: The Last Airbender
Top 25 Ships
Rey & Kylo Ren, the Star Wars universe (m/f)
Catra & Adora, She-Ra and the Princesses of Power (f/f)
Richie Tozier & Eddie Kaspbrak, It (m/m)
Geralt of Rivia & Jaskier, The Witcher (m/m)
Aziraphale & Crowley, Good Omens (m/m)
Zuko & Sokka, Avatar: The Last Airbender (m/m)
Luz Noceda & Amity Blight, The Owl House (f/f)
Kara Danvers & Lena Luthor, Supergirl (f/f)
Park Jimin & Jeon Jungkook, BTS (m/m)
Dean Winchester & Castiel, Supernatural (m/m)
Live Action TV
Wtfock
The Witcher
The Mandalorian
Good Omens
Skam France
The Umbrella Academy
Doctor Who
Supernatural
The Untamed
Killing Eve
Animated TV
Steven Universe
Avatar: The Last Airbender
She-Ra and the Princesses of Power
Miraculous: Tales of Ladybug & Cat Noir
The Owl House
Invader Zim
Ducktales
The Dragon Prince
Rise of the Teenage Mutant Ninja Turtles
Gravity Falls
TV Characters
Zuko
Catra
Jaskier
Sokka
Adora | She-Ra
Geralt Of Rivia
Katara
Aang
Crowley
Aziraphale
Movies
Frozen
The Old Guard
Star Wars: Episode IX The Rise of Skywalker
Birds Of Prey
Twilight
Hamilton
Little Women
Parasite
Sonic Movie
Lord of the Rings
Movie Characters
Kylo Ren
Harley Quinn
Bucky Barnes
Batman
Steve Rogers
Tony Stark
Rey
Spinel
Peter Parker
Richie Tozier
Actors
Chris Evans
Henry Cavill
Sebastian Stan
Adam Driver
Tom Holland
Pedro Pascal
John Boyega
Robert Pattinson
Tom Hiddleston
Timothee Chalamet
Actresses
Katie Mcgrath
Jodie Comer
Daisy Ridley
Margot Robbie
Zendaya
Lili Reinhart
Naya Rivera
Brie Larson
Florence Pugh
Jodie Whittaker
Books
Harry Potter
Percy Jackson & the Olympians
Warrior Cats
The All for the Game series
Pride And Prejudice
Midnight Sun
The Secret History
The Raven Cycle series
Carry On
Six Of Crows
Authors of Books
J.K. Rowling
Rick Riordan
Erin Hunter
Nora Sakavic
Jane Austen
Stephenie Meyer
Donna Tartt
Maggie Stiefvater
Rainbow Rowell
Leigh Bardugo
Video Games
Animal Crossing: New Horizons
Among Us
Pokemon Sword And Shield
Undertale
Minecraft
Sims 4
Fire Emblem: Three Houses
Danganronpa
Overwatch
Persona 5
Video Games Characters
Obey Me Lucifer
Obey Me Mammon
Tom Nook
Link
Sans
Cloud Strife
Dandelion
Kirby
Raihan
Arthur Morgan
Animal Crossing Villagers
Raymond
Marshal
Poppy
Fauna
Julian
Claude
Marina
Stitches
Bob
Ankha
Anime & Manga
Boku no Hero Academia
Haikyuu!!
JoJo's Bizarre Adventure
Beastars
Naruto
Mo Dao Zu Shi
Demon Slayer: Kimetsu no Yaiba
One Piece
Fruits Basket
19 Days
Anime & Manga Characters
Midoriya Izuku
Bakugou Katsuki
Dabi
Wei Wuxian
Aizawa Shouta
Hawks
Todoroki Shouto
Kirishima Eijirou
Lan Wangji
Levi Ackerman
And, now, our chat with Brennan. (This Q&A has been edited for clarity and length.)
Den of Geek: I've heard you refer to the users as the Tumblr hive-mind or the orchid, whatever it is. I was just hoping you could generally talk about what the Tumblr hive-mind is to you? Which is the way of saying, who uses Tumblr generally? And how and why? If you can even extrapolate those things. Go!
Amanda Brennan: Most of our audiences is Gen Z; it's at 48%. Our new user registration with Gen Z is even higher; I'm pretty sure it's 60%. These are people who come to Tumblr because they love something so much they just want to share that love with people who love it as much as they do. I know that feels like a giant umbrella, but that's the thing: Tumblr is what you make of it. If you love sports, sports Tumblr is intense hockey Tumblr, so good. If you love TV, you'll have all of that. K-pop Tumblr, totally amazing. Furby Tumblr is off the hook and they make these incredible creations. I've recently gotten into Stained Glass Tumblr.
There's layers upon layers. No matter what you love, there's something on Tumblr for you. That's both the easiest thing and the hardest thing about it. You have to go in being like, "Alright, I'm so into this thing, what does Tumblr have for me?" It's not like the other social media networks, right? It's really about what you love rather than who you know.
Yeah, I like that. I did want to ask you specifically about the process of how you track trends and how you make decisions about what to track?
We built the whole taxonomy that powers fandom metrics based on what Tumblr talks about. I'm a librarian, as you know, and I kind of reverse engineered it. My first year in review at Tumblr in 2013, they handed me a spreadsheet and they're like, 'OK, go to town." So I was like, "Cool, let me pull out the threads that I see." We really let the data tell us how to analyze it, if that makes sense. So when it comes to what we track, I have a running notebook that I've kept all year of the things that I've wanted to have in year in review.
The Witcher has been on my list since it came out. Animal Crossing has been another one. The Old Guard had a huge moment. I was just writing notes, like, "Oh, what is this thing? And we'll keep an eye on it." I have an amazing team. We all are into our own pieces of Tumblr. So we'll all work together to just keep an eye on different fandoms. I don't know if you know about Minecraft YouTuber fandom?
Yeah. I was actually listening to the latest Fansplaining last night and they mentioned it in that. I was just like, "OK, a new thing." There's always a new thing to learn about.
There's always a new thing. That's the beauty of Tumblr. It's so fluid in fandom. You can go from one fandom to another and then you'll see like, "Ooh, what is this thing?" I've got Supernatural on the brain, as who in the fandom doesn't right now. [This interview was recorded on the day of the Supernatual series finale.] I was telling someone, the whole reason I got into Supernatural was because I saw a gif from the show on Tumblr and I was like, "What is happening? Let me go back and watch this entire series." That's the vibe of Tumblr, right? You see a thing and you're like, "Oh, I need to know everything about that."
Hmm. Yeah, for sure. I was interested in talking to you or getting your insight into how trends you saw or data you saw that were maybe tied to the very unique experience of being in the middle of a pandemic.
Yeah. I was looking back at the predictions that I had made last year and like four of those things didn't even come out. It was just so unexpected. There's two things that we really saw tied to the pandemic. The first was "cottagecore" as an aesthetic. It kind of touched everything because it's soothing, it feels comfortable. In March and April in the early days, when you didn't know what to do, you're stuck in a forest isolation. Cottagecore has got this vibe of chosen isolation. It was very fantasy-driven and something to reach out for.
That evolved also into nostalgia. I think this year's really big theme is nostalgia and comfort. We saw huge returns to fandoms like Twilight and Avatar: The Last Airbender. Avatar going on Netflix was such a world-breaking moment. Not only did it introduce a new, younger fandom to the show, there's a lot of Avatar content once you get into it, but it brought people back to a younger time in their lives. Remembering and rewatching. The Avatar fandom, as you see, it's all over all of the lists. Zuko is number 20 on all of the things on Tumblr this year. Avatar was able to redefine people's year. Because you know what, we're all at home, I'm going to binge Avatar. Reignite my love for this fandom.
A lot of TV too, because TV is episodic, you get lost in it. Movies had a really rough year. When we look at the movies, movies like Megamind were trending this year. That comfort movie that you go back and watch 17 times.
Yeah. I was curious about that too. The balance or proportions between older fandoms and newer fandoms, like the Avatar example. I was curious how much that changed this year? How much you thought it was tied to the pandemic? How much is tied to accessibility and things, like Avatar coming to Netflix? Do you think that is an interest in older fandoms? Or that it's going to continue past the pandemic?
Yeah. I think another high-level theme of this year is the rejection of cringe culture. I'm getting a little ahead of myself, but I'll tie it all back in. I think people are realizing what their values are and not being afraid to admit that they like a thing. Not caring what other people think of the things they like. Unabashedly loving the things they love. That's why I think we do see a resurgence in these older fandoms.
Because people who may have loved them their whole lives, or may have been nervous to share that they liked it when they were younger they're not afraid anymore. They're like, "You know what? Twilight, it's not that great, but I love it. This is my emotional support vampire." Recognizing that you can be critical of something. You can see where its flaws are, but you can still love it. That duality of fandom is something that is going to persist into next year. That freedom to just like a thing, because you like it. Be able to see its flaws, but still be like, "You know what? Overall, this brings me joy and the world is melting down."
I'm on board with that mission, that plan for 2021. I did want to ask about the role of non-English language media, especially live action stuff. Generally because I was someone who fell into The Untamed this year, but I saw that there were two SKAM remakes as well that are on the top 10. In general, have you seen over your time at Tumblr, and maybe especially in the past few years, an increase in non-English language content? Do you think that is mostly English speakers and Americans being more open to that or being able to find it easier? Or do you think it's also an influx of people from outside the United States coming to Tumblr? Or both?
Interesting. The data that we work with is actually stripped of all user information. I don't really have an insight into where these people are coming from. I do think that users in general are more open to content in any language. Tumblr is more interested in characters than where the story comes from. Thinking about The Untamed, it's just such a compelling story, it doesn't matter if you have to read subtitles.
To parallel it to something in major pop culture, Parasite. People are becoming more open to just watching content because it's good. SKAM is really fascinating to me because the number one live action show is wtFOCK. Then, I think two years ago, 2018, the original SKAM was number one at some point. This show really transcends language barriers. It transcends geographical barriers. At the core, the story of the teenagers is just so relatable to anyone. We've seen lots of translation happening and not just into English. Translation of SKAM into other languages, just because people want more of these characters and their iterations, no matter what locale they're based in. I'm waiting for some professor to have a class on it, because it's so fascinating to me.
I also wanted to ask about how you thought the election cycle affected Tumblr this year, if there were any trends or data that you were like, "Yes, of course this is what people were doing on Tumblr this year."
Tumblr has always had this backbone of social justice. This year, it came out stronger and in more force. No matter what fandom you were in or interests, everyone I know on Tumblr was participating in sharing social justice stuff. Even politics, if they weren't from the US, those kinds of memes that were like, "I feel for you". The way that fandoms do. I see your show is ending and I'm sorry.
The one thing that Tumblr really had leading up to the election was such an appreciation for the postal service. Especially Gen Z, their world is so much larger due to digital connection. Mail order, just as well as sending letters and keeping in touch with your digital friends is just as important as keeping in touch with your IRL friends. All of the artists on Tumblr, so many of them turn to mail order to replace cons. This is their livelihood. By the time the fall hit and the postal service was having all these issues, people are ready to jump in. There were the Transformers dressed like mail people.
There were all these comments like "support your postal workers," "support the USPS." It really boils down to the fact that we are all connected and the mail service is something in the US that connects everyone. Even overseas. Supporting these artists whose livelihood went from IRL to online and having to deal with all of this.
And the "Super Putin Election." The confluence of those elements. I was just surfing on my personal computer and I was on Tumblr and I saw a post being like "Destiel's canon." I'm like, "Excuse me?" I immediately texted my team. I was like, "Open up your work computers, let's go."
It's time.
We all signed on trying to figure out what's going on and watching the numbers. That, to me, is thrilling. I said this to someone else, but it felt like the night of The Dress. To have that moment where everyone on the internet is feeling the energy. The things that kept getting layered on top of it. Putin and Sherlock and all the anime mysteries. It was breakneck speed, and it was really thrilling just to be in that moment, and so Tumblr.
I did want to ask you about an increase in animated fandom and potentially anime fandom. A lot of these things I'm anecdotally or just observing things in my own little corner of the internet. It just seems like animation and anime, probably at least partially because Netflix has accumulated a much larger anime collection and seems to be investing in these sorts of things. Have you seen that increase? Could you talk about it, if so?
It plays into what we were talking about earlier, twofold. That nostalgia vibe, the late nineties anime vibe, that art style. Also your comfort zone and being open to more stuff just because it's good. Not worrying about reading subtitles and stuff like that. But anime in general had a huge year. Haikyū!! ending also transposed into other fandoms because that moment of the final panels, it brings people together. People being so excited to see this massive thing come to a close. You might not be familiar with Haikyū!! in general, but you'll see the fanart and be like, "Oh, I feel that." It's the emotion of it.
The popularity of Avatar did also open people's doors to like, "Oh, well, what else can I watch? What else do I want to learn about"? Boku No Hero was consistently on our Week In Review every week. BEASTARS is another Netflix anime that's at the top. Then Mo Dao Zu Shi, thinking about The Untamed, the story of Mo Dao Zu Shi is so fascinating. I don't think I can name another piece of content that has that storyline. People are just ready to take it all on.
I did want to ask you, I think you've probably talked about some of these already, but what were some of the biggest fandom moments for you on Tumblr this year?
Oh boy. So many things going canon. Catradora was a huge, huge moment. I cried watching that. The Witcher, Jaskier, introducing this whole new world to Henry Cavill. I saw a post yesterday that was like once Superman was goth, a lot more people realize that he's hot. Repurposing and looking at things in a new way. Among Us, so huge. There is a user who is doing a comic about White and Pink being in love. She's giving them lore. She's giving them backstory, personalities. It is amazing.
Unus Annus, I am not very into streamers, but I've caught some of those videos. When they had their final stream, I was tuning in. I was like, "Are you really going to delete the channel?" Then they did. Just watching the fans have that moment, even though I am not in that fandom, it was wonderful so meaningful.
Harry Potter being taken by the fans. Fans own Harry Potter now, and that's what matters. The Old Guard also came out of nowhere and really blew Tumblr away. The Immortal Husbands. I love that ship. I've got to touch on almost all of the places, MCR, My Chemical Romance. Those fans have woken up and they didn't get their tour, but they will. They're not going to sleep until they do.
Because we maybe all have Supernatural on the brain, to a certain extent. I'm just curious how you think, that show's been on for 15 years. The fandom has gone through literal generations. How do you think the fandom is going to change?
There's always going to be a supernatural gif for everything. People will continue gifing it. It's going to surpass what it is and it's going to become that comfort show. This is a personal anecdote, but when I go to the dentist, every single time supernatural is on. It's just like, "Oh, I get to watch my boys while I'm getting my teeth cleaned. That's good." It's always going to be there. It's always going to be there for people when they need it the most. We're going to see a lot more fan creations. People love these boys, men now they're adults. People love these characters. I haven't watched this season. I am going to watch the finale tonight. I'm going in almost cold. I know that a lot of fan favorites have returned. My prediction for Supernatural fandom going forward is seeing these side stories come through in fanfiction even more than they already do. Lots more Charlie. That's personal of mine because I love her.
I don't think you're alone in this.
Yeah. Who doesn't love Charlie? Seeing these smaller characters come out and just shine in their own fan works, more so than the world might've provided them in canon.
It feels dangerous to make fandom predictions based on what happened this year, but if you have any predictions and or hopes for the coming year in terms of Tumblr and fandom?
Where we're at now and going forward, it's all about true authenticity. Screw what people think. We're rejecting our old ways of thinking. We're about flipping perspectives and forgetting what you thought was important in exchange for what you truly love. 2020 has helped us all figure out what our values at our core are. It's about choosing something that makes you happy, that supports you, and your people. Choosing the happiness of those around you and making sure that you're fighting for the goodness in life. Which sounds really sugar sweet, but one of the things, again, that I love about Tumblr is it is about putting people first based on the things they love. That's what I see happening.
Explore the rest of Tumblr's Year in Review lists here, and let us know what your biggest 2020 fandoms were in the comments below.