Features
Every Star Trek Fan Owes Rachael Ancheril's Mom A Debt of Gratitude
We talked to Star Trek: Discovery's Rachael Ancheril about Commander Nhan's big choice, and how her mom helped save Trek for all of us.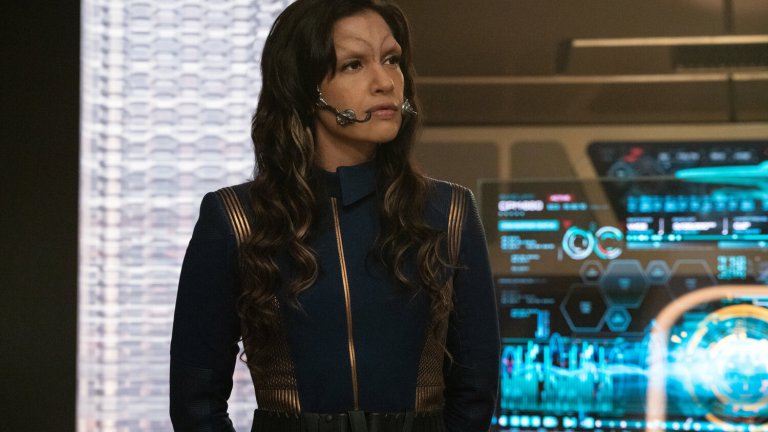 This Star Trek: Discovery interview contains spoilers for "Die Trying."
Nhan might be the most unique "redshirt" in this history of Star Trek. Not only was she the first person to wear a literal red shirt on Star Trek: Discovery, but her character has also managed to survive, partially by trading her security officer's uniform for the mostly-blue DISCO Starfleet uniform. "I kept asking if I could go back to it," Rachael Ancheril tells Den of Geek. "I kept saying, 'Where's my red shirt!'"
As the actress who has played Commander Nhan on Discovery since Season 2, Ancheril has been keenly aware that her character exists as a kind of confluence of more than one era of Trek. She beamed-over from the classic Enterprise with Pike, but the species to which her character belongs — the Barzan — originated in The Next Generation. As Nhan seemingly makes her exit from the USS Discovery, Ancheril reveals her feelings about her character's arc, and why becoming a part of Trek was probably some kind of family destiny.
Growing up, Ancheril tells me that she was a "Star Trek person by default," largely because her mother was a "super-fan" of The Original Series. As longtime Trekkies might remember, the original parent network of Star Trek, NBC, tried to cancel the series twice, but the first time, it was saved by a letter-writing campaign from fans. Rachael Ancheril's mom was one of those fans who wrote a letter.
"My grandparents told this story," Ancheril explains. "My mom was one of the people who wrote a letter to tell NBC not to cancel the original Trek. When I was a kid, she had this pink suitcase she would take out that had all her treasures in it, including autographs from all the original Trek actors on their headshots. I wonder where that suitcase is now!"
When Ancheril was first cast as Nhan, she couldn't tell her Trekkie mother right away, which turned out to be hilarious, since her mom "didn't recognize" her in her full Nhan make-up. As we learned in "Die Trying," Rachael Ancheril has brown eyes, not bright blue, and that the character of Nhan is probably a little less intense than we've been led to believe. "I think I got to show a different side of her in this episode," she says. "Nhan has always been so stoic and a business girl. I think being able to show a softer side and the family side it's something that we don't see because she left that in the past when she joined Starfleet."
After Ash Tyler left the position of security chief on the USS Discovery, Captain Pike effectively put Nhan on the job full-time in Season 2. This led Nhan to the moment in "Project Daedalus," in which Airiam malfunctioned, and nearly tried to kill Nhan and Burnham. In the end, when Airiam regained control of herself, she sacrificed herself to save Nhan and Burnham, a fact which Nhan held on to.
"Ever since what happened with Airiam, there's a sense of guilt with Nhan," Ancheril says. "I think she was put in very difficult situations morally and ethically speaking. She's trying to preserve as many lives as possible. I think, in this episode, not only did it touch on her species and her family, but she also points out that the Barzan view death, maybe differently than other species. Maybe this is where I'm similar to Nhan."
Because "Die Trying" is such an emotional episode for Nhan, Ancheril also says that it was a "bittersweet" episode because this is seemingly the end of the road for this character. Nhan may have started out in a redshirt, but she's not leaving the series by dying. Instead, Nhan volunteers to stay behind on the Federation Seed Ship, and guard the literal plant seeds of the galaxy. Burnham says she hopes they'll see Nhan again, but this definitely feels like goodbye.
"Gratefully, I wasn't surprised by it. I knew this was coming even before we started shooting that season," she says. "But it was still hard for me. I tried to be a professional in the read-through. I'd read the script several times before we got to the read-through, and I was still choking-up several times before we got to say the words. I was sobbing as I was reading the words. I could barely get them out. And I think that's a testament to Sean Cochran's writing. It hit me. I hope it does the same for fans."
Rachael Ancheril can't say if Nhan will return to Star Trek: Discovery, but she did reveal that when the cast "clapped her out" for the last time, everyone sang "Nhan-Nhan-Nhan," in reference to the song "Na Na Hey Hey Kiss Him Goodbye." She also says that it was only after she wrapped filming that she was able to reflect on her time on Star Trek, and spent some time sitting on the bridge of the USS Discovery alone, taking it all in. "It was one of my favorite memories. Just being there on the ship, realizing how much this show meant to me, and to so many people." she says. "But, to be honest, I wasn't brave enough to sit in the captain's chair."
Star Trek: Discovery is streaming now on CBS All Access.