Sponsored
The Best Cosplay, Interviews, and Events at Anime Milwaukee 2023
Anime Milwaukee, also known as "AMKE" 2023, reached record numbers and looks toward an even bigger future.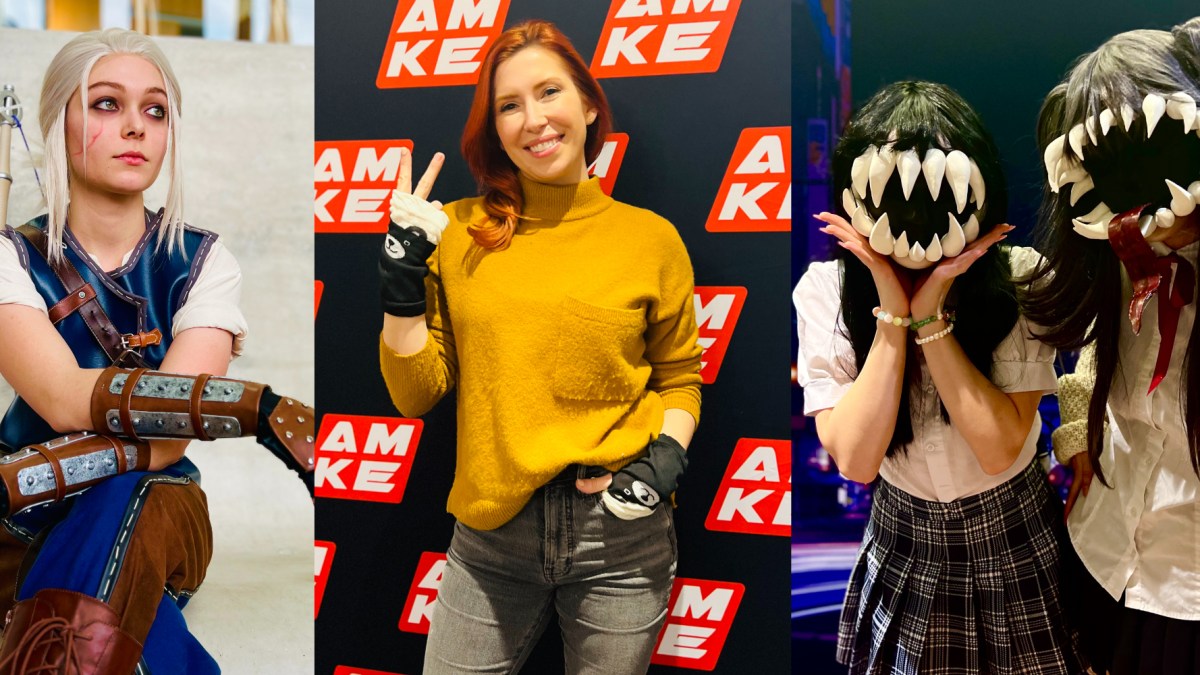 Editor's Note: Den of Geek served as the media sponsor for AMKE 2023. We would like to extend a special thanks to AMKE's organisers and staff, especially Kris Barone and Luke Marsden, for partnering with us and welcoming us into their community. 
Anime is an animated medium of storytelling that delivers stunning visuals, ambitious storytelling, and unforgettable characters, but the colossal fandom and community that surrounds it is just as impressive. Milwaukee understands how to properly celebrate anime and 2023's Anime Milwaukee convention brought thousands of fans together from across the country for a monumental celebration. The temperature in Milwaukee may have been cold, but the passion of AMKE and its attendees burned red-hot.
AMKE is a three-day convention that celebrates anime, manga, cosplay, video games, and broader Japanese culture. The con has been a Wisconsin staple since 2007, but this year's 15th installment became a banner year for AMKE with more than 15,500 guests in attendance, dwarfing previous editions. It's easy to see why so many people flock to Anime Milwaukee since there's so much to see and explore. In addition to art, merchandise, and autographs in the exhibitor hall, the con's round the clock programming guaranteed that guests always have a panel to attend or video games to play.
Cosplay has always been a priority for AMKE and this year showcased everything from Studio Ghibli, to horror video games, to JoJo's Bizarre Adventure and Chainsaw Man. Cosplay can be a casual endeavor, but creativity and competition come together in AMKE's massive Masquerade. 2023's Masquerade competition highlighted craftsmanship and performance, for both amateurs and more seasoned cosplay professionals, with truly incredible creativity on display.
These skills were also honored at AMKE's Charity Ball, which this year raised $1500 for the Milwaukee Public Library Foundation. An Anime Milwaukee staple, Cosplay Combat Chess, combines strategy with passionate fandom and is the only place that you can see SpongeBob, Ganondorf, and Lobo duke it out to secure the Queen's Gambit. It's not too late to become a Chessmaster and rule the board for next year's installment. 
AMKE 2023 also went for broke this year when it came to their live performances. The Japanese rock band, BURNOUT SYNDROMES, brought down the house with a powerful concert of their biggest hits that are likely still bouncing around in the heads of AMKE guests. Anime fans could cut loose even more with Anime Milwaukee's nightly dance party raves, Club AMKE and Nocturnal Underground, which showed that every otaku is also a party animal at heart. While not a part of the musical celebrations, L.A.V.A.–Loud, Annoying, and Very Annoying–created just as much of a buzz through the comedy troupe's live improv and performance stylings from celebrated voice actors, Robbie Daymond, Max Mittelman and Ray Chase. AMKE 2023 guests were feeling the intense fandom, whether they were dancing their feet off or laughing until their sides hurt.
AMKE 2023 concluded with a fun tease of what's to come at next year's con, which will be held from March 8-10, 2024 at Milwaukee's Wisconsin Center. In honor of Anime Milwaukee's 16th year in operation, AMKE will have a "Sweet Sixteen" theme and guests have a whole year to prepare for 2024's festivities. If AMKE 2023's success is any indication that next year's con is destined to be Milwaukee's best one yet.