News
Are BTS Harry Styles Fans?
BTS member Jungkook just released a cover of Harry Styles' "Falling," but this isn't the first time the group has shown an interest in their musical colleague.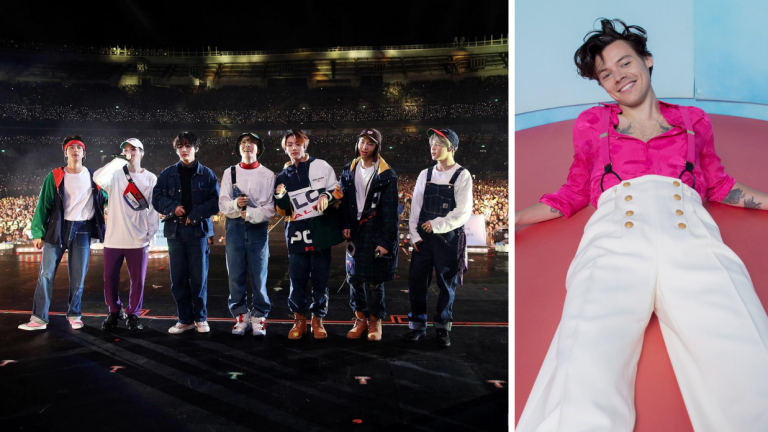 What happens when one of the biggest musical artists in the world covers a song from one of the other biggest musical artists in the world? We're about to find out. BTS just released a cover of Harry Styles' "Falling," as performed by Jungkook, the group's main vocalist, and it's wracked up more than 2.5 million views on YouTube in a few hours. This cover is pretty conclusive evidence that Jungkook at least is a Styles fan, but it's not the first time we'e seen BTS reference Styles or even One Direction…
Does BTS Like Harry Styles?
Jungkook is known for his excellent covers, and spent a good portion of his recent birthday serenading ARMY with requested covers, BTS deep-cuts, and songs he composed on the spot from chat suggestions. But there's a difference between jamming on VLive and choosing to release a cover of a song via Bangtan's official channels.
It's the first time we've seen any of the members cover Harry Styles, and Deezer, a French online music streaming service, has already referenced the fact that BTS' official "Pocket Songs" playlist includes "Falling." It's also the first cover a member of BTS has released since last week's announcement the group will be changing its U.S. distribution partner from Sony Music's Columbia Records (where Styles has a recording contract) to Universal Music.
While this is the first time a member of BTS has released a Styles cover (and, honestly, fingers still very much cross for a BTS cover of any One Direction song), the Korean group has mentioned Styles before. Just last year, they chose "Watermelon Sugar" as the last song they had stuck in their heads during an interview with SiriusXM's Hits 1, with J-Hope and Jimin breaking out into the lyrics. But let it be known that, when asked to sing a One Direction song, it was Jungkook who first (and immediately) broke out into "What Makes Me Beautiful."
What Does Harry Styles' "Falling" Mean?
Shortly after Jungkook's cover dropped, popular BTS fan and translation account @modooborahae, retweeted a 2016 comment from the member about how he approaches covers. In it, he wrote: "When I cover a song, I always check what the lyrics are/mean before I record the song! Please search for the meaning of the lyrics too. And then listen to it again. It will sound different..!"
The cover has prompted many BTS fans who might not be as familiar with Styles' work to look up the meaning behind the very personal song, which is part of Styles' "Fine Line" album, released in 2019. Though Styles famously almost never explains the specific inspiration behind his songs ("Watermelon Sugar" recently and gloriously excluded), he has broadly explained that "Fine Line" is about "having sex and feeling sad." In an Apple Music interview, Styles said that he wrote the song in roughly 20 minutes while reflecting on a time he felt "the lowest I've ever felt in my life." Most assume "Falling" is specifically about Styles' break-up with former partner Camille Rowe.
The song includes some of Styles' most intimate and emotional lyrics, starting off with "I'm in my bed and you're not here… And there's no one to blame but the drink and my wandering hands" and including thoughts like "What if I'm someone I don't want around?" The vocals are often just as raw, especially the haunting bridge bellow "I get the feeling that you'll never need me againnnnn," which—in both the Styles version and the Jungkook cover—intentionally stays just on the right side of the belting-yelling divide.
Whatever the reasons for Jungkook choosing to cover Styles "Falling" (which is just a great song), it seems he has an interest in Styles' career and music. Jungkook has yet to release his own solo album (unlike with One Direction and other western groups, there is more room for solo projects built into the K-pop system), and every cover is a glimpse into what that future project, known among fans as JJK1, could look like.
And, you know, BTS did recently collaborate with another mega-popular British musical artist…
What do you think of Jungkook's cover of "Falling?" Let us know in the comments below…