Features
With 7Fates: Chakho, BTS Breaks Back Into Webtoons
BTS' 7Fates: Chakho webtoon and web comic is an urban fantasy inspired by Joseon-era tiger-hunting officers.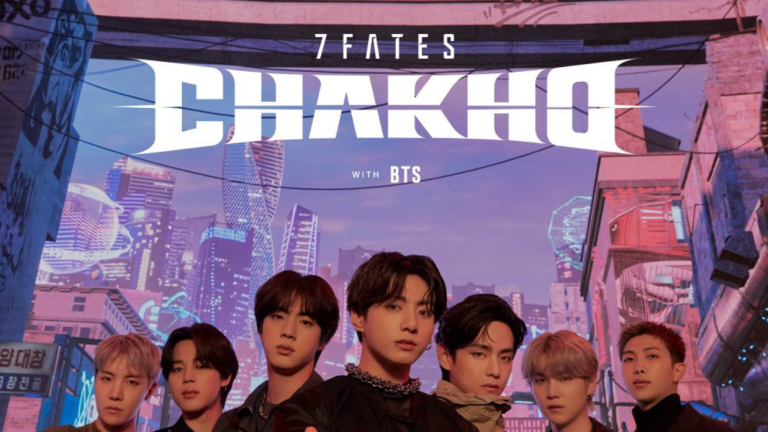 BTS is no stranger to the webtoon, one of Korea's most popular narrative formats. In 2014, web comic superhero counterparts of the group's seven members fought monsters in We On: Be the Shield. In 2019, Naver WEBTOON, the world's most-read comics publisher, released Save Me, which saw a character based on Jin stuck in a time loop from which he can't escape until he saves his six best friends. By its end, the 16-volume webtoon had massed more than 50 million views.
It's been a while since we've had a new BTS-inspired webtoon, but the wait is almost over. Back in August, Korea's Naver, who owns both WEBTOON and Wattpad, announced a team-up with BTS parent company HYBE, and ever since ARMY have been eagerly awaiting further news on what the collaboration might mean on the narrative level. Last month, during HYBE's corporate briefing to "the community," we got it, with the announcement of 7 Fates: Chakho, an original webtoon and web novel done in partnership with BTS. Here's everything you need to know about the upcoming genre story…
7Fates: Chakho Soundtrack Release
7Fates: Chakho isn't like other webtoons/web novels—it comes with its own soundtrack, created by two of the members of the biggest band in the world. Produced by Suga with vocals from Jungkook, the 7Fates: Chakho soundtrack consists of a song titled "Stay Alive." It will be released via the WEBTOON platform on February 4th at 9pm ET. The track will be available on digital streaming platforms on February 11th.
"Stay Alive" will also be available as a limited-edition CD that will be available as prizes to 300 people who have subscribed to 7Fates on WEBTOON, turned on notifications, and purchased early access to the comic's first three episodes. While only 300 people will win the soundtrack CD, others have a chance to receive official merchandise and free WEBTOON "cookies." Fans have until February 5th to fulfill eligibility.
7Fates: Chakho Release Date
7Fates Chakho hit the WEBTOON platform as a web comic and Wattpad as a web novel on January 14th, specifically at 7pm ET. You can read the prologue and Episode 1 for free here. Episode 2 is available to read via the app only, though the premium "fast pass" feature, or five coins. You can read the first episode of the same story, told in prose, via Wattpad. Nine additional chapters can be unlocked through the purchase of "coins." You can read our review here.
Also coming to WEBTOON/Wattpad in January will be webtoons done in partnership with other HYBE groups, including ENHYPEN (January 15th release) and TXT (January 16th release). All three stories will be released in both web comic and web novel formats.
7Fates: Chakho Soundtrack
One of the most exciting aspects of the 7Fates project is the soundtrack. The webtoon will be accompanied by an original soundtrack, produced by Suga with vocals by Jungkook. While the release date of the soundtrack has yet to be revealed, presumably it will be part of the initial promotional push around the release.
BTS' 7Fates: Chakho Story
7Fates is an action-driven urban fantasy inspired by the Joseon Dynasty tiger-hunting officers called chakhogapsa (hence the "Chakho" subtitle), as well as Korean folklore. The story is set in a dangerous and corrupt near-future city called Sin-si, and tells the story of seven boys tied together by fate who overcome hardships (and probably some tigers?) and grow as a group in the process. You can learn more about 7Fates' ties to Korean folklore from Jimin…
In 7Fates, the seven main characters will be facing off against "beom" (the Korean word for "tiger"). In the webtoon, beom are supernatural creatures who come to Sin-si in order to hunt humans. Listen to Yoongi describe them in more detail below…
7Fates: BTS Members' Characters
The seven main characters in 7Fates are inspired by the BTS members, but they are decidedly their own, original characters. Jungkook's character is half-beom. Jimin's used to be a rock. Here's what we know so far…
RM is Do-geon
RM's character is a crime expert called Do-geon. Like all of our characters, Do-geon has had a hard life. He has developed his skills in the backstreets of Sin-si. While he is at first reluctant to join the chakho team, he keeps running into the other hunters. The power of their shared destiny is too strong!
Jin is Hwan
Jin's character, Hwan, lost his entire family to a beom attack. As a result, Hwan went from being "an ordinary archer" to a beom hunter. Hwan is playful and mischievous most of the time, but it sounds like, when it comes to hunting beom, he means business.
Suga is Cein
Suga's character, Cein, sounds angsty. He was almost eaten by a beom, but escaped and now feels traumatized and lost. His friendships with the six other chakho will lead him on a path to healing.
J-Hope is Hosu
J-Hope's character, Hosu, was kidnapped by a beom and had to do something terrible in order to escape their den. His character has mysterious golden eyes, which may or may not be related to this backstory.
Jimin is Haru
Jimin's character is called Haru, and he used to be a rock (he turned human). More specifically, the rock that guarded the gate to the beom's world. Because of this, he is very old and very wise, with the qualities of a master.
V is Jooan
V's character Jooan seems very unique. He is so compassionate and caring that he falls in love with a beom. It sounds like a lot of Jooan's story will revolve around this starcrossed romance.
Jungkook is Zeha
Jungkook's character, Zeha, is half-beom, a fact he only finds out after battling a beom himself. Zeha uses his tiger powers to hunt beom for bounty, all while trying to keep the secret of his heritage.
HYBE's Other Upcoming Webtoons & Web Novels
Also on the docket for a January release: ENHYPEN's "Dark Moon" and TXT's "The Star Seekers." The former is a high school romance about vampire boys who meet a girl… with a secret. The latter is a fantasy tale about a group of K-pop idols who live in a world where magic exists. Together, they must fight against a secret surrounding the downfall of the world; also, there will be imaginary animals. Honestly, it sounds like there is some crossover potential across these three HYBE-driven stories.
Are you planning on reading HYBE's upcoming WEBTOON/Wattpad line-up? What do you think of the genre premises?