Features
What BTS' Instagram Accounts Tell Us About The Group's Future
The BTS Instagram accounts are the first public individual social media accounts the members have made in the group's eight-year history.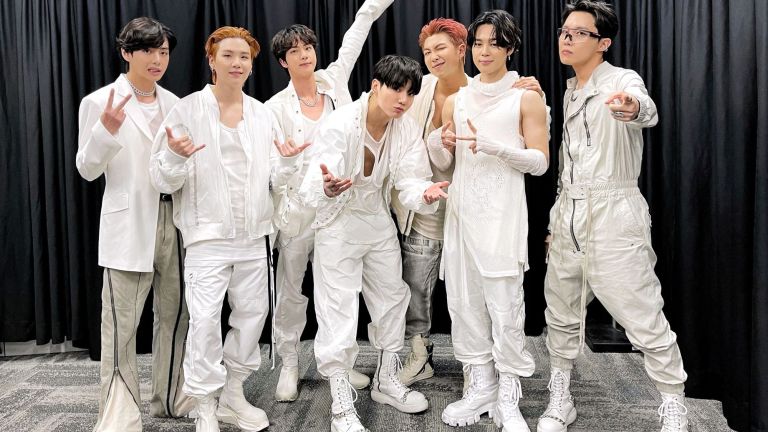 In the past 24 hours, BTS announced they would be going on vacation, teased the release of a new album, and launched individual Instagram accounts. As the Korean septet heads into a period of "extended rest," it's that last move that may be getting the most attention right now—and for good reason. BTS opening up new social media accounts would always be big news, but the fact that these handles are specific to each member—with Namjoon, Jin, Yoongi, Hoseok, Jimin, Taehyung, and Jungkook all launching their own handle (if you were wondering, JK's handle is the best)—is incredibly interesting. While members often post their own messages, photos, or videos via BTS' group handles on Twitter and Weverse, this is the first time that individual distinction has been formalized as separate accounts. The biggest band in the world doesn't do anything without a well thought out plan behind the action—whether that plan is motivated by business, mental health, social good, artistic expression, or some combination of all of the above. As we move into a self-described "new chapter" in the Korean group's history, and the members grow older and more into themselves, the individual Instagram accounts suggest a period of more articulated individual expression for BTS.
Before breaking down what this might mean, it's important to note that the seven members of BTS have always had their own, individual outlets for communicating with ARMY (most notably in their VLive vlogs) and expressing themselves artistically (most notably in their respective contributions to the writing and production of group songs, and in the release of solo music and performances). The mainstream American perspective of K-pop is usually framed within a stereotype of corporate-controlled, "cookie-cutter" idols—this includes a band like BTS, which is an outlier within the K-pop industry in many ways. While there is very real industry infrastructure that informs this stereotype, this kind of exploitation under capitalism is not unique to Korea or to K-pop, and the American media's over-emphasis of this aspect of K-pop is driven by racist, Orientalist narratives that have historically depicted Asian cultures as robotic and mechanized.
That being said, BTS is 7; ARMY knows this, but BTS would also never let us forget. When Yoongi had to go on break in 2020 in order to receive and recover from shoulder surgery, the other six members of the group literally carried a photo of their absent member to all of their media engagements; when they performed without him, they left space in their choreography to highlight his absence. During the group's sold-out mini-residency at LA's SoFi Stadium last week, the members decided to only perform songs that featured all seven of its members, even though this means a much more physically taxing show with less opportunity for rest. So the fact that the seven members have decided to launch their own, individual Instagram accounts is kind of a big deal: "We believe they opened these Instagram accounts to express their individuality as artists and to communicate in different ways," BigHit told Newsen, as translated by @ryuminating. In other words: BTS' next chapter will include more opportunity for individual expression as artists than ever before in the group's eight-year history. Whether this philosophy will be a feature of the group's new album, and what that manifestation might look like, remains to be seen, but the band has continually evolved in terms of musical style and interests, and not always in the same directions. I'm excited to see how the members' respective artistic identities will continue to inform their music in the new album—or, perhaps, in a year of unprecedented solo mixtape releases?
As with most moves made by BTS, the timing of the Instagram accounts is incredibly clever. While BTS should not feel beholden to keeping their Instagram accounts updated during their vacation ("rest well" trended on Twitter following the group's break announcement, encouraging fans to leave the members alone during their time off), they are Millennials/Gen Z-ers and many of them seem to really enjoy posting on social media. At the time of this writing, all of the accounts have accumulated over 10 million followers each. While BigHit surely has pre-recorded content to release during the members' break, Instagram represents a real-time potential connection between BTS and ARMY, should members choose to post during their break. The accounts are also all limiting comment-posting access to only the other members, which means that, even while these accounts offer the opportunity for individual expression, they are also places to highlight the relationships between the respective members.
From a business growth perspective, the Instagram accounts offer a way to further break into international territories. Right now, Weverse, a Korea-based mobile app that is also a subsidiary of BigHit parent company's HYBE, is one of the main ways BTS and many other K-pop bands communicate with their fans. However, Weverse is both Korea-based and driven by K-pop fandom—in other words, if you are there, you are probably already a K-pop fan. Instagram, however, has a much, much broader (more than one billion users) and more international user base. The bulk of that user base is in India, the U.S., Brazil, and Indonesia. According to Backlinko, 17% of Instagram's monthly-active Instagram accounts are in the U.S., representing 46.2% of all U.S. smartphone users—if BTS wants to reach people who may not yet be K-pop fans in those countries, then Instagram is a great way to do it.
It's unclear what this new chapter in BTS history will bring, but one thing is certain: it's a great time to be a fan of the world's biggest music group.