Features
The Best Spooky and Horror Themed Gifts for Paranormal Fans: Ghost Hunting Kit, Scrying Mirror, Scarlet Witch Statue and More
For the paranormal enthusiast who has everything, we've got a spooky batch of non-traditional gifts for the discerning fan in your afterlife.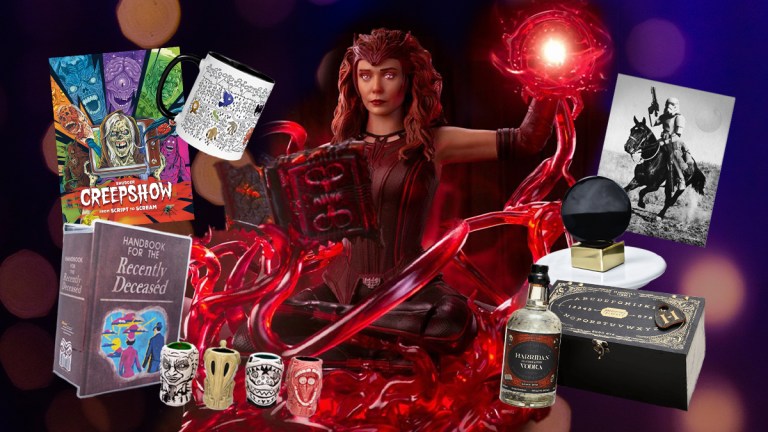 Even though Halloween gets top billing for spooky season, Christmas is equally a time for high strangeness, supernatural phenomena, and paranormal activity. There are flying reindeer captained by an immortal time-traveling home invader, who happens to share DNA with saints and Odin. We have Ghosts of Christmases Past, Present, and Yet-to-come, which are actually inhuman entities that visit old misers. Then there's the green-haired Sasquatch-esque cryptid who hides in the mountains and hates the holidays. And lest we forget, the main attraction for the holiday is a miracle baby born to a virgin, who calms barn animals, inspires drummer boys, and beckons forth magi via an unusual astronomical event.
Whether you prefer to sit by the yule log and share tales of happy little elves on shelves, or Christmas goblins from the underworld (the Southeastern European kallikantzaroi) — and whether you hope for a visit from Kris Kringle, or fear one from Krampus — December is primetime for the paranormal.
With that in mind, I wanted to assemble a gift guide for the spooky nerds and weird ones in your world. Basically there are items I personally want, but think your cryptid-searching, ghost-hunting, UFO-watching, magick-wielding loved ones might also get a kick out of. So read further for a range of ideas that celebrate the strange this Christmas (or Saturnalia, Winter Solstice, and Yule).
Culture & Lifestyle
Harridan Vodka Paranormal Reserve
$199
This Paranormal Reserve by Harridan is one of my favorite items to emerge this year because it combines style and spookiness. The story behind this particular Harridan product is that it is a collection of 666 bottles, each of which had been rested in the now-closed Occult Museum of Ed and Lorraine Warren, the famed paranormal investigative couple associated with The Conjuring and Annabelle films. Though the Warrens have their detractors, they aren't the primary reason to gift Harridan. Rather, it's the attractive presentation that makes the product feel like a mysterious artifact from a Gothic horror.
Each numbered bottle is made from recycled glass blown in Mexico, so no two are alike. Additionally, the bottles are hand-dipped in a black wax and emblazoned with a traditional letterpress label (meaning no digital printing). It comes in a gorgeous wooden case that functions as a Ouija board, and contains a planchette, authenticity card and gloves "for handling and protection."
As if that's not enough to entice you, the Harridan brand is a female-founded, female-owned company with "feminist," "fiercely inclusive," and "collective well being" values, so you can feel good about consuming these spirits. And in case you wondered where they get their name, a "Harridan " is a bossy and/or belligerent old woman. Also check out the very classy Harridan website, and their Midsummer Reserve gift set.
Cryptid Mug
$21.95
Can you spot all the cryptids in this mug menagerie? Bigfoot, Mothman, Dogman, Nessie, Chupacabra and more are all represented in this whimsical 11-ounce ceramic mug.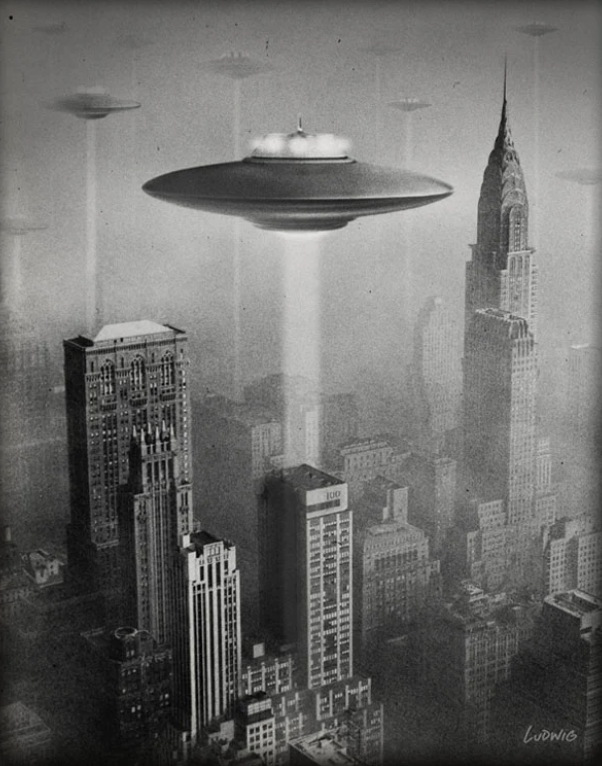 Thirteenth Floor Artwork
$15-$245
Thirteenth Floor artist Billy Ludwig has become best known for his "SWvsWWII" Star Wars vs. World War II series, but his photo manipulation mastery has been applied to paranormal topics with incredible results. My current favorite is his retro flying saucers over New York City print ("NYC '53 Invasion" on canvas, $110), which feels like a snapshot from a historic event that never happened. His UFO collection is also available in a set of 11×14 high-quality cardstock prints for $45. But if extraterrestrials are not the vibe for your gift recipient, check out Ludwig's hauntingly romantic "Ghost" print and creepy cool black-eyed phantom child in "File-1267," each for $15.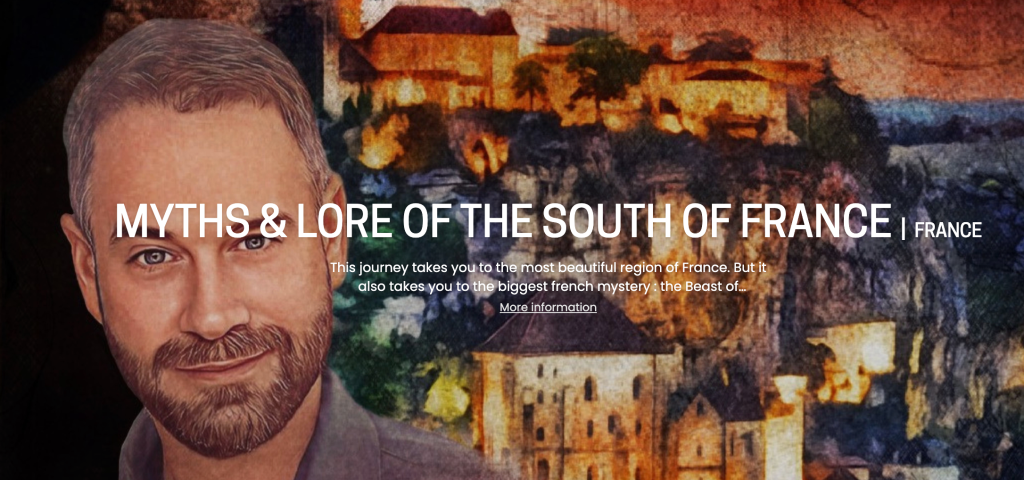 Les Voyages Extraordinaires Tour: Myths and Lore in the South of France
$3059
It's a weird, mysterious world out there, and paranormal tourism offers the curious adventurer a way of exploring phenomena while vacationing in style. That's the focus of Vanessa Michel's Les Voyages Extraordinaires tourism company, which offers thoughtfully planned expeditions into the unexplained throughout France. I recently had Michel on an episode of the Talking Strange paranormal pop culture show (available on YouTube, Spotify, and Apple Podcasts) to discuss some of her trips.
Notably, and shamelessly, I am most excited about the April 10-18, 2023 Myths and Lore tour in the South of France. I will be joining this trip as we venture into the Perigord Noir, a black forest that is France's paranormal epicenter where French witchcraft was born, ghost stories abound, and the infamous Beast of Gevaudan rampaged. On this tour, guests will visit the most beautiful region of France, ghost hunt in a medieval castle haunted by a White Lady, and explore the lore of Gevaudan, witches & fairies. And along the way they will also encounter real wolves! There will also, of course, be wine tastings during what is largely considered the best time to visit the country.
This is a trip for the adventurer who craves a unique experience and wishes to go beyond what most travelers see in France, cultivated by travel experts and paranormal professionals.
Paranormal Pop Culture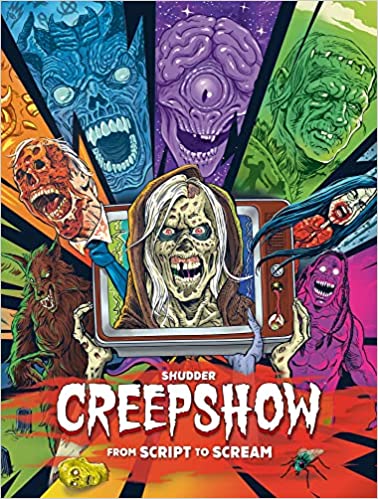 Shudder's Creepshow: From Script to Scream
$49.99
This book is so friggin' sweet. Sorry, let me step back. Shudder's horror-comedy anthology Creepshow is a constant gift to horror fans, and is a valentine to George A. Romero from his student Greg Nicotero. The Walking Dead director/producer/effects guru also helms Creepshow, and in this gorgeous behind the scenes coffee table book — which he recently spoke about on my Talking Strange paranormal pop culture show, available on YouTube, Spotify, and Apple Podcasts — Nicotero and author Dennis L. Prince dive deep into the show's origins, production, and effects.
Yet it also pays tribute to Romero's legacy as a filmmaker, and the 1982 Creepshow film he made with Stephen King. Along with seemingly endless BTS photos and an insider look at the monsters on the show (vampires! werewolves! mummies! aliens!), there are new comic art chapter openings, an Easter egg guide, a foreword by King, and an afterword by Metallica's Kirk Hammett. This gift is really a thing of scary beauty that will be treasured by the horror and paranormal fan in your life.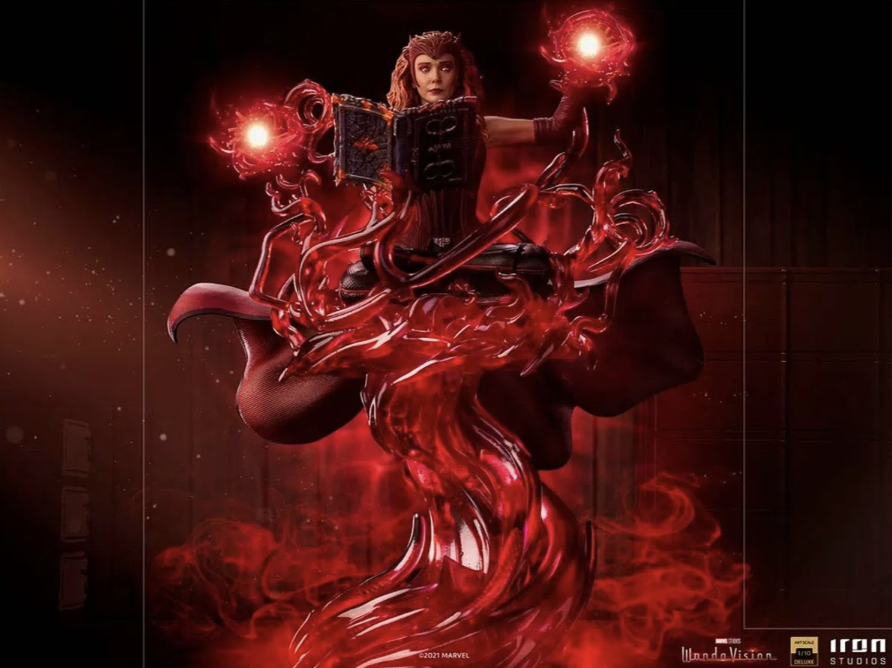 Scarlet Witch with Darkhold Statue
$199.99
By the conclusion of the WandaVison series on Disney+, Wanda Maximoff officially became The Scarlet Witch, and gained possession of the Darkhold book of dark magic. Not only is Wanda perhaps the most powerful Avenger in the Marvel Cinematic Universe, she's also a favorite supernatural superhero, and this statue by Iron Studios deserves a spot in a paranormal themed gift guide. Crafted in polystone, Wanda is positioned on a spire of red energy, and as her soul appears to float, she manipulates mystical forces and absorbs the contents of the ancient grimoire.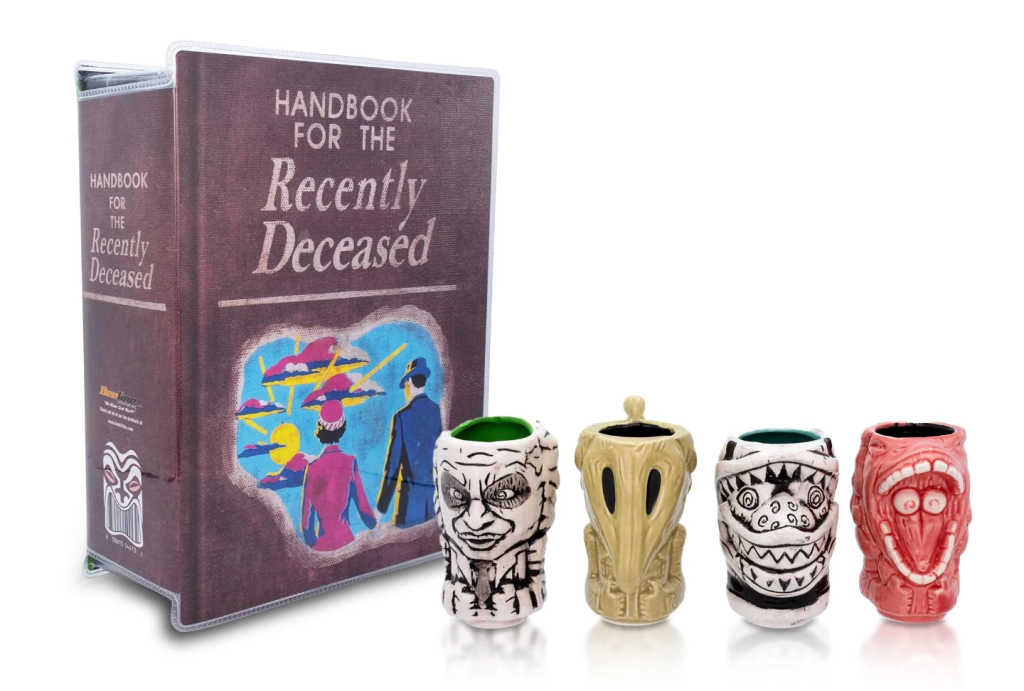 Beetlejuice Geeki Tikis Muglets 4-Pack
$72.99
Toast your giftee this year with a shot of spirits…served in spirited shot glasses. Another great item in the expansive Geeki Tikis product line, this tiki muglet 4-pack celebrates our favorite Bio-Exorcist and ghost with the most, Beetlejuice, along with the tricked out versions of Adam and Barbara Maitland, and a cuddly Sandworm from Saturn. Packaged in a Handbook for the Recently Deceased display box, the four mini mugs of the spooky crew make for a fun … possession. Just don't do three shots of Beetlejuice unless you are really ready for showtime.
San Diego Comic-Con Comics #2
$999.95
Back in August 1993, Dark Horse Comics published their second San Diego Comic-Con Comics, but what makes this convention edition special is it introduces the world to the "world's greatest paranormal investigator," Hellboy. The four-page black-and-white Mike Mignola story is not technically the first appearance of Big Red (it's the third, after a pamphlet for the 1991 Great Salt Lake Comic Convention, then the Italian publication Dime Press #4). But it is the first story featuring the hero from the Bureau for Paranormal Research and Defense in his famous form.
Comic characters like Hellboy and John Constantine continue to influence paranormal pop culture's take on investigators of the unknown. So a comic book is a great gift for spooky nerds. However, if you're going to give a collectible book, make certain it is graded by CGC, Certified Guaranty Company,"the world's leading third-party grading service for comic books." A CGC grade is one of the safest bets for ensuring your collectible comic is legit. (Also this is a deeper cut gift rec, and really, it's my intent being sent out into the universe that someone will just buy this for me.)
Practical Paranormal Applications
The Encyclopedia of Parapsychology
$55 Kindle edition, $149 hardcover
Author Courtney M. Block is Reference, Instruction, & User Engagement Librarian at Indiana University Southeast, and in this expansive, deeply-researched book, she brings an academic approach to the paranormal. According to the description, Block "covers the history of parapsychology, key international figures, and a decade-by-decade annotated bibliography of research."
But that barely scratches the surface of what she's collected. Also, it ain't all about the ghost shows, folks, and if you have a gift recipient that truly wants to learn about this subject matter, they need to read — a lot. And Block's book is an invaluable resource.
Beginner Ghost Hunting Kit
$148.95
If someone in your life is interested in paranormal investigation, or "ghost hunting," but they don't know where to begin, this starter kit from Ghost Stop is a nice bundle to help them chase boos. It includes some standards used in the field, but with upscale designs: A wearable digital audio recorder to collect EVP ("electronic voice phenomenon"); Rook EMF Meter with sound that detects small changes in electromagnetic energy; a flashlight, and hard-shell carrying case.
As an added bonus, your beginner investigator will be rocking tools designed by the same folks who have supplied every major paranormal show with gadgets. Ghost Stop has been in the business for more than 15 years, and is expressly dedicated to manufacturing gear with investigators in mind.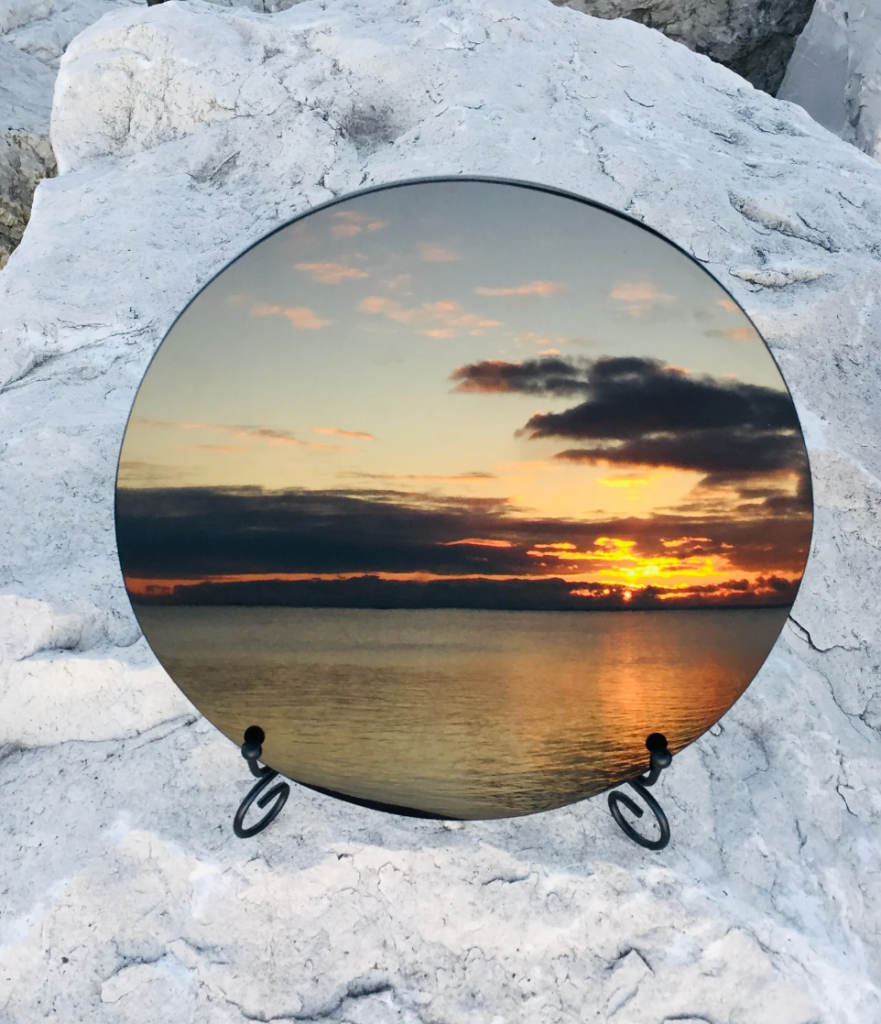 Scrying Mirrors
Various prices
"Mirror, mirror on the wall…" Mirrors have long held supernatural significance. Some believe a mirror opposite your door wards off evil spirits. Certain superstitions advise covering a mirror when someone dies in a home lest their soul be trapped inside. And some beliefs have it that mirrors are portals to the other side, or even other dimensions. Then there is the ancient practice of divination known as scrying that involves interpreting messages via typically reflective surfaces (although scrying can be applied to crystals, water, and smoke).
A scrying mirror, usually obsidian, can be a great decorative gift that looks lovely while maybe even allowing your gift recipient to uncover prophecies. And Etsy has a whole lot of them that range from 20 bucks to several hundred.