Features
Best Holiday Gifts for Geeks in 2020
The holidays are here, and we want to make your shopping experience as painless as possible with these geeky gift ideas.
To quote indie rock legends The Mountain Goats, 2020's mantra seems to be "I'm going to make it through this year if it kills me." We will all collectively breathe a sigh of relief once New Year's Day hits, and a side effect of wanting the calendar to change is the desire to just get the holidays over with as soon as possible. Reality being what it currently is, most of us can't (nor should we) see our friends and family right now. But that doesn't mean we have to humbug our way through the next month. Small seasonal commemorations, even if it is just you and a tree straight out of A Charlie Brown Christmas, will be the norm this Yuletide. And that's not ideal, but it's okay given our circumstances.
Online shopping makes the arduous task of gift-purchasing, for those who can this year, easier—and safer—than ever before. Taking all of these factors into account, we've compiled the following geeky gift guide of largely inexpensive items that will make anyone's holiday a bit brighter. Whether you are shopping for loved ones or just treating yourself (you deserve it, especially this year), these nerdy items will bring a smile to your face as we endure the end of 2020 together, with thoughts of better days to come at the forefront of our minds.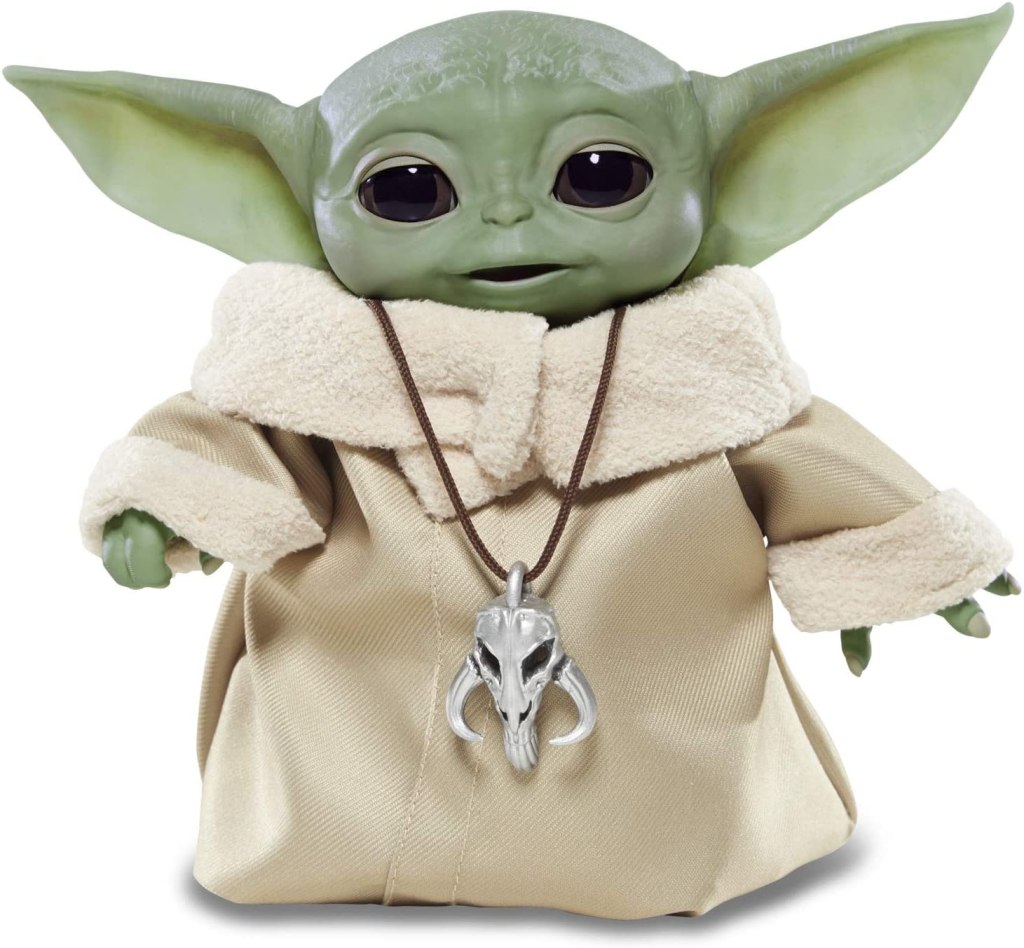 Star Wars: The Child: Animatronic Edition
Price: $59.00
The breakout star of this year's Toy Fair (whoa, February feels like a million years ago), Hasbro's animatronic replica of The Child exists somewhere in that uncanny valley between Furby dolls and Disney park professionalism. In other words, this is as close as you'll ever get to having your own Baby Yoda to hug, and the character's inherent cuteness is absolutely on display here. A terrific value for its reasonable price tag, The Child features screen accurate sounds and movement that somehow avoids the clunky creepiness that far too often bogs down these types of toys. (Remember the animatronic E.T. from a few years back? Shudder). There's also fun features build into the bebe, including one that puts him to sleep when you lie him on his back. Love him or loathe him, and if it's the latter you are a monster, Baby Yoda is here to stay. This toy is a loving tribute to the mysterious asset, and a must own this holiday season.
Buy the Star Wars: The Child Animatronic Edition here
Gremlins Countdown Calendar
Price: $39.96
Over the past couple of years, Advent calendars have become more popular than ever with licenses from Star Wars to Harry Potter offering up a fun way to countdown to Christmas. Jakks Pacific has done these one better, by presenting a Gremlins calendar that covers through New Year's Eve. This monster of a product features 31 collectibles—everything from Gizmo wearing a Santa hat to the Electricity Gremlin from Gremlins 2: The New Batch to slime packets because gross. Better still, the packaging folds out to recreate the movie theater from the original film in which you can seat your new Gremlin pals as they plot their next bout of chaos.
Buy the Gremlins Countdown Calendar here
Star Wars: The Empire Strikes Back: From a Certain Point of View
Price: $22.70
If you're the type of person who revels in Star Wars Expanded Universe minutiae, and if you are reading these words you probably are, The Empire Strikes Back: From a Certain Point of View is the book for you. Del-Ray's second volume of stories that tell stories on the fringes of what we witnessed on screen in the original trilogy has gathered a jaw-dropping assortment of writers (among them Amy Ratliffe, Kate Cook, Charles Yu and original Rogue One screenwriter Gary Whitta) for this anniversary collection of 40 stories — one for each year since the film hit theaters. Weaving together familiar events and characters with the larger Star Wars mythos, these stories aim to present new perspectives on familar events in Empire. An audacious task that would seem blasphemous were it in less talented hands.
Buy Star Wars: The Empire Strikes Back: From a Certain Point of View here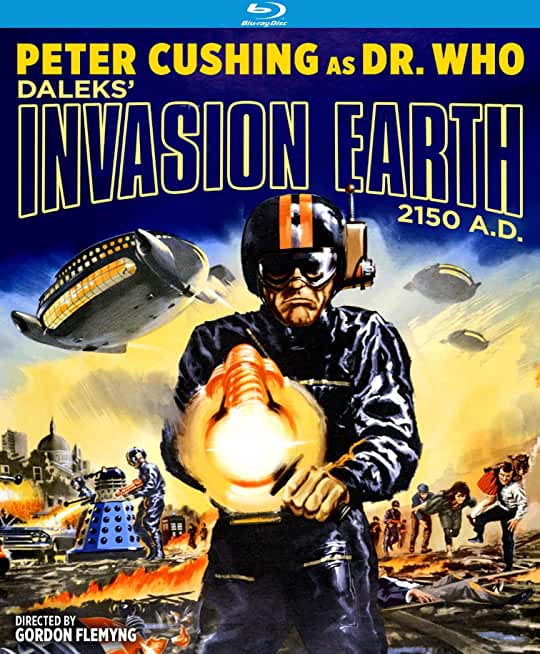 Daleks' Invasion Earth 2150 A.D.
Price: $17.99
The second of two non-canon Doctor Who films released in the 1960s, this adventure sees the Doctor, his niece Louise and granddaughter Susan, and an unwilling policeman named Tom who stumbled upon the Tardis while trying to catch some jewel thieves, thrust into a future where the Daleks have ravaged the Earth. This being Doctor Who, 2150 London looks nearly identical to its 1966 counterpart—right down to its hilariously incongruous product placement. Peter Cushing delivers a charming performance as the Doctor, even though the heavy lifting action wise is left to Bernard Cribbins as Tom. (Cribbins would return to the franchise in the revival series as Donna Noble's lovable grandfather Wilf). Unlike its predecessor, 1965's Dr. Who and the Daleks, this film moves along at a swift pace, with some fun betrayals and story developments that are better than they have any right to be. The real stars of the show here though are the Daleks—louder and more inept than we've seen them before or since. This movie is an absolute oddity, mostly disconnected from Who lore at large yet campy and fun enough to please the most finicky Whovian. For a stocking stuffer this year, you can do no better.
Buy Daleks' Invasion Earth 2150 A.D. here
Back to the Future: The Official Hill Valley Cookbook
Price: $22.95
Featuring recipes for Hoverboard Cookies, Maggie McFly's Biscuits and Cider Jelly, and Doc Brown's Time-Altering Chicken Pot Pie, Insight Edition's Back to the Future cookbook aims to bring you the best dishes and cocktails in history. This one is perfect for a movie marathon of all of Marty and Doc's time travel adventures!
Buy the Back the the Future: The Official Hill Valley Cookbook here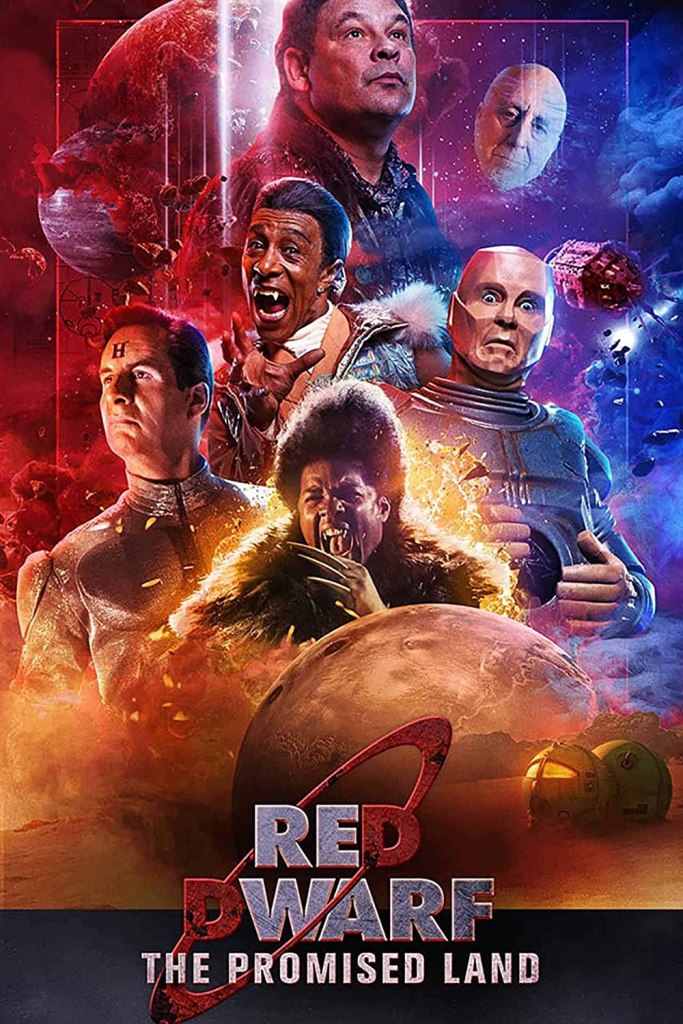 Red Dwarf: The Promised Land
Price: $29.39
Unpopular opinion alert: This year's best sci-fi revival wasn't Star Trek: Picard but Red Dwarf: The Promised Land. Airing in the U.K. on the appropriately named Dave channel, this new feature-length special brought back Lister, Rimmer, Kryten, and The Cat for an adventure that contained (future) echoes of classic Red Dwarf installments like "Queeg" and "Dimension Jump" while telling an entirely new story—one about what happened to the rest of the feline race that spawned from Lister's smuggled cat from the show's pilot. Unlike recent iterations of the show, this standalone tale mostly focuses on new bits instead of rehashing the past. As a result, Red Dwarf hasn't been this good since original co-creator Rob Grant left in 1993 following the show's epic sixth season.
Buy Red Dwarf: The Promised Land here
Aliens Bishop Reaction Figure
Price: $14.99
Part of Super7's retro-inspired Aliens line (all of which is worthy of your attention), this 3 3/4 Bishop figure lets you recreate the moment when the Alien Queen ripped the poor android in two. Truly a fun toy for the entire family.
Buy the Aliens Bishop Reaction Figure here
The Child Chia Pet
Price: $19.99
Is this Baby Yoda-inspired Chia Pet the only good thing that happened this year? Because it certainly feels that way.
Japanese Spider-Man T-Shirt
Price: $25.84 – $28.19
Thanks to Disney+'s Marvel 616 documentary series, the world is finally discovering the magic of Toei's Supaidaman series. Otherwise known as Japanese Spider-Man, the tokusatsu show featured a very different version of Spider-Man fighting monsters and the sinister Iron Cross Army with the help of his giant robot and Spider-Car. Seriously. It's amazing. While vintage merchandise from the show goes for a small fortune and a Blu-ray release weirdly doesn't exist, the best way to show off your love for this unique take on Spidey is the above T-shirt, available in sizes from small to 2XL. Yeah yeah yeah, wow!
Buy the Japanese Spider-Man T-Shirt here
The Art of Star Wars: The Mandalorian
Price: $31.99
From Abrams Books comes a lavish behind-the-scenes visual tour of the world of The Mandalorian. Writer Phil Szostak's fascinating, matter-of-fact writing style gives this hefty tome most of the weight here, but it is the production art and model work by Doug Chiang and associates that will take your breath away. Yes, there are early concept designs and insights into Baby Yoda (which is what this book primarily refers to the character as), but equally interesting are the little details— from costume facts to detailing the creation of the series' creatures. Since this release only covers the first season, we can expect future volumes. Endlessly merchandising Star Wars, that is the way.