Features
How Teen Titans: Robin Came to Feature Two Boy Wonders
The next installment of DC's wildly successful series of YA Teen Titans graphic novels will feature both Damian Wayne and Dick Grayson. Get ready for Teen Titans: Robin...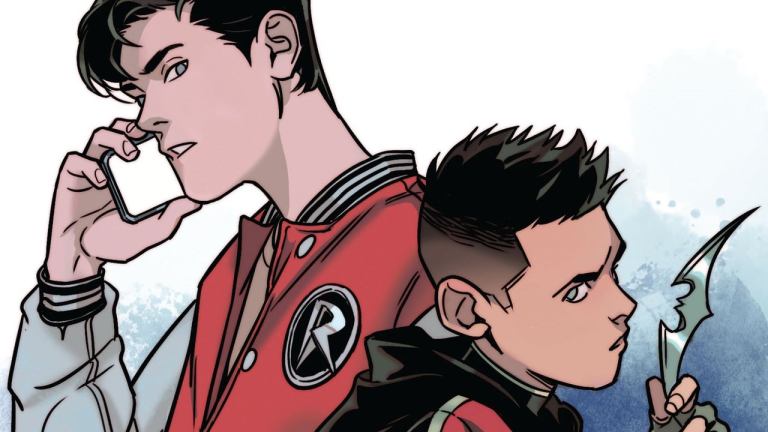 After teaming up with fan favorite artist Gabriel Piccolo, Kami Garcia entered the world of DC Comics with a bang. The pair's beloved Teen Titans graphic novel series began with Teen Titans: Raven, continued with Teen Titans: Beast Boy, and smashed into blockbuster status with Teen Titans: Beast Boy Loves Raven. The newest title in the series was a highly-anticipated Robin story, coming after the introduction of Damian Wayne in the third book. But the pair's newest book Teen Titans: Robin has a secret: it's actually about more than one of Batman's famed sidekicks.
The origin of Teen Titans: Robin and its two leading heroes goes back to the early days of Garcia's pitching process with DC.
"I pitched this whole series before I found Gabriel," she says. "The coolest thing was Gabriel was already drawing Titans in their regular clothes. That was kind of the cornerstone of my pitch because DC said they really wanted me to make the characters relatable. I wanted it to seem like you could go to school with one of the Titans and not know."
But while they connected on the style and spirit of the characters and their stories, they had different ideas of just which Robin should be center stage in their Titans team.
"In my original pitch, Damian Wayne was the Robin," she says. "And once Gabriel and I got to know each other, he was like, 'You know, I'm just really sad because I really loved Dick.' I was like, 'Well, I really love Damian.' And Damian is so my speed."
As she was crafting the newest book in the series, Garcia came up with a plan.
"Working with my two editors, Courtney Jordan and Kristy Quinn, I kind of secretly reworked the Robin book and I figured out a way to have both Dick Grayson and Damian Wayne. So Damien is introduced in Beast Boy Loves Raven kind of midway through, and then the big moment in Robin–which comes out in 2023–is that Dick is going to be on the page in a BIG WAY!"
Garcia tells us that Teen Titans: Robin is very much a story of two brothers, with both Damian and Dick trying to find a way through the confusing relationship that they've been gifted by their father.
"Damian doesn't know Bruce and gets dropped off by his mother on the doorstep, and Bruce already has this kind of adopted pseudo adopted son," she tells us. "So as a kid who's never known his father, Damian feels very replaced, you know, like, 'My dad didn't want me.' But that isn't actually true, because as we know from canon Bruce didn't know about him. But as a 16 year old, it doesn't feel that way when you meet his new son."
While Damian struggles to come to terms with his new sibling, Dick is far more enthusiastic, something that causes a rift between the pair. "Dick is excited to have a brother and wants to know Damian! But Damian wants nothing to do with Dick. He doesn't want to know him. He doesn't want to know Bruce. He wants out. And he kind of gets absorbed into our new Titans group where they become his found family. And as Dick goes out to find his brother, we get to know him too."
The author also teases that this will be a thread that will continue as the series goes on. "You'll see in this Teen Titans: Robin and in book five–which I can't tell you what it is although I know–kind of how they're navigating that sibling relationship."