News
Back to Smallville: A New Superman Origin Story Targets a Younger Audience
Superman: The Harvests of Youth is a different look at Clark Kent's early days in Smallville.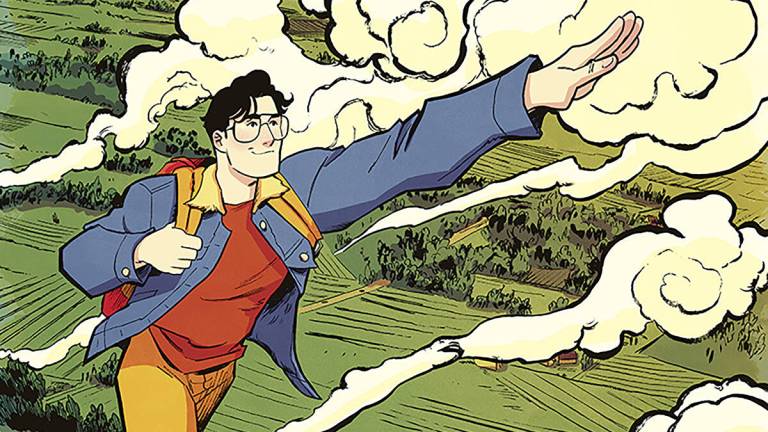 In the DC pantheon there is no shadow that looms larger than that of Superman. Since his debut in Action Comics #1, the publisher's original superhero has become the pillar that the rest of the company was built around. That's why cartoonist Sina Grace hadn't considered writing or even pitching for the most famous hero in DC's Trinity.
"I just didn't ever think about Superman, because I never thought I could tell that story," Grace tells us. That all changed, though, after he was called into pitch by then DC editor Diego Lopez. While Grace went in with a Black Canary and Green Arrow story ready to go, in which he was "coming at her with this passionate 45 minute speech, like, 'Wild at Heart, wrong side of the train tracks, yada, yada,'" Lopez had other ideas. "What do you think about Superman?" she asked, and Superman: The Harvests of Youth was born.
Lopez giving Grace that YA graphic novel assignment opened his eyes to the possibilities of what he could do with a Superman story.
"[I took a weekend to] think about Clark Kent being a teenager learning sort of how to become the hero he's meant to be, and I realized I do have a [Superman] story to tell," Grace says. "I had just gone to Cleveland [where Superman creators Jerry Siegel and Joe Shuster grew up and first envisioned the character] for a work trip, so I had a lot of Cleveland's soul energy in me."
And as for what that means for Superman: The Harvests of Youth?
"It's just this really beautiful, heartbreaking, lovely story about a teenage Clark Kent who's not learning to use his powers, but learning how to use his power," he says. "There's no training montage, but asking 'how do I actually take this stuff and apply it in situations where maybe brute force isn't even an option?' I think that's the Superman that we really all love and believe in. This person whose heart and mind are just as much a part of the equation of his heroism."
Grace was given the assignment prior to and began working on it just as the pandemic struck, which gave him a lot of time to focus.
"Nothing's great about a pandemic, but when you're paid to draw it does help to be trapped at home with nothing to do but design each and every cast member and think about every nook and cranny of Smallville," he says. "I had the time to think about that, to think about what eyeglasses Clark Kent is gonna wear. How do I modernize these characters while still touching on what's true to them? Then just going back to what's true to me, and to just put all that love into it."
As you can tell, it's not something that Grace took lightly.
"I guess it's just this wonderful thing of like, it was the opportunity of a lifetime. And it was also the best time in my lifetime to approach this. I'm never going to have this much time to develop the visual aesthetic core of a concept like I did with this book. And good! Because this is my first time doing Superman, maybe the only time doing Superman like this and so I just took it with the most responsibility and care."
Superman: The Harvests of Youth is out on October 3, 2023.