Features
Coronavirus Disrupts Comic Book Industry
The COVID-19 pandemic continues to impact the comic book industry in ways large and small.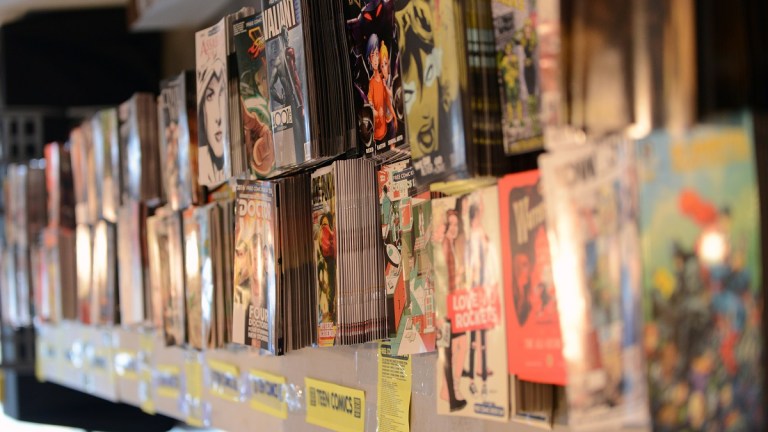 The parts of our lives that have been disrupted by the COVID-19 epidemic are almost too numerous to count – gatherings have been limited, travel curtailed, and booze is somehow only available as curbside pickup now. The comic book industry is, like so many others, seeing massive, terrifying change, and any prolonged shutdown of social gatherings could change the comics we get and the way we get them forever. In the grander scheme of things, this may seem like a drop in the bucket – we'll always have Comixology, and comics are increasingly just IP seedlings for cinematic universes. But one glance at Comichron sales figures paints a pretty dire numerical picture: digital sales are running a little behind 10% of total sales volume, and the single issues, trades, and magazines sold to shops by Diamond is a bit more than a half a billion dollars in annual sales. 
That's a lot of money. That's a lot of jobs supported by that money. And that's not counting the ancillary stuff around the weekly ritual of picking up your books – I don't know about you, but I get lunch out at least once a month with the sole, express purpose of having someplace quiet to sit and read my new comics. Comic shops are a small but important part of the social and business ecosystem wherever they exist. But this doesn't absolve anyone of their public health responsibilities to slow the spread of the disease, and that responsibility, combined with some pretty dire projections on when this might end, led to the postponement of Free Comic Book Day. 
Comic shops are responding in creative ways. Many are certainly increasing their shop sanitation regimen, trying to eliminate their product as a vector for spreading the disease. Many of them are pushing customers to their online stores for delivery services. And several of them have added limited hours, appointment-only days, and curbside pickup to limit crowds, satisfy restrictions on gatherings, and reduce potential transmission of the disease. Some shops are, as you can tell from the comic sent out by Image, by Skottie Young, Alex Cox, and Nate Piekos, updating their Comic Shop Locator pages with Coronavirus hours and mail/curbside options.
Several comic companies have responded to this crisis with measures meant to help keep stores open. The first was Image Comics, releasing a comprehensive plan for relief that included marketing support for retailers going mail order or adding curbside pickup, delaying the release of some titles, cancelling reprints, and offering full returnability for new comics. Most of these are unprecedented steps, though returnability is often used as a marketing tool for new series or new runs – the comic book direct market requires books be preordered by shops and customers and doesn't allow unsold stock to be returned to the publisher. This isn't standard practice for the rest of the publishing industry. It's a way to goose speculator markets by limiting supply (shops are only going to try and order precisely what they need and no more, because unsold stock sits on their shelves for months before ending up in a quarter bin or a mystery box sold on eBay). 
This is why having pull lists is so important to your shop and to keeping books alive. Adding returnability coupled with limiting stock is a huge relief to shops facing limited hours and potential closures. Even so, some shops have decided to stop ordering shelf copies and are only buying what their customers subscribe to for the foreseeable future. 
Other publishers quickly followed suit – Dynamite Entertainment announced returnability, discounts, and delays; Archie offered returnability; Vault Comics, Ahoy Comics, and Aftershock Comics pushed back all of their titles; and Boom Studios and IDW Publishing announced that they were working with Diamond on a comprehensive, industry-wide plan that would include all publishers. While waiting on Diamond's comprehensive plan, Boom stepped up with a generous package: full returnability through June, paid advertising and promotional material for shops, free rare variants to shops.
Diamond is also helping out. They are allowing shops forced to close by local emergency orders to put their accounts on hold, and distributed information about a nonprofit (The Binc Foundation) that provides grants to booksellers in difficult situations. ComicHub, an online pull list that allows customers to order new books through their shop, offered deep discounts on enrollment fees to shops. It's also likely that Diamond won't make their ultimate move without DC and Marvel's support – the two combined make up about 75% of the comics product Diamond ships.
Unfortunately, Marvel's response is…to call it "underwhelming" would be to understate its offensiveness. At a time when comic shops need to hold onto as much cash as possible and may not be able to sell any product at all, Marvel's response was to increase existing discounts. Marvel (NYSE: DIS) is not delaying shipping any product; it's not offering returnability; they didn't even delay billing. Comic shops were billed today for books coming out this week and next. Marketing assistance was offered as an afterthought. "We are aware that based on the guidance of local government and health officials, many of you are already providing services to accommodate your communities, including holding or creating pull lists, curbside pick-ups, special deliveries or other shipping options, and more," Marvel told retailers. "We will continue to amplify and create awareness about these efforts as best as we can to help encourage your customers to use your additional services." This may sound like a good amount of money, and on paper it is – for large shops with strong online presences, like the Midtowns and Mile Highs. Shops that can sustain themselves for a period of time on online orders will thrive with this deal: shops in Northeast Bumfuck, New Hampshire are probably making plans for a going out of business sale instead. 
Creators, many of whom are not listed on major stock exchanges, are getting in on the assistance as well. Several, including The Flash's Joshua Williamson, X-Factor's Leah Williams, and Strange Adventures' Mitch Gerads, are signal boosting shop changes due to the pandemic through their Twitter feeds. Some, like Cox, Young, and Piekos, are providing marketing support. And you can be certain that when shops are open and running again, and when gatherings are permitted, there will be a flood of signings and store events to draw in more foot traffic. 
Of course, the customer is the most important part of the equation. Here's what you can do to help: call your LCS right away. Find out what changes they're making because of social distancing rules. Then work with them to get your books from your existing pull list, or start a pull list and put some of your favorite books on there. And then make sure you're collecting your stuff. Comics depends on local shops to thrive, and you can help make sure they stay strong.