News
Free Comic Book Day Delayed Over Coronavirus Concerns
Free Comic Book Day won't take place in early May as scheduled because of COVID-19 worries.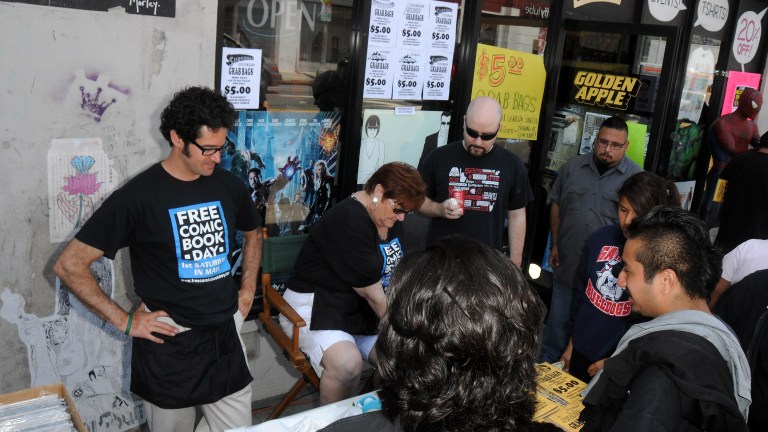 Diamond Comic Distributors announced on Thursday that it would push Free Comic Book Day, the annual celebration of comic books and the local shops that sell them, back to an undetermined point in the summer because of the COVID-19 epidemic. 
"The severity and timing of the impact of the COVID-19 virus can't be predicted with any certainty, but the safety of our retailer partners and comic book fans is too important to risk," said Diamond CEO Steve Geppi in a press statement. "As always, we appreciate your enthusiasm for and support of the comic industry's best event and look forward to celebrating with you later in the Summer." 
The first Free Comic Book Day was held on May 4, 2002, as a way to capitalize on increased comic shop foot traffic the weekend of the first Sam Raimi Spider-Man arriving in movie theaters. The day started as a free-for-all, for grabbing free reprints of classic comics. It has since morphed into a kind of comic con for your LCS, with common features including cosplay, giveaways of items beyond comics, special kids' sections, and at some (really awesome) shops, food and music. In short, FCBD became a party.
Parties like this are, unfortunately, contrary to CDC guidelines for preventing the spread of COVID-19 during this pandemic limiting gatherings to smaller than 10 people with six feet distance between each other and not all fondling the same piles of comic books for six hours. These guidelines are in place for at least the next eight weeks, taking us well past the first weekend of May.
No news yet on how this might impact ongoing storylines that often use FCBD issues as a herald. Last year, Marvel led into Savage Avengers (think all the Avengers who use knives or swords, plus Conan the Barbarian) and Absolute Carnage, while DC launched Year of the Villain. This year's books pointed towards lead-ins for X-Men event X of Swords for Marvel, and an as-yet unspecified storyline at DC. 
The postponement comes on the heels of multiple release date delays for movies, and several films being rushed to VOD. There are some worried that this represents a potential sea change in the movie industry, and it's possible this downturn might also herald similar changes for the comics industry. We'll update you with more information as it becomes available.