Features
Gunther's Millions: The True Story Behind Netflix's Rich Dog Docuseries
Netflix presents the true story behind the "millionaire dog." Here's what you need to know about the real life Gunther's Millions.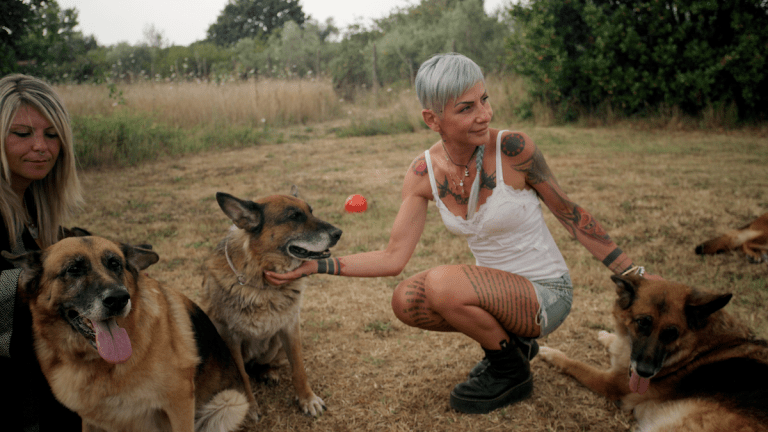 This article contains spoilers for Gunther's Millions.
Netflix is always armed with a wacky true crime series, and Gunther's Millions – the story of a supposed "millionaire dog" – is the latest tale they've added to the collection.
Based around a German Shepherd whose Countess owner leaves behind an untold fortune, soon things take a turn for the bizarre – with scientific experiments, a decades-old mystery and a German pop group somehow all getting involved.
Naturally, there is more to the story than meets the eye, and over the course of four episodes we're left to find out just how easy it is to be taken in by money… and what lengths people will go to get some.
Here's the true story of Gunther, and his supposed millions…
The Truth About Gunther the Dog
The official story peddled to the masses goes like this – Countess Karlotta Lieberstein tragically dies in 1992. With no heirs, she leaves her multi-million pound estate to her beloved dog, Gunther III.
Gunther was named after the Countess's only son, who died by suicide at the age of 26. As a result, the trust set up in Gunther's name would be looked over by family friend Maurizio Mian, and among the stipulations was to create an experiment into the science of joy. 
Gunther would live the richest life imaginable – becoming famous as a result of the inheritance. He would dine on steak and caviar meals, and be flown around the world for appearances on private jets. He would later take up residence in a Miami mansion previously owned by Madonna. 
Turns out though, none of it was real. The Countess, her late son and even Gunther himself were all a part of an elaborate tax scam from Mian.
Mian, a wealthy heir to pharmaceutical company Gentili Institute, initially used his girlfriend's dog in order to garner attention on an osteoporosis drug he was trying to push to the public. When interest on that dwindled, he later created the story of the Gunther and The Countess as a tax dodge, opening The Gunther Group trust fund that would then be "bequeathed" onto them.
An unnamed family friend, who knew she was dying, initially took charge of the account to give the story more weight, leaving the "trust" to Mian's mother Gabriella Gentili, in her will. She was not called Carlotta Liebenstein. When Gentili died, Mian took it over.
From that point on, Mian would use Gunther to dredge up publicity for his own financial and social gain. In the Miami mansion, he would hire models to become part of a "pop group," but would ultimately use them in socal experiments in which he hoped to find the cure for depression.
He would encourage those involved (who had to adhere to a strict physical code including having "jaunty buttocks," look like supermodels and be naturally beautiful) to engage in long hours of gym workouts, dance practice, and increased sexual activity. All of which he would film with cameras around the house and "report back to his team".
At one point the group, named 'The Magnificent Five' (which was meant to be of five people but was largely a rotation of dozens) would even wear signature light up medallions around their necks. The medallions "monitored" their success in achieving physicality, popularity, spectacularity, wealth, and sexuality throughout their days.
Gunther was ultimately a publicity stunt in order for him to gain traction for his own work, while also providing a cosy tax haven which was later revealed in the 2008 Lichenstein papers. The experiment into depression seems more like his own personal mission after battling mental health issues of his own.
Mian even bred Gunther so he would have "heirs to the fortune". By the time Gunther's Millions is filmed, he's on Gunther VI. Gunther VI is still under the ownership of Mian today, with a team of 27 people working for the trust – including a PR team who are happy to live a rich life in his name. 
At the end of the final episode, Gunther was seen in the Bahamas, with Mian explaining his hopes to build an animal sanctuary there. 
All four episodes of Gunther's Millions are available to stream now on Netflix.