Reviews
Yellowstone Season 2 Episode 9 Review: Enemies By Monday
A particularly dark episode sprinkles in just enough hope to crush it down into dust.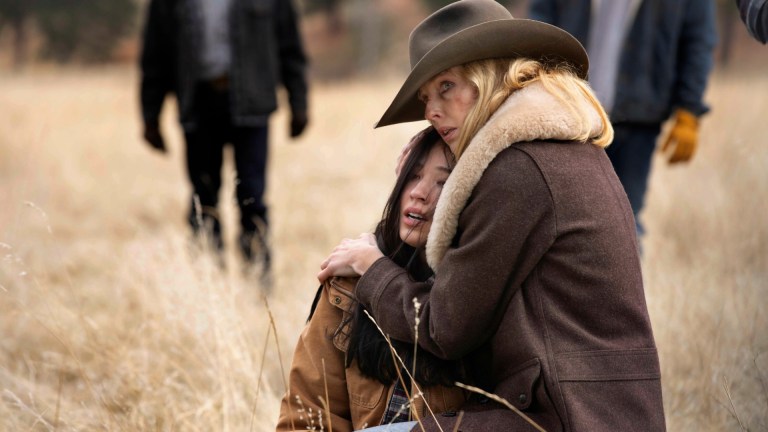 This Yellowstone review contains spoilers.
Yellowstone Season 2 Episode 9
As with the majority of the Yellowstone season 2 episodes that came before it, "Enemies by Monday" begins with a nugget or two of wisdom from ranch patriarch John Dutton (Kevin Costner). "It's the one constant in life," he tells his son and chosen heir, Kayce (Luke Grimes). "You build something worth having, someone's gonna try and take it." And much like his episode-starting comments in "Behind Us Only Grey" and "Resurrection Day," John's words are far more applicable than he realizes.
Specifically, in the case of his grandson Tate, the child of Kayce and his estranged wife Monica (Kelsey Asbille). Now that the little boy and his mother have returned to the Dutton family, John has been spending a lot of time with the youngest of his family's line. And this behavior isn't lost on Kayce.
"I swear, he gets more affection in one day than we got in an entire childhood," he jokes about the Dutton siblings' upbringing. Monica, however, isn't as amused. "That's not funny, Kayce. That's something you should examine. Closely."
Her consternation stems from something that she experiences earlier in the episode, but it all comes down to the same thing: Monica isn't too sure about their new arrangement. She doesn't like living on the Dutton ranch. She doesn't like what Kayce is becoming. And she especially doesn't like the influences it's having on their young son.
Which brings us back to John's warning about others always trying to take that which you build up. He was talking about the ranch, specifically, but this also applies to little Tate, whom the villainous Beck brothers began targeting in the previous episode. As Malcolm (Neal McDonough) screamed then, "We take this all away." He was, generally, speaking about his and Teal's (Terry Serpico) growing irritation with John and his company, but as that episode repeatedly hinted, Malcolm was thinking about something very specific: kidnapping, if not killing, John's grandson.
And sure enough, by the end of "Enemies by Monday," little Tate is nowhere to be found. The boy has disappeared and no one on the Yellowstone Ranch has any idea where he is.
John thought he was with Monica. Monica thought he was in his room. And Kayce? Well, after assuming that the boy was asleep in bed, he busied himself with some off-the-ranch duties with Rip (Cole Hauser) and the rest of the ranch hands. So, yeah… no one has been paying attention, which afforded someone the perfect opportunity to steal the boy away.
For a show that plays fast and loose with morality and murderer on a regular basis, Tate's abduction marks a particularly darker angle for Taylor Sheridan's modern western drama. The discovery of a mysterious set of muddy tire tracks and a single child's rain boot doesn't mean that the Becks — or someone — has killed the boy, of course. But with all the ominous buildup that Yellowstone has been doing for the past few episodes, it's clear that the kid's kidnapping is going to lead to something even darker. Someone, probably one of the principals, is going to die by the end of next week's season finale.
Should it be one of the other Dutton adult children or their associates, then this week's B and C storylines offer plenty of clues. For example, there are the horrible events that lead to Monica's impromptu bonding with Beth (Kelly Reilly), her fiery sister-in-law and one of John's fiercest, most loyal defenders. While browsing at a shop, a saleswoman accuses Monica of shoplifting and calls the police on her when she refuses to cooperate. Of course, Monica wasn't stealing anything and her accuser was simply profiling her because of his skin color and Native American heritage, but the cops don't care. Nobody cares until Beth shows up to defend Monica's honor and strike the fear of the almighty into everyone who's present.
Later, the pair goes to a bar so that Beth can day drink. That's when she confides something in Monica, something that the typically harsh (and literally harsh-looking) Dutton daughter doesn't usually say to anyone: something sweet.
"I certainly understand why he fought so hard for you. You have a kind soul. The whole world can see it. The whole world's gonna hate you for it. Today was probably more about that than anything," she tells her. "Kayce isn't like you. His center isn't set. He has the potential to be just like my father. And you owe it to Kayce and your son to do everything in your power to prevent that from happening. My mother was the spine of this family. She was the center. Without her he's… Well, the best of him died with her."
Indeed, these are rare, sweet words from Beth, but they're also a warning. A warning that, if Monica doesn't somehow convince Kayce to leave with her and Tate once and for all, something bad is going to happen. So, while Jamie (Wes Bentley) discovers in another subplot that his ex Christina (Katherine Cunningham) not only knows that Sarah's death wasn't an accident but is also pregnant with their child, it's what Beth tells Monica in this moment that stands out in regards to Tate's abduction.
The boy may very well survive the events to come in next week's season finale, "Sins of the Father," but with so much riding on Monica's shoulders, she just might be the next one to go. It might not affect John, Beth and Jamie as much, but it would destroy Kayce almost as much as his mother's death destroyed his father. This, in turn, practically destroyed the entire Dutton family. Monica's death could very well do the same, if not more.