News
Yellowjackets Season 2 Release Window, Cast, Plot, and News
Yellowjackets will be back for season 2! Here is what we know about the show's return so far.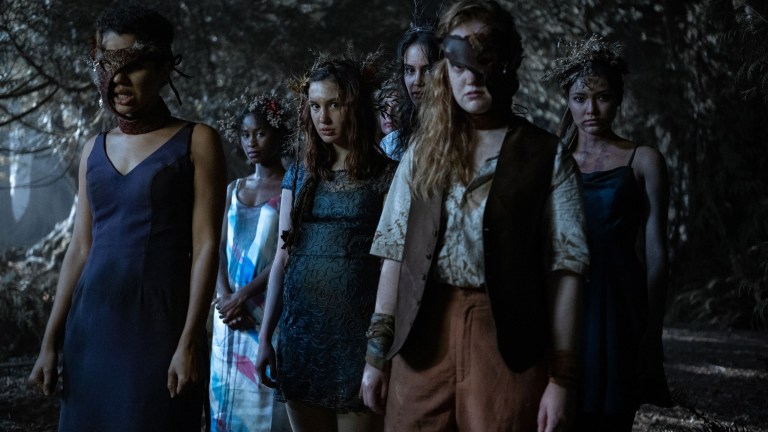 This Yellowjackets article contains spoilers.
The Yellowjackets finale may have left us with a million questions, but at least we know there's another season full of answers on its way. Showtime has officially renewed Yellowjackets for season 2. It should come as no surprise considering the critical acclaim and social buzz the show has received since it premiered last November.
"Yellowjackets has been an unadulterated sensation for Showtime," said Showtime entertainment president Gary Levine in a statement. "We are overwhelmed by both the acclaim and the audience response to our series, including several 'Best of 2021' lists, a 100 percent score on Rotten Tomatoes and snowballing viewership. Clearly there is a hunger for originality and audacity, and our incredible showrunners Ashley, Bart and Jonathan, along with their pitch-perfect cast, have delivered that and so much more. I can't wait to see the surprises they have in store for us in season two."
Yellowjackets Season 2 Release Window
But how long will fans have to wait for season two to hit their screens? Showtime Networks president of entertainment Gary Levine told Vulture that the show is aiming for an "annual cycle. I think our audiences deserve that, and I also think that when you have a show that has this kind of a momentum, you don't want to let it dissolve."
In an interview with The Wrap, Yellowjackets showrunners Ashley Lyle and Bart Nickerson revealed that they're looking at an early 2023 release date for season 2 of their drama.
"We're looking into the first quarter of 2023," Lyle said. "We are on a very similar production track in terms of time as we were last season, although of course, we have to shoot an additional episode because we had already shot the pilot the last time. I believe that we are going to finish shooting in about February and we'll be airing sometime shortly after that."
Yellowjackets Season 2 Cast
Yellowjackets season 1 ended with a few cast members making shocking exits from the series, including Ella Purnell as Jackie, Jane Widdop as Laura Lee, Peter Gadiot as Adam. But ultimately, most of the main cast will remain intact for season 2. The returning cast includes:
Melanie Lynskey and Sophie Nélisse as Shauna
Tawny Cypress and Jasmin Savoy Brown as Taissa
Juliette Lewis and Sophie Thatcher as Natalie
Christina Ricci and Sammi Hanratty as Misty
Courtney Eaton as Lottie
Kevin Alves as Travis
Steven Krueger as Coach Ben
Warren Kole and Jack Depew as Jeff
Liv Hewson as Van
Keeya King as Akilah
Alexa Barajas as Mari
Rekha Sharma as Jessica (?)
Sarah Desjardins as Callie
Rukiya Bernard as Simone
Luciano Leroux as Javi
Tonya Cornelisse and Pearl Amanda Dickson as Allie
Aiden Stoxx as Sammy
Alex Wyndham as Kevyn
Jeff Holman and Riley Baron as Randy
We know from the season 1 finale that adult Lottie is also out there making trouble for Shauna, Tai, Nat, and Misty in the present, and may also be the person who killed Travis. Whatever the case, the fact that we know she's still alive so many years later means that we'll likely meet a new cast member to play her adult version next season.
Joining the cast of season 2 is Lord of the Rings' star Elijah Wood who will play Walter, a "citizen detective."
Yellowjackets Season 2 Plot
There are so many mysteries left to be solved when Yellowjackets returns for a second season. Who is the girl the rest of the soccer team ate in the first episode? Who built that creepy cabin in the middle of nowhere? What the hell is going on with Tai?
But the central conflict will likely involve Lottie's rise as a cult leader in the past as well as her resurgence in the present. At the end of the first season, she had Nat kidnapped, and it'll likely be up to Shauna, Tai, and Misty (citizen detective that she is) to save their friend. The only problem is that Shauna will also have to navigate the repercussions of murdering Adam, especially not that her daughter Callie knows; Tai is possessed by some kind of supernatural force that makes her behead dogs; and Misty just poisoned Jessica!
Expect things to get much messier for New Jersey's high school soccer champions…
How to Watch Yellowjackets
Didn't catch Yellowjackets season while it was airing on cable? That's no problem. You can binge the entire first season right now if you have a Showtime cable subscription with the Showtime Anytime streaming app.
If you don't have cable, you can still subscribe to the Showtime streaming app today. You can subscribe for a 30-day free trial to start, and it's $10.99 a month after that trial period.
Amazon Prime Video and Apple TV+ also allow you to add Showtime programming as an add-on to those streaming service if you'd prefer not to download another app.
What to Watch Next After Yellowjackets
If you've finished Yellowjackets season 1, but haven't had enough teenage angst and cannibalism, there are few other things you can check out to get your fix until season 2:
– Lost is the most obvious influence on Yellowjackets. This cult classic series follows a group of survivors stranded on a mysterious island after their plane crashes in the Pacific. It's full of mysteries, interesting backstories, romance, and a big helping of the supernatural — all the things you love about Yellowjackets, minus people eating other people.
– If it's more gruesome horror tales about the latter you're after, there's really no better show than Hannibal, which follows an FBI profiler trying to catch a serial killer who has eluded him for years. Little does he know that the psychiatrist he's working with has his own taste for blood.
– You should also check out The 100. Almost 100 years after nuclear war ended civilization on Earth, a hundred juvenile delinquents are sent back to the surface to see if the planet is still habitable. They quickly encounter savage tribes of humans, including a faction of cannibals, who are all vying for dominion over the wasteland.
– Or if you love watching Shauna and Tai play mom and wife while also embracing a life of crime and murder, then check out Breaking Bad, the story of a chemistry teacher who decides to get rich by selling meth!
We'll keep you updated as we learn more about Yellowjackets season 2!