Features
Why Freydis' Journey Is the Most Satisfying Part of Vikings: Valhalla Season 2 
Vikings: Valhalla star Frida Gustavsson talks Freydis's emotional journey to claiming her power in season 2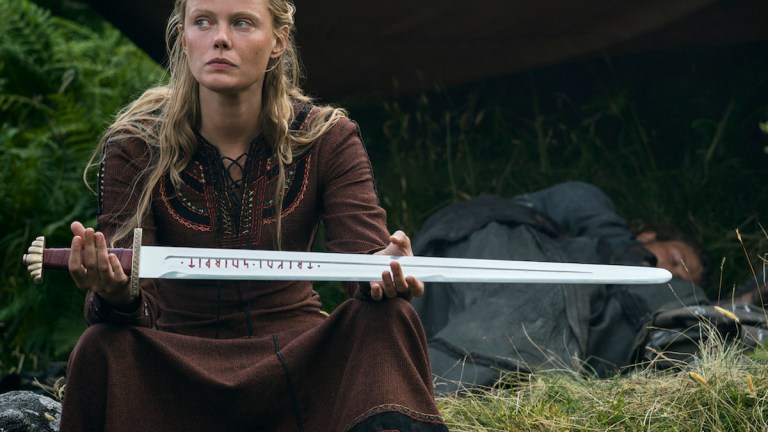 This article contains spoilers for Vikings: Valhalla season 2.
The second season of Vikings: Valhalla serves a lot of masters, with a sprawling plot that includes a dozen major characters, half that many countries, huge action set pieces, and rich interpersonal dynamics. From Harald's determination to prove that the throne of Norway is his destiny to Lief's desperate attempts to find out where his true beliefs (religious and otherwise) lie, season 2 is full of nuanced and emotional character moments.
But no one's journey is as satisfying to watch unfold this season as that of Freydis Eriksdotter. In the series' first season, we watched her learn to fight for herself, ultimately becoming a shield-maiden of Kattegat. In Valhalla season 2, we get to see her come into her own in almost every other conceivable way: spiritually, as the Keeper of the Faith; politically, as a leader in the Viking stronghold of Jomsborg; and emotionally, as a mother. And her arc is an incredibly rewarding one to watch unfold because although her story certainly shows off her exceptional skills as a warrior, it's ultimately the strength of her heart that helps her succeed. This is a woman who refuses to quit and who never stops fighting, for herself or her people, no matter how many times she's knocked down. (Or kidnapped. Or almost poisoned. Or left for dead.)
"Freydis is just the best. She's such a wonderful character and this was a wonderful season to work on," actress Frida Gustavsson, who plays the Viking shield-maiden tells Den of Geek. "It's the biggest gift of my career to be able to portray a woman that's so complex and she goes through so many incredible challenges, and I feel like she always faces them with such heart."
Separated from her brother, Lief, and her lover, Harald, for most of the season, Freydis is largely left to navigate an entirely new world on her own. In Jomsborg, meant to be a safe haven for those who still believe in the Norse gods and the old ways, she is treated like a religious icon by the refugees there, accolades she doesn't think she deserves after she not only failed to save Kattegat but fled the battle to save an injured Harald.
"When we meet Freydis in season two, she's in a very conflicted state," Gustavsson says. "She has all of this guilt of leaving her beloved brother behind and leaving all of the pagans behind and escaping into the forest with her loved one. But [she and Harald] soon realize that what brings them together is also what's pulling them apart. They have their own individual destinies to fulfill."
While Harald may not be physically present, the idea of him is never far from Freydis' life as she realizes early in the season 2 premiere that she is pregnant with his child. It is her impending motherhood that Gustavsson cites as a key aspect of Freydis' development and growth in season 2, calling the experience "transformative".
"I found the arc of this season just so beautiful," she says. "I love how thematically the theme of motherhood is really the catalyst for her to accept her destiny and to accept her position as the leader for the last pagans."
Gustavvson learned to fight all over again while wearing a pregnancy belly, and says it left her feeling "very vulnerable".
"I had so much fun, but they were really hard scenes to do. They were incredibly emotional," she says. "I am not a mother myself, but it's such a sacred thing. So I wanted to honor it as best I could. I spent months interviewing all of my friends who have given birth about their different experiences being pregnant, and everyone has their own different story. It's a completely unique situation every time, but you have this wonderful opportunity to give new life and to see how that transforms who you are."
Season 2 begins with Freydis explicitly rejecting her destiny, unable to even admit the truth of her identity to a passing group of strangers. By the end of it, however, she is not only ready to publicly call herself the Keeper of the Faith but explicitly live the responsibility of that title in her day-to-day life,
"The doors are kind of opened by Harald for her to experience her more vulnerable side, and then realizing she is a mother alone in the world…she has no one to fight for her. She has to completely rely on herself and take care of this love child that's growing inside her. And it really pushes her into accepting a lot of things about herself and I think ultimately really makes her a better person."
Valhalla creator Jeb Stuart agrees and calls Freydis' season 2 journey the most "interesting" of the series' second season, explaining that her experiences in Jomsborg have shaped her into a leader to be reckoned with.
"In this season, she's sort of starting on the back foot—when someone confronts her and says, 'you're a shield-maiden, you're Freydis', she can't bring herself to claim it. She thinks she doesn't deserve it. It's almost like this imposter syndrome that's going on. I love her transformation by the end of season 2, and how it propels us into season 3."
A big part of Freydis's evolution in season 2 is her realization that just because Jomsborg is full of people who are ostensibly like her, it doesn't mean they necessarily believe the same things. And as she pushes back against the selfish leader Harekr, who views some kinds of Vikings as better than others, she is forced not only to reckon with what she truly believes, but how far she's willing to go to defend the people she has claimed as her own.
"Freydis feeling like she's found a home and security and realizing that just because you are in a group of homogenous thinking people that you can't have problems—that was great. In season 1, we had these big black-and-white issues of pagan versus Christian. Now you're in a world with all pagans and things aren't always peachy and wonderful and great, and dealing with what that means is a huge step for a character."
According to Gustavsson, however, at its heart, Freydis's story is really about claiming her own power, without fear or reservation, and using it to protect the people she cares about—from the Jomsborg refugees to her unborn child.
"She has to accept that she's the leader of the last pagans, that she's the daughter of Uppsala, and she's going to do this really hard thing, not only for herself, but for her child, and for her people," she says. "It's an incredible journey. It's incredibly emotional. It's an incredible season."
Vikings: Valhalla season 2 is now streaming on Netflix.