Sponsored
Vikings: Valhalla Star Frida Gustavsson Discovers Her Inner Warrior
About her role in Vikings: Valhalla, model turned actress Frida Gustavsson credits her "Viking spirit" saying, "I just am Freydis."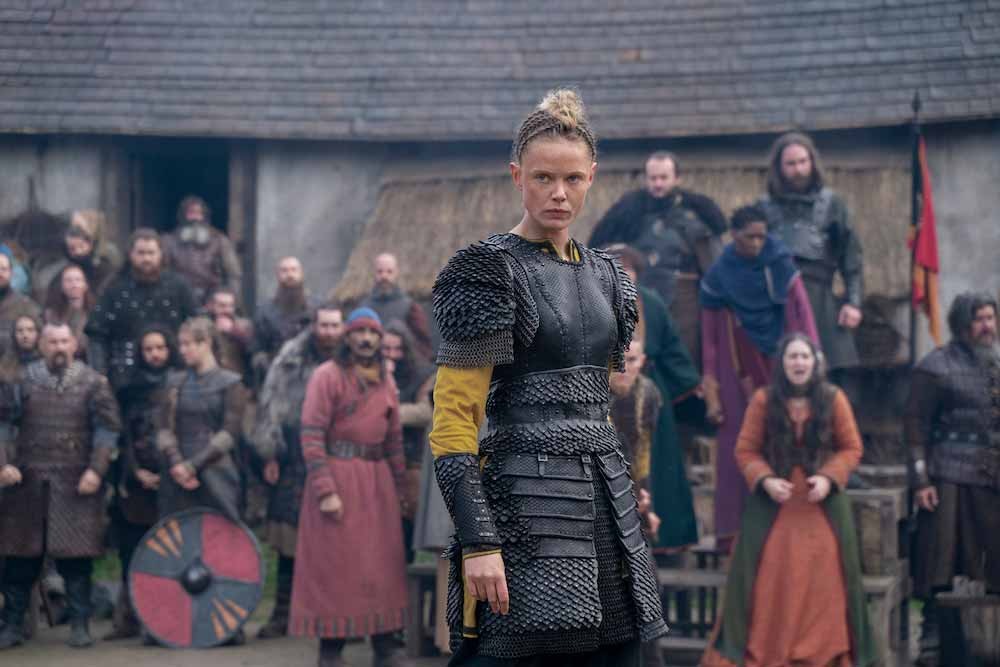 This story is presented by Netflix.
If you were looking for someone who relishes the notion of kicking ass, it's hard to imagine anyone more willing to do so than Swedish model turned actress Frida Gustavsson, who plays Freydis Eriksdotter on Vikings: Valhalla. Freydis is a character from The Vínland Sagas, which were probably based on oral histories of earlier historical events. According to these poems, she and her brother Leif left Iceland for Greenland, and then sailed further west to "Vínland," which we now know as North America. In The Saga of the Greenlanders, Freydís is something of a violent troublemaker, but in The Saga of Erik the Red, she is a badass defender of her colony who can fight off invaders while eight months pregnant.
As for Frida, she enjoyed an extensive career as a model for fashion magazines and brands and is generally credited as the most successful model to hail from Sweden. Transitioning to acting, she enjoyed her breakthrough role in Swoon (2019), which has been followed by Tigers (2020) and Dampyr (2022). In between, there have been television guest appearances on such shows as The Witcher, The Inspector and the Sea, De utvalda, and Partisan.
Den of Geek: This seems like quite a departure for you. How did you get involved with the series?
Frida Gustavsson: I was sent the script, and asked to do a self-audition tape, and just immediately fell in love with Freydis. I said to myself, "If someone else gets this part, I'm going to have to kill them."
Quite the response!
I guess it's just that Viking spirit. You see, I just am Freydis, I guess. It was a long process and took a couple of months. Then I was asked to come in to do a chemistry read with Leo and Sam and we all just fell in love with each other. It's such a joy to be able to speak about it, and for people to finally see what we've been working on for such a long time.
What was it about the material that drew you in?
I have to say, I think Jeb Stuart has just created such incredible characters. The female lead of Freydis, I think she's pretty unique. She is a fierce warrior. She is headstrong. She's fiery. She is allowed to take space, and to be powerful. And to be able to portray that was just something that I would die to do.
Or, like you said, kill to do it.
Yeah [laughs].
Were women as prominent in the Viking world as they are on this show?
Yes, and that's something that I love that we get to see with the show. Because back then, the women were equal to men. They could have their own households. They could be queens and kings. They could be fierce warriors in armies. That's something that later in history was kind of not so prominent. So I'm glad that we get to see that it is possible; that women can be just as fierce and strong as men. We already had it correct a thousand years ago.
Physically, what was the nature of the training that you had to go through?
It was very intense. We spent a lot of time getting prepped by our fantastic stunt crew to actually be able to do everything that you see on screen. We started with just little jabs, and then we started building it. I started with a knife, and then I got to move on to a sword, a shield, some spears, two axes. The way that we learned it is like a little dance. You start with a couple of moves, and then you add more. At the beginning, Freydis isn't a great fighter, but as the season progresses, the fights get bigger and bigger. I think my longest fight was just over four minutes, dressed in armor with real chain mail and studs and then braids. Coming into this, I didn't know how to fight with swords. But it's like learning a new language. You stumble in the beginning, but you learn.
How would you say that Freydis changes over the course of the first season?
Freydis grew up in a very small community, and she is pretty isolated in her thinking. As the story progresses, she meets people who come from very different backgrounds, believe in very different things. She is forced at first, and also willingly at the end, to accept that you need to be able to take in many different people's beliefs; that you can't just lock yourself into your own corner.
For the audience, what do you feel the power of this show is?
Something that's unexpected that people might not expect in a Viking show is that, to me, this is a story about belief, what you believe in, and how far you're willing to go for what you believe in. But also, what it costs you to change. Something that people can hopefully take away from this, is maybe questioning and looking at their own belief systems.
How has playing Freydis impacted you as a performer?
I'm just so honored to have been fortunate enough at this point in my career to play a part like this. I have learned so much and grown so much as a person. Freydis has really taught me so much about standing up for myself, and owning my physicality, and realizing my own strengths and my own power. So I can just hope that we get to continue living with Freydis for a little while.
To come back for a second or third season, is there a sense that you would have to surpass what was accomplished in the first eight episodes?
Yes, we're just going bigger and bigger. But that's what I love about the show. You see these characters at the beginning and, hopefully, they're so captivating and you get to follow their journey. It's an organic growth of the characters. They don't end up where we found them in the beginning. That's really helpful for us as actors, because we get to naturally progress and learn with our characters, and we get better. The fights can be more epic. The fights can be longer. The enemies can be more evil. We have room to grow.