Reviews
White House Farm episode 1 review: a powerful opener and a notorious case
Stephen Graham and Freddy Fox star in this true crime drama based on a British case from the 1980s. Spoilers in our review.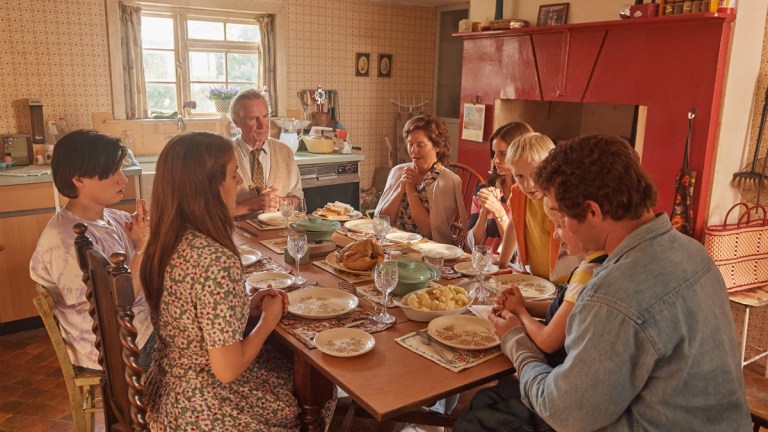 This review contains spoilers.
In August 1985 three adults and two children were shot and killed in a farm house in Essex. 
What went down that night and the surrounding investigation is now the subject of a six part ITV drama, which has already been snapped up by HBO for US broadcast. White House Farm boasts a quality cast and covers a horrific but fascinating case – the only downside is we have to wait a week to find out what happens next. 
True crime has never been hotter – and this case in particular, one which may be familiar to fans of the genre, is a meaty one to tackle, though by the end of episode one it's still unclear exactly which direction the drama will take (more on that later). 
Instead we meet the family. June (Amanda Burton) and Nevill (Nicholas Farrell) Bamber are the well-to-do religious couple who own White House Farm. Their adopted daughter Sheila (Cressida Bonas) is a former model struggling with mental health issues and separated from her ex-husband Colin (Mark Stanley) with whom she has two sons. Then there's their adopted son Jeremy (Freddie Fox), who's portrayed in ep one as something of an enigma working, perhaps reluctantly, alongside his father on the farm.
By the end of the episode tragedy has struck, with Jeremy claiming his father had phoned him in a panic saying Sheila had gone berserk and had a gun. By the time police forces arrive, it's too late – the family are dead, including the two little boys killed in their beds. But things might not be quite what they seem… White House Farm concludes with a cliffhanger and a tiny bit of insight into what might be in store from Stephen Graham and Mark Addy's characters – police officers who are likely to come to the forefront as the show progresses.
This is a glossy production from the people who made Catherine The Great, and the relatively high profile cast handles the material well (with the possible exception of the two child actors, who are, to be fair, very young). Aerial shots of idyllic scenery do a fine job of setting up the remoteness of the farm and juxtapose the peaceful surroundings with the shocking violence that took place in the house, while the '80s period detail feels natural rather than crowbarred.
One ep down and White House Farm is already a highly compelling watch, and one that will no doubt leave viewers wanting to binge the next five episodes as soon as possible. So far, we'd recommend it. If you know absolutely nothing about the case and want to keep it that way, then, you might be better off skipping the very end of this review.
The show made headlines ahead of its release when reports emerged that lawyers representing Jeremy Bamber had contacted ITV encouraging them to postpone broadcasting the show because of ongoing investigations. Bamber, who is alive and currently serving a prison sentence for the crimes, has always maintained his innocence.
Lots of people convicted of crimes maintain their innocence, and that's not to suggest that the conviction isn't 100% sound, but we'll be curious to see whether in this current climate of fascination around potential miscarriages of justice, how much, if any, room for grey area or doubt White House Farm will include. ITV reps have said the show draws inspiration from the father of the twins, Colin Caffell's, memoir, as well as a book based on an investigation into the case by a journalist at the time, so our guess would be that it'll be a fairly straightforward telling. We'll have to wait for the rest of the series to unfold to find out. For now, though, this is a strong opener to a show that can't land fast enough.
Read Rosie's picks for the best true crime documentaries and series to watch right now.