Reviews
White House Farm episode 3 review: a deft balance of true-life tragedy and glossy crime thriller
Freddie Fox shines and induces shivers in the third part of ITV's true crime drama series White House Farm. Spoilers ahead.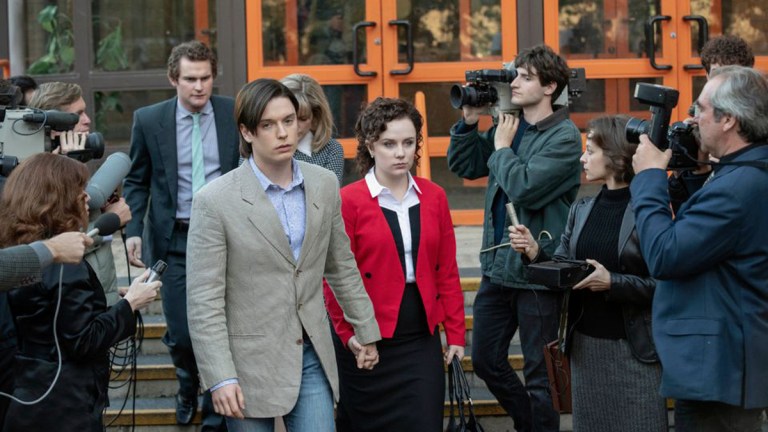 This review contains spoilers.
Jeremy (Freddie Fox) is moving to cremate his families' bodies, while DS Stan Jones (Mark Addy) is desperate to prevent any more crucial evidence from being destroyed, in part three of ITV's superior crime drama based on the real life White House Farm murders. 
It's a race against the clock element that adds an extra layer of tension to the carefully unfolding cat-and-mouser between the son of a dead family initially thought to have been a murder-suicide committed by his sister Sheila, and the gentle but persistant cop who sees too many loose ends to let it go.
New evidence comes to light in the form of a silencer found in the kitchen of White House Farm which could well explain why the family didn't wake up after the first shots were fired. It's an important piece of the puzzle spotted by Jeremy's cousins Ann (Gemma Whelan) and Peter (Oliver Dimsdale), who have become Stan Jones' defacto allies in closing in on Jeremy. But could their handling of this key item have done more harm than good? And what about the fact that, if Jeremy is convicted, Ann stands to inherit the farm?
The case is rapidly unfolding and a scene where Jones discovers Sheila couldn't have killed herself if the silencer was on the gun because she wouldn't have been able to reach the trigger, by asking a colleague to "sit down and shoot yourself" is pure cop thriller gold. But episode three is all about Jeremy. 
Displaying increasingly odd behaviour throughout, Freddie Fox absolutely shines, playing Jeremy as a louche douche. Drunk and far too jovial at some points, throwing performative panic attacks at others, Fox is pitch perfect. 
A scene where he denies his sympathetic former brother-in-law Colin (Mark Stanley) permission to bury his ex-wife with their dead sons while pretending to concede ("You may. Straight after the cremations her ashes are all yours") is cool cruelty. Grinning and rubbing his tummy while he chats on the phone to his mate and he's all smug entitlement. Bitter and spitting at Ann about how his mother loved the dog more than him, and the vengeful psychopath begins to show through. And a scene where he's caught dancing round the house in just a towel with his hair spiked out like a Young Ones-era Rik Mayall, a look which echoes a photo of his dead twin nephews, is particularly on the nose – but it helps heighten Jeremy into a formidable baddie.
As mentioned before, the real Jeremy Bamber does still maintain his innocence, and as we learned from situations like the Amanda Knox case, behaving strangely does not make you a murder. It does, however, make for great TV.
Read more: the best true-crime documentaries and TV series available to stream right now.
Alfie Allen pops up in episode three as a visiting friend of Jeremy's with whom he seems to have some sexual tension, sparking a back-alley argument with his girlfriend Julie (Alexa Davies). She's still very much on the periphery of the story, though ep three foreshadows a bigger part to play for her to come.
It's another gorgeous looking episode, juxtaposing the dark claustrophobic corridors of White House Farm and the clinical hard lines of the police lab and morgue with incredible aerial views of acres of countryside, and beautiful long shots over fields of corn.
Going strong, then, with performances alone worth tuning in for, White House Farm deftly balances a Brit true life tragedy with glossy crime thriller tropes without resorting to sensationalism or melodrama. It's a compelling watch and even if the outcome won't be a surprise, the joy is still in the journey.
Read Rosie's review of the previous episode here.