Reviews
White House Farm episode 4 review: the pressure mounts
Jeremy Bamber's beleaguered girlfriend is a ticking timebomb in the latest episode of ITV's true crime drama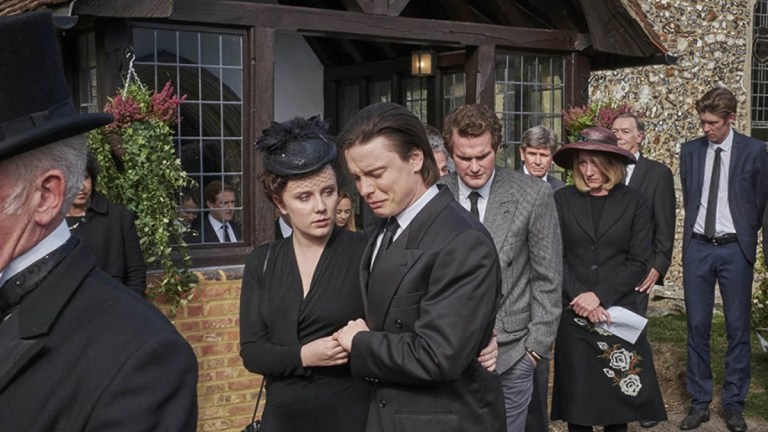 This review contains spoilers.
Factions are formed and fractured in episode four of ITV's true crime drama White House Farm from Hatton Garden director Paul Whittington. Jeremy Bamber's (Freddie Fox) murdered family have been cremated as per Jeremy's wishes, and in so doing, further key evidence is destroyed. Dogged detective DS Jones (Mark Addy) feels like Jeremy is slipping through his fingers.
But Jeremy's arrogance, hubris and erratic behaviour might just be his undoing. At the start of the ep, the family is divided…
Ann Eaton (Gemma Whelan) and her family now openly believe Jeremy is the murderer while in Jem's camp is Sheila's husband Colin (Mark Stanley) who thinks the Eatons are only interested in money. In the village, unsubstantiated rumours about Jeremy's former dodgy dealings abound, while Jem himself is acting like a playboy, flirting at his family's wake, getting drunk with his friend Brett (Alfie Allen – whose accent is a bit all over the place) and alienating his girlfriend Julie (Alexa Davies).
Meanwhile, down at the station relationships have completely deteriorated between Stan Jones and his boss Taff (Stephen Graham) – a situation only exacerbated when Stan attempts to go above Taff's head to make complaints about how the case has been handled. Stan's expelled from the office leaving him hopeless and convinced that Jeremy is going to get away with murder.
But while taunting his enemies Ann and Stan, Jem is neglecting to keep his friends close.
Procedural elements relating to the case fare slightly less well this episode, largely to do with their complex nature. Ep three delved into the issue of the phone call – if Neville phoned Jeremy and didn't hang up (the line was open when the police arrived), Jeremy wouldn't have been able to dial out at the time he said he did. It's a detail which might be hard to get a handle on if you weren't alive when landlines were a thing. Episode four looks again at the phones – if the main phone was in for repair and the bedroom phone was downstairs, how could Neville Bamber have made the call if he'd already been shot in the mouth? To get your head around this properly involves an understanding of the ballistics and following the order of the eight shots – easier perhaps to just go with it – and the show doesn't linger long on this point.
Read more: the best true crime series and documentaries on Netflix.
The two funerals are the centrepieces of this hour – first the Bambers' cremation where we see Colin angered that his boys aren't mentioned and Jeremy resentful of how his mother is revered – and then the burial of Colin and Sheila's two sons. It's a moving sequence which reminds the viewer that outside the cat-and-mouse chase is the senseless tragedy of the murder of two small children.
Later at Sheila's Maida Vale flat, the relationship between Colin and Jeremy becomes more strained when Jem carelessly clears the rooms without consulting Colin. A scene of the two in adjacent rooms shot through two doorways is a clear metaphor for a wall that's now come between the two men.
Meanwhile, Julie's deteriorating mental state is the arc of the ep. Sullen, loyal but clearly under an enormous amount of pressure, Julie's at breaking point, frequently reduced to tears, suffering an asthma attack at the boys' funeral and finally losing control at Sheila's flat when Jeremy openly takes a call from another woman in front of her.
Alexa Davies's performance is intriguing. Silently devoted but close to the edge, her relationship with Jeremy is depicted as emotionally abusive. Freddy Fox is again excellent and increasingly slimy, his shirt always open just a little too far, but it's Julie's hour and the show's closer indicates that she's about to come into her own and change the course of events.
Not the strongest episode, but still a great drama, with a cliffhanger finale that could be the turning point of the case.
Read Rosie's review of the previous episode here. 
And here's all the new British drama on its way in 2020.