Reviews
White House Farm episode 2 review: Columbo in Essex
Episode 2 of true life crime drama White House Farm sees Mark Addy's scruffy cop start to close in on the case. Spoilers ahead.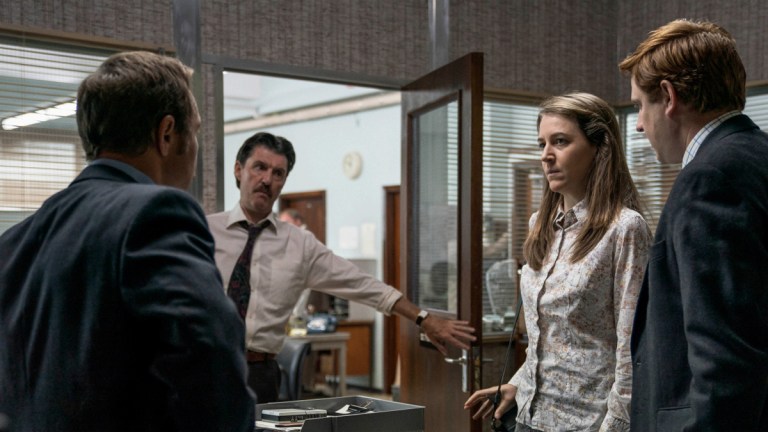 This review contains spoilers.
The plot thickens in episode two of ITVs crime drama White House Farm, based on the real case of five family members murdered in a remote house in Essex in the 80s. If part one introduced the victims, part two sets up the main remaining players and establishes which side they are on as the series begins to focus on the investigation – or lack thereof – after the crime was committed.
To recap: June and Nevill Bamber, their daughter Sheila and her twin sons were found shot to death in the Bambers' farmhouse. Initially this looked like a murder-suicide carried out by Sheila who was found with the murder weapon in her hands. The fact that the house was locked from the inside, Sheila had a history of mental illness with paranoid delusions of being possessed by the devil, and finally that Sheila's brother Jeremy claimed to have received a call from his father on the night of the crime saying that Sheila had gone mad and had a gun, all looked like hard evidence of a tragedy. Open and shut then – or so the police initially wanted to believe.
A crime scene immediately disturbed, no proper ballistics expert to assist the post-mortem and possible key evidence burned before it's been fully analysed are some of the early mistakes that took place, then, in an investigation led by a Chief Inspector rushing to wrap everything up.
Episode two sees Stephen Graham come into his own as Welsh dragon DCI Thomas 'Taff' Jones – the governor who doesn't want to be challenged, directing his ire at Mark Addy's Columbo-esque DS Stan Jones who's bothered by details of the case. Could Sheila really have shot herself twice? What order were the family killed in, and why didn't the first shots wake the other family members? Could a woman of Sheila's tiny frame really have overpowered her much bigger, stronger father?
And if it wasn't Sheila, then who? 
If episode one tried to vaguely skirt round the question of who might be an alternative suspect, for people who don't remember the case (and also have never watched a crime drama…) and didn't want to be 'spoilered' about where this was going, episode two lays its cards on the table.
Freddie Fox makes an excellent villain as Jeremy, handsome in a slightly smarmy way, and just a bit off for a man who's lost his entire family in horrific circumstances. A scene set round a dinner table with Jeremy, his two cousins and his girlfriend is mildly excruciating as Jeremy makes jokes about the will after his cousin Ann (Gemma Whelan) suggests he's 'done rather well' (for a bloke whose whole family has just been killed, Jeremy points out).
If Jeremy and Taff are leading the push to close the case and move along, it's Ann who joins Stan in questioning whether Sheila could really have done this, approaching and being roundly dismissed by Taff and later joining forces with Stan in answering some of those nagging questions.
Taff is hot-headed and aggressive but he's not portrayed as either bad cop or a monster – instead he's a man under a lot of pressure to close an unusual and terrible case and to avoid harassing a family who've already suffered enough. And gentle, curious Stan is a man after the truth at the expense of his professional relationships and his career. 
While people familiar with it often refer to this as 'the Jeremy Bamber case', White House Farm – at least up to the end of episode two – still allows for ambiguity as to whether Sheila could in fact be the killer, with Ann and her brother admitting, as children at least, they didn't like Jeremy, and Sheila's ex-husband Colin played sympathetically by Mark Stanley (on whose memoir the show is partly based) admitting that Sheila wasn't at all well and had a bad relationship with her mother.
It's a well performed and carefully told story that will have viewers hooked. Told over six hour-long episodes weekly, our only concern is whether the material is stretched a little bit thin. It's difficult terrain to traverse when you're laying out a story that's less a whodunnit than a study of how they got caught – and almost didn't. If Addy's dishevelled DS Stan is taking deliberate cues from Columbo then, that could be no bad thing, with a killer in direct contact with the cops undone by his own hubris, and a loner detective obsessed with 'just one more thing.' Six hours of a real life Columbo in Essex? We can get on board with that.
Read Rosie's review of the previous episode here.