Features
What Makes Better Call Saul's Final Scene So Poignant?
The final scene of Better Call Saul says everything that needs to be said in one striking image.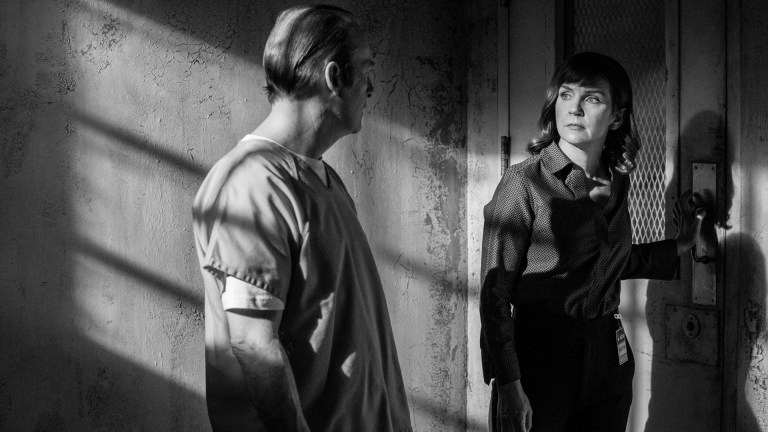 This article contains spoilers for the Better Call Saul finale.
Better Call Saul ended its fantastic six-season run on Monday night in the most fitting way possible. There were no gunshots, there was no bloodshed, and there was no physical violence or gore. Instead, the show ended with a mesmerizing mix of flashback scenes and courtroom dramatics, harkening back to the program's early seasons before the characters got so mixed in with the cartel.
After Jimmy McGill (Bob Odenkirk) gets put in prison for an 86-year sentence, he gets a special visitor from his "lawyer." This is when we learn that Kim Wexler (Rhea Seehorn) has started her journey back to being a lawyer, and she wants to come chat with her one true love for the final time on-screen. 
Some of Better Call Saul's best scenes are when there are very few words spoken. This is never more evident than in Kim and Jimmy's reunion here. Kim gives Jimmy a long, thought-provoking glance before heading over to her purse for a pack of cigarettes. Smoking will always be a pillar of symbolic intimacy for the couple, and this one is especially poignant.
These two have gone through a world of hurt together. They've also caused even more pain to the people around them. With so many emotional scars, it's fitting that the black and white filter covering the final four hours of the series is still draped over this meeting. Jimmy leans in close and grabs Kim's hands to help himself light the cigarette, and then something truly magical happens.
The ember engulfing the end of the tube is in color. This is only the third time there has been brightness brought to Gene's Nebraska timeline. The other two times were both when he saw his old Albuquerque law commercials. This time the hue takes on an entirely different level of importance.
The flare on the cigarette is the last bit of hope that exists in the lives of Jimmy and Kim. When they are united once more, the world has meaning again. There's something to live for. And even though this duo doesn't deserve a happy ending, there is something very special about love conquering all wounds and imperfections in the universe.
Special kudos need to be given to Peter Gould for one of the most beautiful and haunting scenes in the show's run, a five-minute moment that runs parallel to Jimmy and Kim's first meet-up in the parking garage of the law offices of Hamlin, Hamlin & McGill. The attention to detail here is off the charts. It's also often challenging to make something equally happy and sad simultaneously, but this is a prime example of this combination being executed in real-time.
Hopefully, Kim goes back to visit Jimmy throughout his final decades in prison. If she doesn't, at least we know they got one final sendoff. It's a journey that was closed not with bullets or blood, but with somber and solace –– a fleeting moment of reflection, for both the characters and the viewers.