Features
Werewolf by Night Star Keen to Stay in the MCU
Laura Donnelly hopes playing Elsa Bloodstone in Marvel's new horror special Werewolf by Night is just the beginning.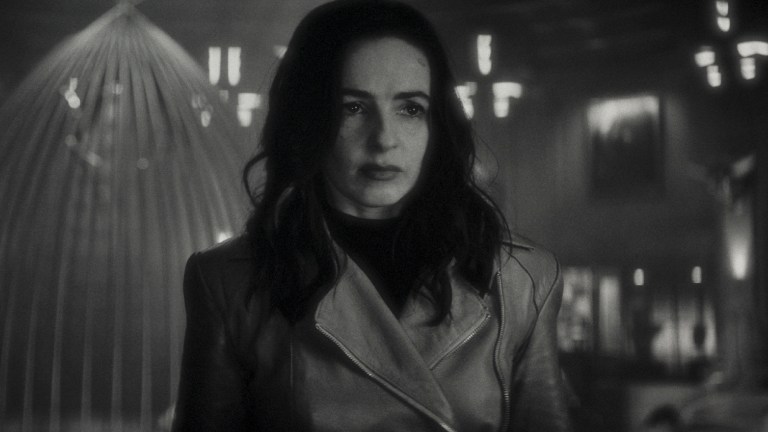 Actress Laura Donnelly was well and truly prepared for her first foray into the Marvel Cinematic Universe, playing Elsa Bloodstone in the new Marvel "Special Presentation," Werewolf by Night.
"I had done the whole thing," she says proudly. "Before I met with Michael [Giacchino, director] for this project, I had watched most of the MCU projects. Then obviously after I got the part, I went and watched all the ones I'd missed. I've always been a big fan."
But Donnelly's fandom doesn't end there: she's also deeply into the genre that Werewolf by Night is steeped in. "I've always been a big fan of old horror movies," she adds. "I really grew up on the Universal monster movies, and Hammer horror was a big thing in my house. So I had all that as background. When Michael said that was what he wanted to pay tribute to, that was right up my street."
Based on the Marvel comics character Jack Russell (yes, that's his name), who first appeared in Marvel Spotlight #2 in February 1972 before getting his own series – which shares a name with this special – later that year, Werewolf by Night is indeed immersed in the texture, atmosphere and look of the classic Universal movies of the 1930s and '40s, right down to the black and white cinematography.
But there's more to it than that: there are elements of those Hammer horrors in there as well, along with cult classics like City of the Dead (known in the US as Horror Hotel), Roger Corman's cycle of Edgar Allan Poe films, or early Mario Bava gems like Black Sunday.
Even though Werewolf by Night takes place in the MCU, it's a corner of the universe unlike any we've seen before, occupied by the likes of Man-Thing and the Living Mummy as well as the title character, played by Gael Garcia Bernal.
In the movie (technically a feature since it runs longer than 40 minutes), Bernal's Jack Russell infiltrates a secret society of monster hunters who have gathered together after the death of their leader, Ulysses Bloodstone. What they don't know is that Russell, a monster himself, is there to smash their organization and set his friend Ted – a.k.a. Man-Thing – free before they can exterminate him.
Donnelly's character, Elsa Bloodstone, is the daughter of the society's fallen leader, who has been estranged for many years but comes home with an agenda of her own.
"I went and read whatever I could on Elsa," says Donnelly about the character, who first appeared in a Marvel comic book in December 2001. "I got the Nextwave comics and her One-Shot novel that had come out recently and just did all the research that I could in those terms as well."
Donnelly tells us what immediately drew her to the character in the comics. "I love her attitude," she says. "Kind of sarcastic, really fun. The fact that she's having what seems like a genuinely good time in these ridiculously dangerous situations, I just adored. But then that also of course made me question, 'How did she get to that point? How do you become that person?'"
Donnelly adds that it was through talking with both Giacchino and the film's co-writer, Heather Quinn, that more ideas about how to flesh Elsa out began to surface.
"We had discussed how we wanted to show an Elsa who was somewhat more human and watch her on that journey a bit where she still has somewhere to go," she explains. "It can be fun just playing a straight-up badass, but you want to also have layers to a character. To explore her vulnerability and her trying to figure out who she is in the context of her world right now is what attracted me as an actor."
Although Elsa has only been in the Marvel Comics universe for 20 years or so, she's already had the opportunity during that time to interact with folks like the Avengers, Thunderbolts, Blade and more – many of whom are tapped to play major roles in the next couple of phases of the MCU. Would Donnelly like to try out some of those team-ups in the live-action universe?
"I would do anything that they would let me do," says the actress. "If they call me and tell me what I'm doing, I'll be very happy. I have no idea though. That one's above my pay grade. But yeah, she's part of all of these different team-ups, and I love the idea of that."
Donnelly's other major genre outing – the HBO dark fantasy series The Nevers – will finally air the second half of its premiere season this December, according to the actress, but with the future of that show unclear beyond that, now might be the time for Donnelly to make her mark in the MCU.
"I love the opportunity to be part of a big ensemble cast," she affirms. "I really love doing those kinds of shows. I love the rapport that you develop with lots of other actors on the set. So if I get the chance, I will be fully up for it."
Werewolf by Night is streaming now on Disney+.