Features
How to Watch Anime Online: The Best Legal Anime Streaming Options
There have never been more options when it comes to anime streaming services, and this helpful breakdown will make sense of the many choices.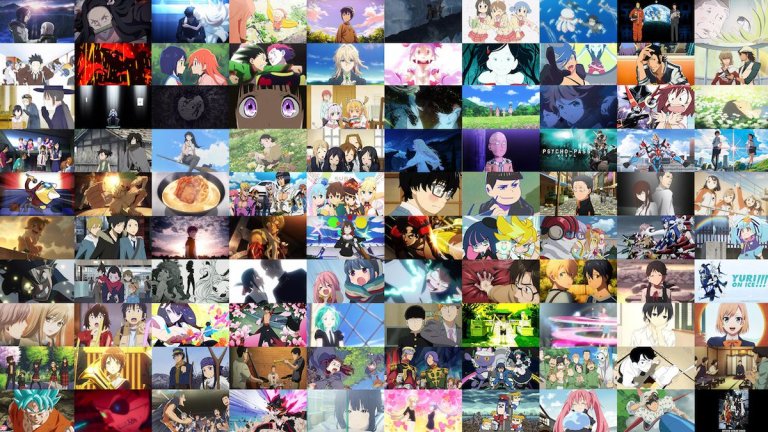 It's been amazing to witness the growth of the anime industry in America. It used to be extremely difficult to find anime in the country and even then, it was a very select handful of programs that were only available with questionable dubs. Over the course of a few decades this niche genre of animation hasn't just become a mainstream obsession, but it's now actively sought by streaming services. Anime's popularity in America has reached a point where there are now multiple streaming services that offer ways to consume this content. There's no need to get unnecessarily overwhelmed with all of these options for where to get anime. Here's a helpful breakdown of not just the anime-exclusive streamers, but also the services that you may already have that are full of satisfying anime content.
Anime-Exclusive Streaming Services
Funimation
Price: Free (with ads); $5.99 per month; $7.99 per month; $99.99 a year ($8.30 per month)
Advantages: Huge library of titles, largest library of dubbed content
Funimation is an essential name in the anime industry and they've been able to grow from a plucky dubbing studio to one of the biggest providers of anime to the country. Funimation is a great place for beginners to check out what anime they're interested in and it also offers a two-week trial to explore their content.
Funimation's large library features a good deal of crossover with Crunchyroll, but their library skews more towards dubbed content. Funimation's ability to maintain a speedy simuldub schedule, even during a pandemic, is very impressive. The free tier option faces certain restrictions like being locked to a lower video resolution and needing to wait for new content, but there's still a ton to enjoy, including exclusive titles. Funimation's only growing bigger and they're routinely behind some of the dubs for the most popular anime series.
Notable Series: Attack on Titan, My Hero Academia, Mob Psycho 100, Dragon Ball, The Promised Neverland
Crunchyroll
Price: Free; $7.99 per month; $9.99 per month; $14.99 per month
Advantages: Massive library of titles, now producing original anime
Crunchyroll is a fundamental service when it comes to anime streaming services, especially since it offers a free tier to enjoy its content. There are nearly 1000 available titles to explore, which includes both older titles as well as a tight simulcast schedule with the latest series. This also applies to both subtitled and dubbed content. Crunchyroll's prominence in the industry has even grown to the point that they've started to produce and co-produce original anime series like Tower of God and The God of High School, which have turned into massive hits. Crunchyroll's interface isn't the easiest to navigate and there are certain frustrating restrictions placed on the free tier, like the resolution at which content can be watched.
Funimation recently acquired Crunchyroll, so it's likely that a lot of changes will take place between these two services, whether that means a union in the coming years, or that they'll both focus on slightly different demographics, albeit under the same parent company. It does indicate how the anime streaming industry has become increasingly consolidated and that the value of these services is finally getting recognized in a significant way.
Notable Series: Jujutsu Kaisen, Demon Slayer: Kimetsu No Kaiba, My Hero Academia, JoJo's Bizarre Adventure, Digimon Adventure
VRV
Price: Free (with ads); $9.99 per month (no ads)
Advantages: Includes Crunchyroll and HIDIVE's libraries
VRV hasn't gained the same level of acclaim as Crunchyroll and Funimation, but it's created a strong streaming package by building its library off of other streamers' content. VRV is basically a combined version of Crunchyroll and HIDIVE, which isn't exactly original, but it's still a decent strategy to acquire content.
VRV may seem a little sketchier or more unstable than other anime streamers, but it offers a deal that's hard to ignore. The HIDIVE anime streaming service is typically $4.99 per month or $47.88 a year on its own, so VRV is quite the steal in comparison.
Notable Series: Higurashi: When They Cry, Is It Wrong To Try To Pick Up Girls In A Dungeon?, Made in Abyss, Ahiru no Sora, The Promised Neverland
Retrocrush, Viz Media, Tubi TV
Price: Free
Advantages: Uniquely curated libraries and niche titles
In addition to these subscription services, Retrocrush, Viz Media, and Tubi TV are all free streamers that narrow in on more specific areas and have some excellent anime titles in their libraries that can't be found anywhere else. These services lack some of the flair and support of the larger competitors, but they're still a great place to binge on classic anime titles. Retrocrush is an especially useful streaming service that features not just some of the biggest titles from the '70s to the '90s, but also a handful of modern series with classic sensibilities.
Retrocrush Notable Series: Flame of Recca, Cromartie High School, Samurai Pizza Cats, Pop Team Epic, Lupin The Third Part II
Tubi TV Notable Series: Mr. Osomatsu, JoJo's Bizarre Adventure, Kaiba, Lupin the Third Part I, Redline
Viz Media Notable Series: One-Punch Man, Death Note, JoJo's Bizarre Adventure, Yashahime: Princess Half-Demon, Ranma ½
Popular Streaming Services With Anime Libraries
Netflix
Price: $8.99 per month; $13.99 per month; $17.99 per month
Advantages: Original anime series, Neon Genesis Evangelion
Netflix has turned into an unexpected power player in terms of their anime content. More and more series are getting acquired by Netflix in a way where it's clear that they see where the future is headed with the industry. The "original" series that Netflix has acquired like Devilman Crybaby, Great Pretender, and Japan Sinks: 2020 all exhibit fantastic taste.
However, the older anime series that Netflix has are often incomplete and there are many great titles included that just have their first seasons available. This can be seriously frustrating in some cases, but for beginners it's sometimes enough of a taste. Netflix is also the only place in America where Neon Genesis Evangelion can be streamed, which is honestly a detail that trumps everything else for some people.
Notable Series: Great Pretender, Kakegurui, Neon Genesis Evangelion, Devilman Crybaby, Gurren Lagann
Hulu
Price: $5.99 per month (with ads) or $59.99 per year; $11.99 per month (no ads)
Advantages: More classical anime series and a lot of Funimation and Adult Swim's content
Hulu is another streaming service that's not designed around anime, but still has a decent library of titles to enjoy. Hulu currently benefits from a partnership that they signed with Funimation back in 2018 that allows them to stream much of their library. Hulu also has similarly benefitted from access to a lot of Adult Swim's library, too.
This, as well as the healthy amount of classical titles from older generations, gives Hulu audiences a lot to enjoy. However, as the anime streaming industry continues to fracture, pieces of Hulu's library have disappeared. They still have many titles, but a lot of them are incomplete or are sporadic when it comes to whether subs or dubs are available.
Notable Series: Space Dandy, Gintama, Psycho-Pass, My Hero Academia, Kill La Kill
Amazon Prime
Price: $119 per year (or $12.99 per month)
Advantages: Impressive library of anime films
Amazon Prime used to be a much more prominent player in terms of places to stream anime content due to their Anime Strike service. In the coming years, their focus has shifted elsewhere and a lot of their anime has hit the chopping block.
This means that there's a lot more of a random selection on Amazon Prime, but there are still some exceptional titles available, including some fantastic anime movies. Amazon Prime's sporadic anime line-up isn't enough to warrant a subscription, but if you're someone that's already a member then it's worth checking out the titles that they do have.
Notable Series: Dr. Stone, Fire Force, Mob Psycho 100, JoJo's Bizarre Adventure, FLCL
HBO Max
Price: $14.99 per month
Advantages: Studio Ghibli library and a lot of Adult Swim's content
HBO Max is one of the newer streaming services to come forward and even though anime is not their priority, they've still already made a strong impression in the area. HBO Max has become the exclusive streaming home for Studio Ghibli content in America and they've also singled out the filmographies of other anime visionaries like Masaaki Yuasa.
This behavior and how new dubs have already premiered on HBO Max shows that the service understands that anime is an important area of focus. HBO Max continues to acquire a lot of Adult Swim's content, which includes some of their more notable anime titles, too.
Notable Series: Mob Psycho 100, Berserk, The Promised Neverland, Keep Your Hands Off Eizouken!, and the Studio Ghibli library
Adult Swim
Price: Free with a Cable Subscription (with ads)
Advantages: Exclusive dubbed series
Adult Swim isn't on the same level of any of these other services, but the channel's commitment to their Toonami programming block of anime has made them an important player through all of this. Toonami is still the place to see many of the dubs for the most recent anime hits and titles like Dragon Ball Super, My Hero Academia, and now Attack on Titan have all been vital programs for Adult Swim.
Adult Swim has even gone into the co-production of original anime series, which will bring even more exciting titles forward. However, much of Adult Swim's streaming content has been poached by HBO Max and it's unclear how much of their influence will determine their future.
Notable Series: Assassination Classroom, Attack on Titan, Cowboy Bebop, Demon Slayer: Kimetsu No Yaiba, JoJo's Bizarre Adventure
Additionally, there are also YouTube Channels for studios and series with lots of free content, like Bandai America, Discotek Media, Gundam.Info, and Toei Animation.
Subscribe to Den of Geek magazine for FREE right here!