Features
WandaVision: The Sitcom Influences of Episode 7
WandaVision settles in for some Office and Modern Family-style mockumentary interviews in "Breaking the Fourth Wall."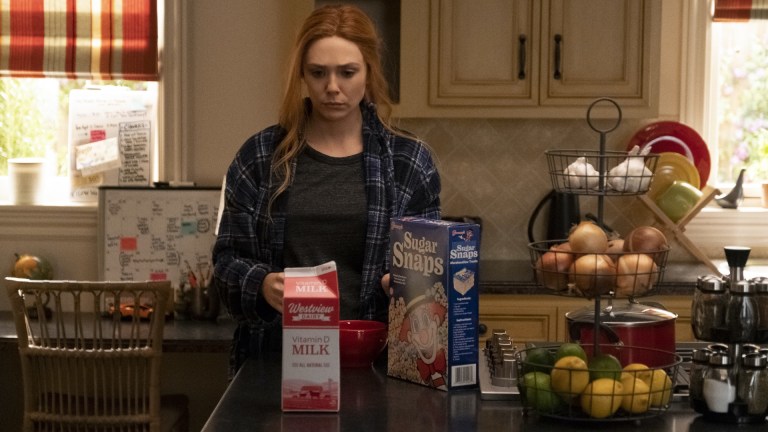 This article contains spoilers for WandaVision episode 7.
From its very first trailer, WandaVision made it abundantly clear that it would be paying homage to some classic sitcoms throughout TV history. But for some reason, it was hard to imagine just how far into TV history the show would actually make it.
WandaVision's seventh episode, "Breaking the Fourth Wall" borrows its format from some very recent classics like The Office and Modern Family. Wanda, Vision, Agnes, and even Darcy take their turns in front of the camera to offer up their thoughts on their zany day-to-day lives. It may be strange to think of something as recent as The Office as a classic. Based on the streaming numbers for popular mockumentary sitcoms, however, it's clear they have already reached classic status.
Here is how WandaVision episode 7 shouts out shows like The Office, Modern Family, and more.
The Office
The Office is likely what comes to most people's minds when imagining a mockumentary-style sitcom. Ricky Gervais's original British version of the show premiered in 2001 on BBC Two. It was styled as a documentary, with a film crew visiting the fictional Wernham Hogg paper company to capture a slice of life look at office culture in the U.K. Naturally Gervais's attention-starved boss character David Brent saw the whole thing as his big break. Like any good corporate enterprise, The Office outsourced its concept to countless other countries across the world. The American version starring Steve Carell premiered in 2005 and is today one of the most popular and successful sitcoms of all time.
It was always going to be a tall order for WandaVision to do an Office-influenced episode merely because WandaVision rarely heads into the office. Vision's office has experienced roughly five minutes of screentime throughout the show's run thus far as the domestic settings of Westview take precedence. That doesn't mean that the show was going to ignore The Office altogether though. The opening credits of "Breaking the Fourth Wall" are extremely reminiscent of the American version of The Office's…right down to the little piano and synth number.
Rather than images of Scranton, Pennsylvania, these credits cycle through some suburban New Jersey iconography. You can check out the Office credits below for comparison's sake.
Modern Family
The lion's share of "Breaking the Fourth Wall's" format owes itself to Modern Family. This mockumentary series premiered on ABC in 2009 and wrapped up just last year, wracking up many Emmy wins during its run. While the mockumentary format was nothing new by the time Modern Family premiered, it still definitely put it to good use, allowing its characters to candidly discuss their family situations into a camera.
Clad in a robe and nursing a wicked magic hangover, Wanda seems like a regular Claire Dunphy (Julie Bowen). Only instead of fussing over two daughters and one son, Wanda has to deal with Tommy and Billy's gaming issues…oh and the seeming collapse of her reality.
Another area in which this episode resembles Modern Family is in a brief use of flashback. While it's certainly not unheard of in other mockumentaries, Modern Family in particular likes to use cutaway jokes amid its filmed interviews. We can see this when Wanda references the events of the previous night and the camera then cuts away to SWORD agents being swallowed up by the hexagonal barrier. A case of the Mondays indeed.
The Munsters
Though WandaVision and its sitcom homages are both now well into the 2010s, this episode fittingly breaks the fourth wall a bit and jumps back to TV's past once again for the reveal that Agnes is really Agatha Harkness.
Since Agatha (Kathryn Hahn) is a super spooky witch, WandaVision makes the delightful and creative decision to give her a campy theme song. As the camera pans back to reveal that Agatha has been behind all the events in Westview, the following lyrics from Robert Lopez and Kristen Anderson-Lopez are sung:
"Who's been messing up everything? It's been Agatha all along!
Who's been pulling every evil string? It's been Agatha all along!
She's insidious. So perfidious. That you never even noticed and the pity is, the pity is.
It's too late to fix anything. Now that everything has gone wrong.
Thanks to Agatha. Naughty Agatha. It's been Agatha all along!"
Look: absolutely every Marvel villain could benefit from getting their own twangy, "Monster Mash" theme song. Thankfully, WandaVision is actually in a position to pull one off for its newly-revealed big bad Agatha. And that's because TV history is littered with similar novelty songs.
The Addam's Family theme song (duh-duh-duh-duh *snap* *snap*) is certainly the most iconic. But don't sleep on The Munsters theme either. And as you can tell from the clip below, this is the one that most closely resembles Agatha's new ditty.
At this point, WandaVision is just churning out candidates for song of the summer.