News
The Walking Dead Season 11 Just Revealed its Final Major Villain
Pamela Milton, leader of The Commonwealth, has been revealed for The Walking Dead, as played by Laila Robins.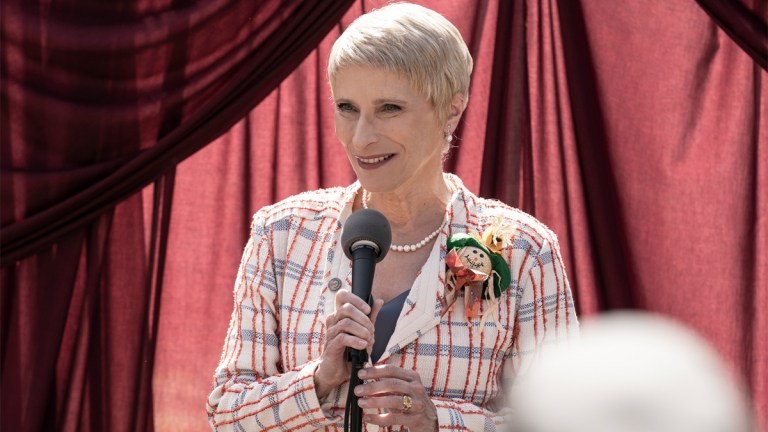 While the endpoint of The Walking Dead's decade-plus television run has been visible on the far horizon for some time now, its arrival feels a lot closer with the latest reveal, a full look at the show's final major villain, Pamela Milton. The controlling governor of the post-apocalyptic Midwest-located nation-state known as the Commonwealth, Milton is an intriguing change from the blunt instrument antagonistic tyrants of the show's past, since, rather than barbed-wire baseball bats or skin masks, her primary weapons are promises and platitudes—in other words she's a proper politician. How will our embattled survivors survive that?
Laila Robins, known from recent runs on Dr. Death, The Blacklist, and The Boys—and widely remembered as the wife of Steve Martin's character in 1987's Planes, Trains and Automobiles—was recently revealed to have been cast as Milton for The Walking Dead season 11. Her first official photo (above) showcases clear parallels to the character's notorious counterpart in the comic book source material. Indeed, in a surreal throwback to a world long lost to the undead, Robins's Milton is making a speech in front of a microphone, rocking a sunny suit complemented by a bit of fall flair pinned to her lapel while brandishing the kind of disingenuous grin one would typically see plastered on posters around town during election season. Yet, Milton's try-hard conviviality contrasts with the blurred foreground image of a Commonwealth soldier's white helmet, a sobering reminder that her smiley suggestions aren't optional.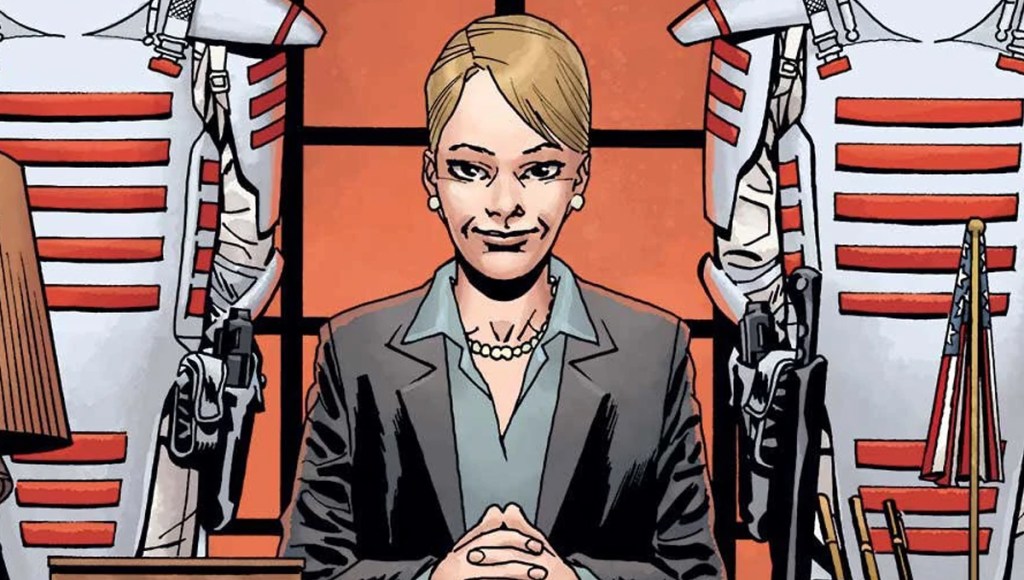 As mentioned, Pamela is far from the typical big bad characters that regularly drift into The Walking Dead full of piss and vinegar, who, accompanied by a cadre of bellicose brutes, attempt to impose some bleak, gimmicky post-apocalyptic vision of the world onto our favorite characters. Indeed, she is in the proverbial driver's seat of an approximately 50,000-strong municipality that enjoys most the amenities presumably lost to the rest of the wrecked world. She also happens to command a formidable force that is, for all intents and purposes, a post-apocalyptic military superpower, one led by the fearsome, crimson-clad Mercer (Michael James Show).
Yet, that aspect alone doesn't make her a major villain. Rather, it's her resoluteness to recreate the world of old, except with a pretentious emphasis on an undemocratic caste-like system that arguably exaggerates the inequalities present in the civilized world of real life.
That notion is glaringly clear when it comes to Pamela's adult son, Sebastian Milton (whose casting has not yet been revealed), who, in the comics, traipses around town as the embodiment of hereditary privilege, doing what he wants to whomever he wants, bearing none of the Commonwealth's typically-harsh punitive consequences. It does seem that our show survivors are similarly destined to bear the brunt of this paradigmatic example of bad parenting.
Moreover, Pamela's coddling of Sebastian's fragile, insatiable ego sets the stage for the comics' tragic climactic moment—which, while inevitably set to be altered on the TV series, we will not spoil here. Let's just say that Sebastian—as a proxy for Pamela—could be seen as the most infuriating, King Joffrey-level monster in the show's entire run by the time the stretched season 11 ultimately reaches its conclusion.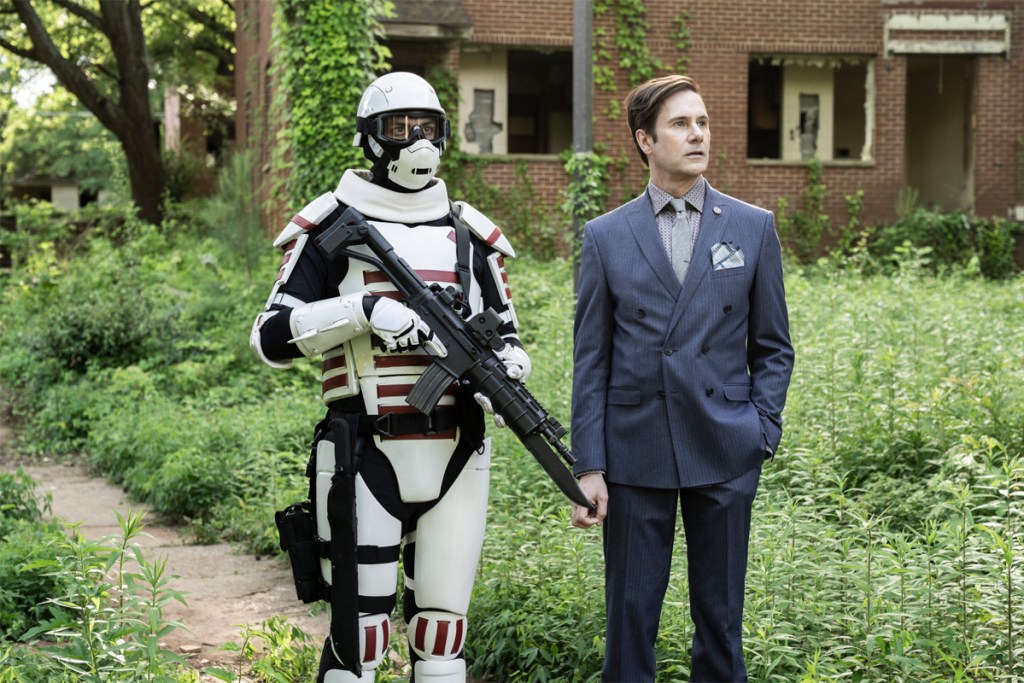 Complementing the Pamela reveal, The Walking Dead has treated us impatient fans to a second Commonwealth-centric image, that of the also imminently-debuting character of Lance Hornsby (Josh Hamilton), as seen just above, who was introduced in last week's trailer for The Walking Dead season 11. The character—shown in said footage as a cheesy self-promoting spokesman for the Commonwealth—was a minor character in the comics, depicted as the community's bookkeeper, who regularly acted as Pamela's obsequious lackey, to whom she typically turned to squelch her increasing political fires.
The new image of Lance—who is noticeably accompanied by a white-armored Commonwealth guard—isn't particularly revelatory, but it does prove that his sartorial sensibilities extend beyond the plaid jacket he wore in the teaser. However, Lance was subjected to key expository moments in the comic about Pamela's true nature when she would chastise and humiliate him for his inability to get the still-present Rick Grimes and the rest of the Alexandria survivors to fall in line with her whims. With such instances likely to be mirrored on the series, Lance, beneath the douchey exterior, could prove to be just another one of Pamela's victims.
Of course, Pamela's introduction on the series will occur by way of a major alteration to how the moment played out in her printed debut, 2018's The Walking Dead #176. While the initial meeting that freed our wayward group of survivors from the hostile custody of Commonwealth soldiers occurred in the comics after it was revealed that Michonne's long-lost daughter, Elodie, was a citizen of the Commonwealth, such a revelation is obviously off the table here, with Danai Gurira having left as a series regular last year. Instead, the famous family reunion comic arc will go to Yumiko (Eleanor Matsuura), as seemingly confirmed in one of The Walking Dead's recent weekly final season trailers—much to the relief of her currently-imprisoned cohorts, Eugene (Josh McDermitt), Ezekiel (Khary Payton), and Princess (Paola Lázaro). However, their friends back at Alexandria will also have their hands full in the final season's first part, dealing with a separate existential threat of their own from a militant group of masked spartan savages called the Reapers. 
The Walking Dead season 11 makes its AMC premiere on Sunday, August 22, which will be the first segment of a rollout billed as a "Final Season Trilogy." Parts Two and Three are set for 2022.