News
Why The Walking Dead Rick Grimes Movies Are Taking So Long
The Walking Dead Rick Grimes movies are still on. According to series producer Greg Nicotero, it's just about making sure they're done right.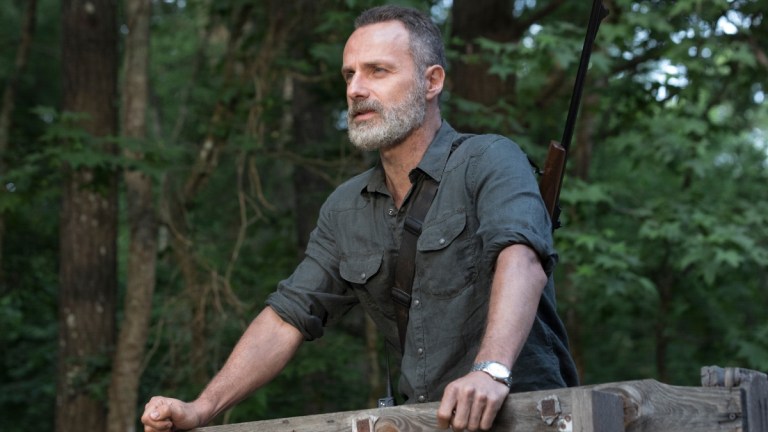 Hey, remember Rick Grimes?
You might not – he was a tall, grizzled fellow – wore a brown stetson, carried a Colt Python revolver, and killed lots and lots of zombies. As played by Andrew Lincoln, erstwhile Kentucky sheriff Rick Grimes was the lead on The Walking Dead for more than eight seasons, culminating in his departure midway through season 9.
Lincoln was understandably tired from a grueling shooting schedule in the Georgia heat and, as a native Londoner, was eager to spend more time with his family. Still, immediately following Rick's final episode in November 2018, Walking Dead network AMC announced a series of spinoff films starring the post-apocalyptic hero. Since then, however, very little has come in terms of meaningful updates on the films' (said to be a trilogy) progress.
Part of that is undoubtedly due to that worldwide pandemic we find ourselves in. But still, one would think there would be at least a casting announcement or something, no? Are these movies even happening? According to Walking Dead producer/zombie gore expert Greg Nicotero, the answer is "yes."
In speaking to Comicbook.com about the third season of his Shudder horror anthology series Creepshow, Nicotero addressed the long wait for the Rick Grimes movies. 
"I wish I knew, and I wish I could say [when it's happening]. I've read a variety of drafts of the scripts over the last few months. They're really making sure that they get it right," Nicotero said.
It would seem that the culprit for the delay in Rick Grimes movies isn't a virus, zombie or otherwise, but an even more ancient human enemy: the pursuit of perfection. Nicotero went on to add that producing more than a dozen episodes of The Walking Dead TV show per year is no small feat in itself.
"I would always say The Walking Dead makes hour-long movies every week," Nicotero said. "I don't want to get comfortable and say, 'Oh yeah, you make a movie, you got more money [in the budget].' Because they're going to expect more because they have more money. I've been on a lot of movies, and the pace is certainly different in terms of television, because of the fact that on television now we have 10 days to do an episode, or nine days to do an episode. Because of COVID … we only shoot 10-hour days. With a movie, you get to go home. So you don't get fatigued as much, because you know that you have 24 episodes."
The Walking Dead will begin its 11th and final season on Aug. 22. Not unlike the Rick Grimes movies, this season will operate as a trilogy of sorts with 24 total episodes being broken up into eight-episode parts. Based on the episode descriptions for the first eight, this final season does seem appropriately cinematic and expensive, so Nicotero's claim makes plenty of sense.
While The Walking Dead season 11 will bring the remaining survivors into contact with the enormous post-apocalyptic city-state The Commonwealth, Rick Grimes seems slated to meet another kind of settlement in his movies. Based on the symbols adorning the helicopter that rescues Rick and Jadis, The Walking Dead's former hero is likely bound for the Civic Republic Military – a group seen sparingly in Fear the Walking Dead and extensively in The Walking Dead: World Beyond.
Whether Rick's remaining movie arc will resemble his comic arc remains to be seen. But Walking Dead czar and Rick Grimes movies writer Scott Gimple has said Rick is expected to make it through three films. Best of luck to you with that, Mr. Grimes!