News
The Walking Dead Season 11 Trailer Welcomes You to The Commonwealth
In one of its final Comic-Con appearances, The Walking Dead released a revealing trailer and announced some new castings.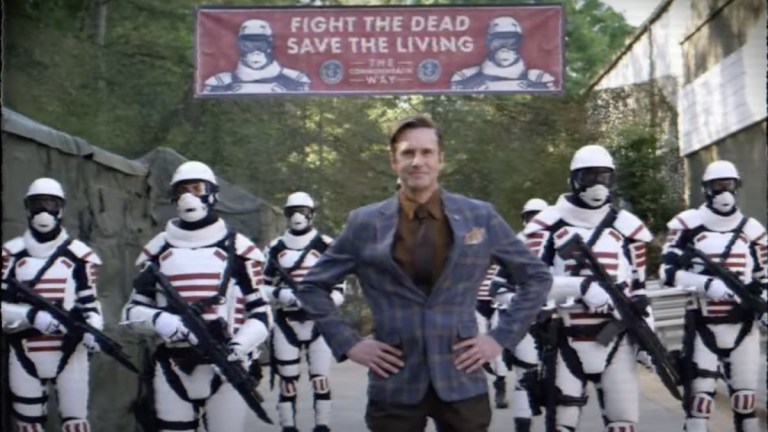 Through its 10, soon-to-be 11, season run, The Walking Dead has enjoyed some of the best trailers in the game. Cutting together many episodes of zombie violence into a three-minute package (often accompanied by a haunting acoustic tune) must be a video editor's dream.
With its appearance at 2021 San Diego Comic-Con (still operating remotely under the Comic-Con@Home banner), The Walking Dead unleashed another banger of a trailer. Much of it is the boilerplate zombie action that we've come to expect, but stay tuned to the very end for a special orientation video. Check it out below:
While The Walking Dead producer Scott Gimple and showrunner Angela Kang have made little effort to hide the fact that the community Eugene and company find themselves in is "The Commonwealth" from the comics, this trailer finally confirms it. And what better way to officially introduce The Commonwealth into the TWD canon than with a helpful VHS orientation video?
In this brief trailer postscript, we see images of an idyllic community: families biking, artists painting in public, and even an historic Union Station. That's when community representative Lance Hornsby appears, flanked by Commonwealth soldiers and under a banner that reads "FIGHT THE DEAD. SAVE THE LIVING. The Commonwealth Way."
Seems like a nice place! Can't imagine that video is hiding anything sinister in the slightest, no sir.
In addition to the exciting trailer, The Walking Dead panel produced some interesting casting news. Josh Hamilton (who I, no joke, just watched for the first time in 2018's Eighth Grade a couple hours before this TWD panel) will play the aforementioned Lance Hornsby. Laila Robins (The Boys) will play Governor Pamela Milton. They join the previously announced Michael James Shaw as Mercer and Margot Bingham as Stephanie.
With no disrespect to Shaw's Mercer or Bingham's Stephanie, Pamela Milton is likely season 11's most important new character. As governor of The Commonwealth and a consummate politician, the Milton of the comics comes into conflict with the less rigid leadership stylings of Rick Grimes. Lord knows what she'll make of Daryl.
The Walking Dead season 11 will have another batch of new villains in The Reapers, as first introduced in season 10's extra episodes. During the panel, Kang had some interesting insight to this group and their modus operandi.
"One of the things that sets them apart is that they are incredibly skilled," Kang said. "They were skilled coming into the apocalypse. These are the pinnacle of human killers. It's a very formidable type of enemy to go up against. They don't rely on numbers or volume."
The Walking Dead season 11 will premiere Sunday, Aug. 22 at 9 p.m. ET. The series 11th and final season will feature 24 total episodes and air in three parts, with parts two and three arriving in 2022.