Features
Unforgotten's Cassie and Sunny: a Love Story
DCI Cassie Stuart and DI Sunny Khan's friendship has been the beating heart of ITV crime drama Unforgotten. Spoilers ahead.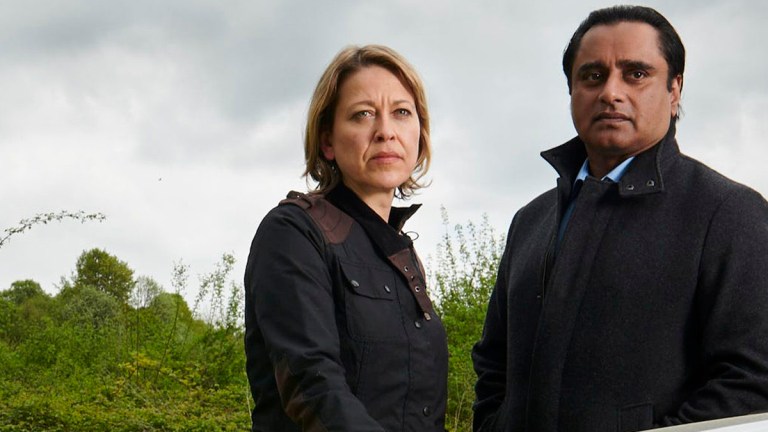 Warning: contains spoilers for the Unforgotten series 4 finale.
Conflict might be the basis of drama, but love is what makes it a pleasure. Achieve the right blend of both and a TV show becomes somewhere audiences want to spend time. There's a joy in being buffeted by plot but held in place by the constancy of characters who love one other. Not kissing-in-the-rain, perfume advert love, but the real stuff, the everyday-bacon-sandwich-love of friends who watch out for, rely on and rib each other – the kind of love shared by DCI Cassie Stuart and DI Sunny Khan in ITV's Unforgotten.
Cassie and Sunny are the opposite of that screen favourite, the odd couple; they're one of TV's rare even couples – two people with overlapping values who get on well and do good work. When we first meet them, they're already mates. There was no bickering or journey to begrudgingly earned respect. The very first Unforgotten script includes the note "From the way they talk, we know these two are pretty tight" and that much is clear. They jokingly swap single parent horror stories as they go about their jobs, testing out theories and silently arriving at the same conclusions. Cassie winds Sunny up by singing his namesake Marvin Gaye theme song. "Just give me a rough idea of when you're going to stop finding that funny," he asks. "Oh," she smiles, "several years yet my friend."
As homicide detectives working on cold cases with complicated nets of suspects, Cassie and Sunny's work provides more than enough conflict. Their relationship can simply be a comfort. As can their glorious lack of sexual tension. One clumsy and much-mocked lunge for a kiss after a few drinks aside (Cassie never let Sunny forget it), there's no will-they-won't-they frisson here. Unforgotten has enough good-hearted belief in the power of friendship between this woman and this man never to go there.
The reliable ease of being in their company is Unforgotten's safe place. The case they're working might be all corpses and heartache, but just a few minutes alone with Cassie and Sunny is like cracking a window on misery and letting in fresh air. Not because they treat their work with levity – these two cops are surrounded by the Ready Brek glow of empathy – or because their personal lives are a breeze, but because they're such a reassuring presence. 
So much of the pleasure to be had from their characters is down to actors Nicola Walker and Sanjeev Bhaskar. They're perfectly cast. Instantly likeable, quick and funny, they both give the kind of assured performance that makes an audience lean in and pay attention. Tuned into the same frequency, they're skilled in leaving room around emotional dialogue, throwing it away so moments are never overplayed and lines are never stamped on. They're warm and convincing performers, whatever a scene asks of them. It is a wonderful partnership.
It was a wonderful partnership. Following a shock road accident in the penultimate episode of series four, DCI Stuart died in the finale. A hit-and-run collision with a car thief took Cassie's life, leaving her family bereft, her colleagues grieving and Sunny without his other half. Series four ended with Sunny movingly delivering Cassie's eulogy, a beautifully written speech by series creator Chris Lang. Sunny laid flowers on Cassie's grave and said goodbye.
Though it might feel like it, that's not the end for Unforgotten. ITV has ordered a fifth series, in which Sanjeev Bhaskar will be joined by a new partner. It's a bittersweet prospect for fans, who want more but who also want nothing to have changed. The show certainly won't be the same without Nicola Walker, who's one of the very best around, but perhaps different can work too.
If I could have one wish for whoever Sunny's paired with next time, it's this: let them be mates. It doesn't have to be Cassie-Sunny love, but it wouldn't be Unforgotten if there wasn't love at its heart. Night Boss.
Unforgotten series four is available to stream now on ITV Hub.