Features
Line of Duty: Did the Daniel Morgan Murder Inspire Series 6?
Line of Duty series 6 revolves around the fictional murder of journalist Gail Vella, a case potentially inspired by the unsolved murders of journalist Jill Dando and private investigator Daniel Morgan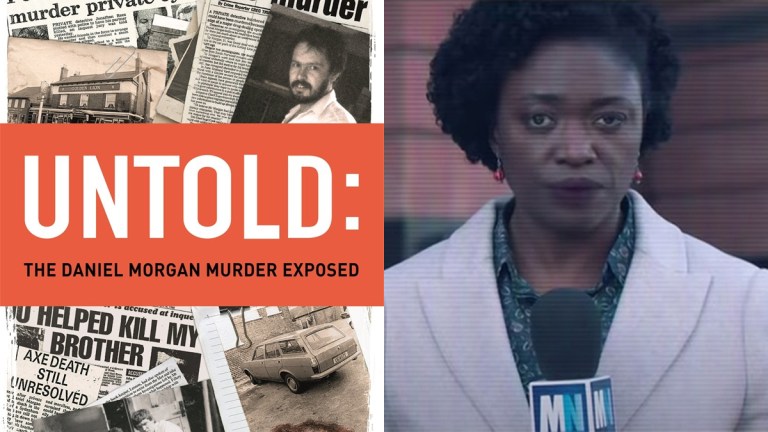 Warning: contains spoilers for Line of Duty series six, episode two.
From the Brink's-Mat Robbery, to predatory sex offender Jimmy Savile, the scripts for police drama Line of Duty are peppered with mention of real-world criminal cases. Blending reality and fiction cements the show's naturalism and feeds into each series' themes.
Series six revolves around the investigation into the murder of fictional journalist Gail Vella, played by Andi Osho. The first episode opens just over a year since Vella was fatally shot outside her home, in which time no suspects have been charged. The officer leading the investigation is suspected of a cover-up, which is thought to explain the lack of progress on the case, and brings Line of Duty's anti-corruption leads into proceedings.
In episode two, a likely motive for Vella's murder is uncovered. The journalist was investigating links between police corruption and organised crime, and planning to launch a podcast on the subject. Vella's colleague tells AC-12 that she'd been inspired by the success of a similar podcast on Daniel Morgan. That podcast is Untold: The Daniel Morgan Murder, presented by Peter Jukes and Alistair Morgan, the older brother of Daniel Morgan, who was unlawfully killed in 1987.
The major real-world analogue for the character of Gail Vella has to be journalist and broadcaster Jill Dando, whose murder also remains unsolved. Dando was fatally shot outside her home in 1999, and the suspect charged was acquitted after an appeal and retrial, having served eight years in prison. Several theories remain on the Crimewatch presenter's death, ranging from an obsessed stalker to a revenge attack, to Dando having been killed to silence a potential investigation she was making into institutional wrongdoing.
The Vella case, however, doesn't only share similarities with Dando's murder. As namechecked in episode two, the Daniel Morgan murder may also have proved a real-world inspiration for the TV drama. It's less the specific circumstances of Morgan's murder – an axe attack carried out in the car park of Sydenham's Golden Lion pub in March 1987 – than the many accompanying allegations of police corruption that may have inspired events in series six.
As detailed by the Untold podcast, Daniel Morgan's brother Alistair and his family have long campaigned for justice in what they see as a case mired by corrupt policing in South East London during the 1980s. Alistair Morgan alleges that his brother's former business partner colluded with a senior investigating officer at Catford Police Station to first arrange and then cover up Daniel's murder. Following the murder, said officer retired from the police and took Daniel's job in PI firm Southern Investigations, a company alleged to have later acted as a conduit between the tabloid press and police officers paid to leak information. The case against those suspects and another man was subsequently dropped and they were awarded damages.
Untold suggests that Daniel Morgan and a DC from the Serious Crimes Squad were on the brink of selling a story exposing major police corruption to a tabloid newspaper. Morgan had reason to believe that the theft of £18K from his former business partner – who was moonlighting with police officers to transport money from a car auctioneer – was an inside job. It's also suggested that Morgan had uncovered a drugs ring involving corrupt senior police officers in South East London, which is the story he and his DC acquaintance were planning to sell.
It's theorised that Daniel was killed to silence him from exposing alleged police corruption, a theory supported by the suicide of the DC with whom he was planning to sell the story, within months of Daniel's murder. (The details of that suicide bear similarities to that of fictional character ACC Derek Hilton in Line of Duty series four.)
Over 30 years, five official investigations, countless press stories, two podcast series and Channel 4 documentary Murder in the Car Park, the Daniel Morgan murder remains officially unsolved. According to the Untold podcast – now also a book – it's potentially connected to several other allegations of police corruption, including the investigation into the 1993 murder of Stephen Lawrence, and the tabloid phone hacking scandal.
Line of Duty is a crime thriller, not a documentary, but it is a drama with a conscience. By using its considerable platform (9.6 million viewers for the series six opener) to name-check the Daniel Morgan murder, it's leading fans to learn more about the potential real-world analogues of its fictional universe.