Features
ITV's Unforgotten: Where Were Cassie and Sunny Left at the End of Series 3?
Unforgotten is back for series 4, so here's a handy recap on Cassie's sick leave, the Finch case, the Walker controversy, Sunny's love life and everything you need to remember.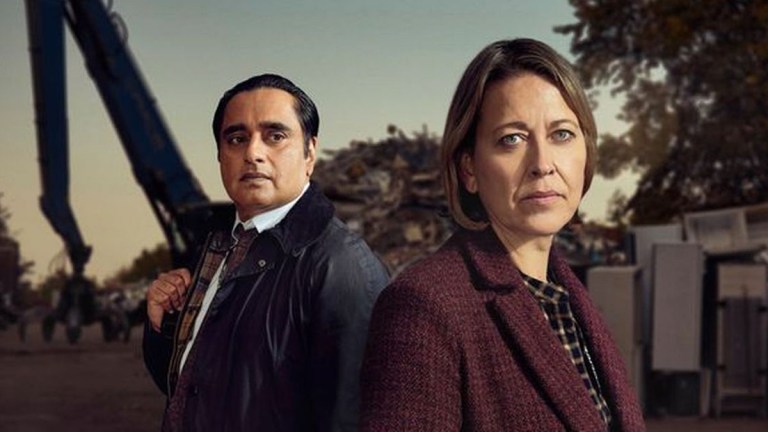 Warning: major spoilers for Unforgotten series one, two and three.
When Unforgotten series four begins, DCI Cassie Stuart has been away from work for a year. She's living with boyfriend John and her 21-year-old son Adam, her father Martin having moved out to live with his fiancee. Spending almost 30 years as a detective investigating the most brutal and traumatic murder cases has taken its toll on Cassie's mental health. At the end of series three, Cassie was signed off on sick leave. Now just months away from receiving her police pension, she's requesting medical retirement and feeling unable to cope with a return to work.
Her colleagues DS Sunny Khan (and his backpack), along with DC Fran Lingley, DC Jake Collier and DS Murray Boulting, are still working the cold case unit. When a body is discovered at a local refuse site, they open a new investigation to trace its identity and dig up some long-buried secrets.
As it's been over two years since Unforgotten last aired, here's a detailed refresher on series one and two, and below is what else you need to remember ahead of the new episodes.
Who is Cassie's boyfriend?
That's former DCI John Bentley. Cassie met him in series three while investigating the murder of 15-year-old Hayley Reid. Bentley was part of the initial investigation into Hayley's disappearance and was interviewed by Cassie and Sunny about its findings and shortcomings, which he'd felt guilty about for years. John has two sons in their early twenties who live in London with his ex-wife. He's no longer a police officer, having been asked to retire "in the interests of efficiency" due to funding cutbacks.
What happened in the Finch case?
Peter Finch (played by Alex Jennings) was the serial rapist and murderer Cassie and Sunny caught in series three. A psychopath, he expressed no guilt or feelings about the rape and murder of multiple teenage girls, and his callousness in the face of such monstrosity caused Cassie to crack under the emotional weight of her long career dealing with cruelty, brutality and suffering. After taking Finch's confession, she took three months of sick leave to help her cope with her trauma.
The Finch case was especially distressing for Cassie because she had accidentally left a confidential file on one of the suspects in Hayley's disappearance in a café. It was found and used to out the man as a murder suspect online, after which a vigilante stabbed him to death in the street.
Hayley's disappearance on Millennium Eve put four suspects in the frame whose families had been sharing a holiday home in Hampshire for the New Year celebrations. The victim had worked as a cleaner at the holiday house, and all four men were in the area at the time of her disappearance. There was GP Dr Tim Finch, television presenter James Hollis, artist Chris Lowe and salesman Pete Carr. It turned out that Finch had stumbled upon Hayley while out looking for James' runaway son and decided to rape and kill her on the spur of the moment – "a case of wrong place, wrong time," as he callously described it during his police interview. Hayley was just one of several of Finch's victims. James and Chris were cleared of suspicion, Pete Carr was killed by a vigilante (see above) and Finch was jailed for life.
What was the Walker case?
That was the series two investigation into the remains of David Walker, a so-called pillar of the community who was discovered to have used his charity work as a front for the sexual abuse of vulnerable children. Cassie and Sunny solved the murder, tracing it to two other murders at the same time, one made to look like a suicide. Three young survivors of childhood sexual abuse had met at a psychiatry unit and made a pact to each kill the other's abuser, so there was less chance of the murder being linked back to them. Each had gone on to fulfil useful roles in society – as a headteacher, a nurse and a pro bono lawyer – so Cassie and Sunny decided not to reveal what they had learned about the murders, and to allow the abuse survivors to go free.
What's wrong with Cassie's father and who is his girlfriend?
In series three, widower Martin started to show symptoms of dementia, becoming forgetful and leaving a pan to boil dry on the stove for hours.
After getting some closure in series two about the affair Cassie's mother had, Martin started a relationship with a new woman named Jenny. He moved in with her, proposed and planned to buy a house together. Cassie didn't warm to Jenny, who had criticised her for being a working mother. She questioned the relationship, insinuating that Jenny was only after Martin's money and that his judgement couldn't be trusted.
Who is Sunny dating?
After his wife left him and their two girls to live with another man, Sunny eventually started dating Sal. Out of the blue in series three, Sunny's wife told him she wanted to come back home and resume family life. Believing it would be the right thing for his daughters, Sunny asked them what they wanted, and they told him that he was much happier with Sal and they wanted him to be happy. At the beginning of series four, Sunny and the girls are packing to move house and live together with Sal.
Unforgotten series four starts on Monday the 22nd of February at 9pm on ITV1 and ITV Hub.